Liverpool midfield comes out on top in rout of Spurs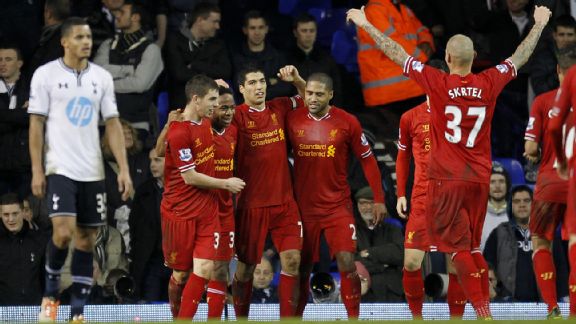 Ian Kington/AFP/Getty ImagesLiverpool's midfield dominance allowed the forwards to flourish.
With about five minutes remaining and Liverpool three goals ahead (or maybe it was four; it was an afternoon to lose count of such trivialities), the away supporters burst into song once more. The repertoire had already been exhausted, so attention turned toward the little plastic box somewhere in the sky -- it was the turn of Steven Gerrard, TV pundit for the day, to be serenaded. In truth, it was the first time the absence of the Liverpool captain passed anybody's lips.

All talk before this scarcely believable 5-0 victory over Tottenham was of Liverpool's midfield, of how Brendan Rodgers would line up his options against the power and control of Spurs' Sandro, Paulinho and Mousa Dembele. Spurs stood at kickoff confident. Ninety minutes later, one lay on the treatment table, another took shelter in the naughty corner and Dembele (the unfortunate one still on the pitch) stood shocked, his head hardly staying on his shoulders.

- Crace: Abject Spurs destroyed by Reds

Lucas Leiva, Joe Allen and Jordan Henderson were magnificent. In a five-goal victory against a team expected to challenge Liverpool for the Champions League, to place importance upon one particular position feels unfair and disingenuous. But with every passing minute -- and oh, how they passed -- every question mark about a midfield without the captain was answered.

There was energy, but it was not aimless -- instead, the running was intelligent, with all three players knowing when to press and when to allow Spurs time on the ball. There was creativity both covert and overt, with Allen's smart distribution contrastingly nicely with Henderson's all-action performance, bustling past any Brazilian who tried to get in his way, just as he did for his goal. All three, at various stages, shielded the defence admirably, with Lucas in particular dropping deep and helping defenders Martin Skrtel and Mamadou Sakho on the rare occasion Spurs threatened.

But they hardly threatened. Spurs were poor, granted, but it was because Liverpool were so good and positive from the opening minute; Spurs ended with 10 men, yes, but only because Paulinho was too slow to reach Luis Suarez and Liverpool. There will be efforts to disregard the result as one that didn't come against a genuine top side, but Spurs were just three points from second at the start of this weekend. Rodgers challenged Andre Villas-Boas to a swordfight and handed him a baguette; the Portuguese coach, and his side, were subsequently cut to ribbons.

It provided the platform for the rout. Because of the midfield's synergy, Liverpool's front three expressed themselves with every touch of the ball. If it is for the midfield to be judged on passing statistics, kilometres covered and hellacious heat maps, then allow the attack to be judged on the maniacal glee and Scouse cackling they prompted when they found the ball at their feet.

Philippe Coutinho, for the first time on the left-hand side, produced a genuine top-quality performance against exalted opposition. Kyle Walker could not deal with Coutinho, as the Brazilian's ball retention when dribbling was absolutely phenomenal. On the other side, Raheem Sterling's reintegration continues, his performance typified by the opening five minutes as he toyed with Kyle Naughton; this was the Sterling of early last season, driving toward defenders with both pace and nous.

Then, of course, there was Suarez. He was not the only difference between the two sides, but there was a difference of sorts: This is what happens when one club does all it can to keep its best player while the other sells, even for a ridiculous transfer fee. While the £80 million of Gareth Bale replacements laboured across the pitch and sat on the bench, the priceless Suarez went to work.

Priceless. The Uruguayan's first goal of slaloming limbs was magnificent; his second lofted over Hugo Lloris was simply Machiavellian. With that second goal, the stand-in captain made it 17 goals in 11 league games. This cannot be understated: Suarez is now doing to the Premier League what he did to the Eredivisie with Ajax, what Lionel Messi and Cristiano Ronaldo do to La Liga, what Mario Jardel once did to the whole of Portugal. He is scoring more than a goal per game and, in doing so, solidifying himself as one of the club's greatest ever players.

With Suarez in Liverpool's side, anything is possible. But with an attack (even without Daniel Sturridge) functioning alongside him and a midfield that keeps the ball, wins it back quickly and creates when it has it, even the impossible can occur. Proof comes in Jon Flanagan, with the score at 2-0, sprinting 50 metres and controlling a Suarez cross before smashing it in off the crossbar. From the concrete playgrounds of Childwall to thousands of men and women, young and old, falling at your feet -- dreams can come true.

It was game where everything went right for Liverpool and everything went DEFCON 1 for Villas-Boas' side. Allen, Henderson and Sterling laid claim to having their best games for Liverpool; for Tottenham, Paulinho's sending-off killed off something that was already dying. Talk of a title challenge will be thought of as premature, but the conversation may be had if this performance is replicated at Manchester City and Chelsea.

Liverpool now sit two points from the top of the league and know a win against Cardiff on Saturday will take them to the top once more, if only for 48 hours. The smile on Gerrard's face from above was one of a captain who knows what could happen; it may also be a nervous smile because his place cannot be assured if his teammates continue like this and if his teammates continue to make football look so easy, albeit against 10 men.

It was that sort of game. It just might be that sort of season.