Christmas cheer depends on next three fixtures
Spit out that mince pie and tell Santa his slumber can continue a little longer: It is not Christmas yet. Indeed, despite the sudden surge of Christmas trees dotted around city centres and the increase of overenthusiastic shop assistants trying to sell everything green, snowy and battery-operated, it is most definitely not yet Christmas.

English football's relationship with the festive period is an oddity, mainly because it is one of the few countries that refuses to hibernate as the snow and frost have their way. With other leagues -- La Liga, Serie A, Bundesliga -- the obvious cut-off point is the winter break; in this two-part play, winter serves as the intermission, a time to reflect on what has gone and ruminate on what could await.

- Sturridge set to return
- Liverpool eye Barcelona's Montoya

The Premier League does not have such a clear pause. Logic would dictate 19 games played represents the time to assess, but the nine-month season is lopsided. Maybe, then, the turn of the year is when decisions are rushed into and concrete paths made of ash are forged; maybe the FA Cup third round, and all the fresh hope of a season that isn't fully wasted, represents the second half of the season and a new start.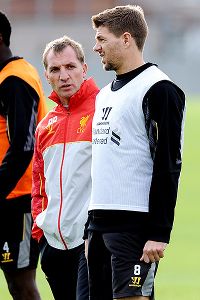 John Powell/Getty ImagesA packed December fixture list won't give Liverpool's Brendan Rodgers and Steven Gerrard much breathing room.
But it doesn't work like that. Football is still played during these periods, even more so than usual. It is relentless, incessant and steadfast in its desire to fatigue. No sooner has one game finished that another begins, seemingly against a team that's already visited five times that season. "Didn't we play them on Boxing Day?" asks one to another. A grunt and a shrug of the shoulders follows -- and that's just the players. This is football not to be questioned but mindlessly consumed, like the turkey that lurks in the freezer, the size of a Tyrannosaurus Rex.

This creates problems when clubs fashion targets. This creates problems for clubs like Liverpool, obsessive about reaching the Champions League once more, and their obsession with discovering whether there is more work or progress in this work-in-progress.

Liverpool are a club looking backward and forward at the same time. What went wrong, and how can it be rectified? Who isn't performing, and what players will do so? Is this so backward it feels forward, or so forward it feels backward?

That is not to say these questions aren't asked throughout the season, nor that answers aren't sought. Last season, the arrivals of Daniel Sturridge and Philippe Coutinho were two sizable strides toward what Brendan Rodgers wanted: a side capable of winning games. It helped that Rodgers altered his side's style, while the vibrant, changing formations demonstrate it is possible to tweak the course of a season during the intensity of its 38 games.

There is the temptation to regard the entirety of January and its maddening transfer window as the moment to transform into a better team, be that through signing new players or streamlining the squad. But such opportunities are not always afforded to teams; the right players can say no, the wrong players can say yes. Though Sturridge and Coutinho joined luminaries of Luis Suarez, Martin Skrtel and Daniel Agger's quality that were acquired in January, a ponytail-shaped shadow forever looms.

But this all rather misses the point. There is no winter break and no definitive moment to reassess, but irrespective of when and how it happens, it is how the team transforms that matters. Liverpool are still a club in transition and transformation, though it will soon be over, maybe. Rodgers must manage game by game to accumulate points and with the wider vision (whatever that is) in mind, always asking how to take the team forward. Rodgers has so far successfully managed both. Liverpool have not lost consecutive league games and have, since January, steadily improved, now unrecognisable to the side he first took control of.

But there is something about the Christmas period that is far more frantic. Seven games in December does not help. One poor showing or bad performance initiates an existential crisis, with doubts surfacing of the usefulness of tactics and players. The decision to change nothing or everything, sometimes within three days, is difficult to come to.

Liverpool, though currently second, cannot afford to stumble their way into January, particularly with three away games against Tottenham, Manchester City and Chelsea as the year nears its end.

If that trident is pricklier than most, then consider the upcoming three games for Liverpool: Hull, Norwich and West Ham. Three winnable games in six days, particularly with the latter two at home. With these three games ahead, maybe this is the most apt time for assessment. Three wins from three would place Liverpool on 33 points from 15 games entering the Christmas period. Only once has that total been bettered (2008-09) and only once has it been matched (2001-02), but both times ended with the club finishing second.

There has been an apparent focus in this Liverpool side this season, one that treats every 90 minutes as if three points will win them the league. Every game has been approached in isolation with nothing but that game being important -- a refreshing outlook, if not sacrificing the long-term planning that was one of the key reasons for his appointment.

But that mentality may stop over the next week. Maybe it has to. Thirty-three points after 15 games is a hefty total, one that traditionally takes Liverpool into the Champions League at the season's end. It also allows them to approach the three aforementioned away games, which is very much into the Christmas season, without too much worry over dropped points. Picking up maximum points where expected allows less panic when the Christmas schedule begins to torture and leads to far fewer dilemmas than if a team is desperate for three points.

Make no mistake, Liverpool will be expected to take nine from nine. This is possibly the most worrying thing for Rodgers. Hull lost to bottom side Crystal Palace last week with a man extra, although that result was an improbability above all else -- their first home defeat of the season. Still, Liverpool will regard this as the first three points of nine to come.

Liverpool's issues with the bottom-half sides are well-documented, and even last season -- with supposed improvement -- they finished sixth out of seven in terms of taking points from teams in eighth and below. History serves as a warning, particularly when points are being tallied up furiously and the march has seemingly only begun.

A reminder, if not too painful, of their 3-1 defeat to Reading in December 2007, which ended their unbeaten run. Remember, if possible, the 2-1 loss to Tottenham in November 2008, which was just the Spurs' second win of the season and Liverpool's first defeat. Even further still, Liverpool's relentless challenge of the Premier League title fell from Sander Westerweld's grasp at Middlesbrough in November 2002; the Dutch goalkeeper blamed the ice on the ball, but Liverpool then slipped to an incredible 11-game run without victory.

Reading were 12th, Tottenham 19th and Middlesbrough ninth. Though Liverpool will expect nine points from their next three games -- as any Champions League side should -- there is potential turbulence ahead. It has been said all season and will continue until the final kick: How Liverpool pass this challenge is just as important as the trio of Spurs, City and Chelsea.

If they do pass it, with nine points from nine, then Christmas will bring glad tidings; even two draws and a defeat would maintain their position firmly in the hunt for the top four, if not more. But failure at Hull, or against Norwich and West Ham, and confidence begins to drop; courage no longer resides in the choices made. With the games so frequent and so little time to assess what is right and wrong, that is an unfortunate position to be in.

It is not Christmas yet, most certainly, and the Christmas fixtures are not yet here. But this week may allow it to be that little bit more comfortable when it does arrive.