Finding right shape a challenge for Rodgers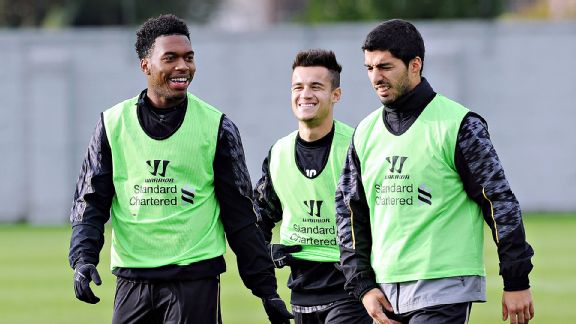 Andrew Powell/Getty ImagesLiverpool are better on offense when Daniel Sturrige, Philippe Coutinho and Luis Suarez play together, but the catch is settling on a formation that doesn't leave the team exposed elsewere on the pitch.
Philippe Coutinho is one of Liverpool's best and most influential players. It therefore almost goes without saying that everybody connected with the club -- be it supporters, players or manager -- are in agreement the little Brazilian needs to be in the starting lineup. Where opinions will differ is to what is the best way to set the team up to maximise his talent.

Does Brendan Rodgers even know what his best formation is? Does he even think it's important to have a preferred system, or is he happy to shuffle things around and adopt a 'horses-for-courses' approach?

It's a real conundrum for the Liverpool boss as there appears to be no perfect system to get the best out of his best players and not leave any area of the side weakened. To play Coutinho, Luis Suarez and Daniel Sturridge in their best roles would appear to be the most logical decision moving forward.

After all, a team should play to its strengths and those three individuals are most definitely the strength of Liverpool at this moment in time. To incorporate all three in their best positions, however, throws up other problems that could potentially undo whatever magic the front three conjure up between them.

-Rodgers: Henerson deserves England callup
-Suarez 'loving life' at Liverpool
-Assaidi sees future at Liverpool

The midfield is a particular concern, as it has been much of the season. Including Coutinho in a free role only leaves room for two central midfielders, unless, of course, Rodgers abandons the three-at-the-back system he's used of late. Can Liverpool afford to just use the two in the middle of the park when it has not worked especially well thus far?

You could perhaps argue it depends who 'the two' are, but no combination of Steven Gerrard, Lucas Leiva, Joe Allen or Jordan Henderson inspires huge confidence right now.

That said, a lot depends on the quality of opposition. A midfield consisting of any of those two playing behind Coutinho should be able to more than hold their own against most Premier League opposition, especially at home. In some of the more difficult away games or clashes with the big boys at Anfield? Well, it doesn't look strong enough, but Coutinho's recent absence means we haven't seen it yet, so no one really knows for sure.

Disregard what happened at the Emirates last Saturday for a second. Arsenal present a midfield matchup like no other in the Premier League; five talented ball-playing midfielders all operating in central areas presents a big problem for anybody.

There are ways to beat Arsenal, but dominating midfield and restricting their possession isn't one unless you happen to play your home games in Camp Nou and can boast the likes of Xavi, Sergio Busquets and Andres Iniesta in your midfield.

The midfield trio of Lucas, Gerrard and Henderson certainly did not cover themselves in glory against Arsenal, but a week earlier all three were outstanding in an impressive win over West Brom at Anfield. For Coutinho to come into the side, one will have to be sacrificed or a change in system would be required.

There are a number of options open to Rodgers in terms of systems:

1. Persist with three at the back, use two orthodox midfield players and allow Coutinho to pull the strings behind the front two.

2. Revert to a back four, keep the three midfielders and use Coutinho behind the strikers in a 4-3-1-2.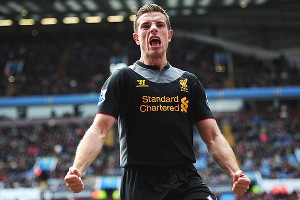 Stu Forster/Getty ImagesJordan Henderson can fill a variety of roles, which makes things a bit easier for Liverpool manager Brendan Rodgers.
3. Go back to the system used in the opening weeks of the season, essentially a 4-4-2 with Henderson tucked in from the right and Coutinho starting from a left sided position with licence to move infield.

4. Return to the 4-3-3 / 4-2-3-1 used by most of the top sides now and that Liverpool used to good effect for most of the second part of last season.

There are pros and cons with all, which is why the Reds' boss will really have to earn his money over the coming weeks. Abandoning the back three would be a popular move with much of the club's fan base, but until the Arsenal game the system had been showing some promise, not least in the win over West Brom.

It's been difficult enough for Rodgers leaving out one of his four centre halves, so he may not fancy the idea of telling another one he isn't playing, either. That's not a valid reason for persisting with a system that he may not be entirely happy with, however, and if that is the case then he will need to make a tough decision and risk upsetting another of his centre backs.

I would not be surprised to see him persevere with the system for the Fulham game Saturday, but beyond that it's very difficult to say as a lot will depend on individual performance, especially in the midfield.

I'm certainly a fan of the 3-4-1-2 -- with the personnel Liverpool have, this appears to be the best way to get as many players in their preferred positions as possible. When it was first implemented, there was a real anticipation as to how it would function once Coutinho returned, so now that he has, surely it's worth taking a look before abandoning it?

On paper it looks good, but as we know the game is not played there and definite drawbacks to the formation exist that better teams could exploit. I'd argue that can be said about any system though -- a good coach can identify and exploit weaknesses in whatever system you can name; at the highest level, it's more about the quality of players and the reality is that if Suarez, Sturridge and Coutinho do their thing, the formation is largely redundant.

The one caveat I'd add is that Liverpool should only use the 3-4-1-2 when they have their best wing-backs available, or until they have better replacements to call upon. Shoehorning players into a position who aren't comfortable in the role is detrimental to the team, as it's such a specialist position and key to making the whole thing work.

With Glen Johnson and Jose Enrique available, I've got no qualms about the system. Take either or both of them out -- as was the case at Arsenal -- and it's a different story entirely.

Having said all that, I'm not totally averse to Rodgers switching to a back four again -- especially when either or both of the wing-backs are unavailable. If he does that, it certainly opens up a number of possibilities farther upfield. The versatility of most of the players gives the manager flexibility to change things around even during the game if things are not working.

Suarez and Coutinho can fill a number of roles in the forward line as can Sturridge, although he's far more effective when just playing centrally. Henderson is another who will happily do a job wherever he's asked, whether that's as an orthodox central midfielder, tucked in from a wide position in a midfield four or out wide in a 4-2-3-1. He's filled all those roles this year -- as well as playing at right wing-back -- and the season is only 10 games old!

When Rodgers first arrived at Anfield, he had a definite preferred system and way of playing. It was very similar to how heset up at Swansea, with a 4-3-3 formation, full-backs pushed high up the pitch, inverted wingers, centre backs splitting wide and the deep-lying midfielder dropping in between them and acting as the fulcrum for the passing game.

Over time he's moved away from that, presumably as a result of not having the personnel to make it work and also because the players he has are suited to a different setup. In some ways that's perhaps not a bad thing; it certainly makes it more difficult for the opposition to game-plan for you if they aren't sure exactly how you're going to line up, and being flexible in your approach and comfortable in different systems has to be a good thing, right?

Generally though, uncertainty isn't a positive, and there's a lot to be said for continuity. It's good to be able to change things around when faced with certain opponents or tactics, but the vast majority of teams have a default formation that they'll use more often than not. It appears Liverpool are still searching for theirs.