Lacklustre Liverpool fall to Saints
It's probably fair to say that this defeat has been coming. Picking up results when not playing well is something that every successful team needs to have in its locker, but at some point, you have to start performing or those good results will inevitably dry up.

While results have been exemplary, Liverpool have not produced a good 90-minute performance all season. The closest to it was an impressive 75 minutes against Stoke on the opening day, but the football has gotten progressively worse week by week, culminating in that poor second half at the Liberty Stadium on Monday followed by this horror show against Southampton.

All of Liverpool's games this season have been on a knife edge; the wins could easily have been draws, and the draw could so easily have been a loss. The law of averages suggests that when you are involved in so many tight games, it will eventually catch up with you, and that's precisely what happened this afternoon at Anfield, as a well-drilled, confident Southampton side did a job on a disappointing Liverpool.

- Rann: Saints worthy winners at Anfield
- Match report: Liverpool 0-1 Southampton

Typically, there was not much in it, and the result could easily have gone either way. It may have turned out much differently had the Reds gotten the penalty that should have been awarded for a first-half trip on Daniel Sturridge or if Steven Gerrard's free-kick was a fraction further away from Artur Boruc's outstretched hand. Close games are decided on such fine margins. So far, the rub of the green has been with Liverpool. Today it wasn't.

It was the fourth out of five league games to be decided by a solitary goal. There was little between the sides, but overall I'd say that Southampton were good value for the win and deserve credit for how they performed.

The Saints were the last side to defeat Liverpool, in March of last season when they blitzed Rodgers' men in an impressive first half before running out 3-1 winners. Since that disappointment, Liverpool had put together an impressive run of 12 league games without defeat, but this slipup suggests that the same issues that undermined last season's campaign have not been eradicated yet. This team still cannot be fully trusted, as they're still prone to laying an egg when you least expect it. File this one away with the losses at Anfield to Aston Villa and West Brom last season.

Mauricio Pochettino appears to have Brendan Rodgers' number, as tactically the Saints got it spot-on once again while the Reds boss spent most of the second half trying to rectify the initial errors he made with his team selection. Lining up with four centre backs across the backline is something I'd expect to see from Stoke, not Liverpool.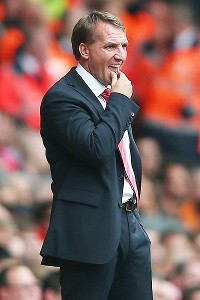 Clive Brunskill/Getty ImagesBrendan Rodgers' decision to start four center-backs in Liverpool's defense raised a few eyebrows.
Of course, circumstances played a part in that. There's no way Kolo Toure plays right back if Glen Johnson is fit, and according to Rodgers, Jose Enrique has a knee problem that they are "having to manage." I'm not sure I completely buy that, though. Enrique could have played this one and sat out the Capital One Cup tie at Old Trafford on Wednesday, a game in which it would be more acceptable to go with the defensively solid but offensively limited Mamadou Sakho.

Starting with four centre backs was always going to cause Liverpool a problem; it seemed that everybody knew that except the manager. I am a big Rodgers fan and could probably count on one hand the number of times I think he's got his team selection wrong, but this was unquestionably one of those times.

It's baffling, as it appears that this season he's had a complete shift in his footballing philosophy. Possession of the ball has always been how Rodgers likes his teams to play, yet this season Liverpool have not impressed in that area at all. Another key ingredient in the Rodgers system is the fullbacks providing the attacking width and playing high up the pitch. It's absolutely vital to how his side plays, and if it isn't happening, then the team cannot function as it should.

Johnson's absence hurts in that regard and some tactical adjustments were necessary due to not having a like-for-like replacement, but stringing four centre backs across the defensive line is something I'd expect to see from Roy Hodgson or Gerard Houllier (bless him), not Rodgers.

His options may have been limited, but he did have options. Three at the back with Jordan Henderson and Enrique as wing backs would surely have been better than this. You can get away with having Toure at right back if you have someone on the other side who can get forward, but when you have Sakho there, it's a problem.

Toure actually played quite well; he's one of the few to emerge with any credit. He's not Johnson, though, and perhaps in his absence people will start to realise how important the England man is to this Liverpool side.

Then there's the selection of Iago Aspas in place of the injured Philippe Coutinho. Once again, the Spanish frontman looked painfully out of his depth and contributed little before being hooked at halftime for Raheem Sterling. Given that the width was not going to come from the fullbacks, would it not have made sense to start with Sterling rather than Aspas?

Injuries to key players are hurting Liverpool at the moment. The squad isn't strong enough to absorb the loss of some of its more important components, but even allowing for that, it just seemed that Rodgers made life a lot more difficult for himself than he needed to.

He eventually ended up with the side that he should have started with when he followed the introduction of Sterling with that of Enrique, but the rot had already set in, as Southampton had their noses in front and were extremely comfortable in their defending. The Reds didn't do enough to work the keeper, his most difficult moments both came from Gerrard free-kicks. In open play, Liverpool created next to nothing, despite having plenty of promising situations in and around the penalty area.

The longer the game went, however, the more likely it looked that Southampton would grab a second on the counterattack as Liverpool toiled in vain to break them down and left big gaps in the midfield. Once again, the lack of energy in the second half was a concern, and in all honesty, there was little to take from the game in terms of positives.

The goal was self-inflicted and came from a string of sloppy, casual errors that led to a corner that was not defended properly. Awful stuff really. There was casualness about the defending all afternoon, with some of the overplaying between keeper and centre backs bordering on comical. The forwards contributed little, and the midfield was poor, especially the captain, who was well below par.

It's a big disappointment to lose at home to a side that -- with all due respect -- a team with Liverpool's ambitions cannot afford to be losing to. I keep saying that the key to getting to where Liverpool want to be is to beat the teams they should be beating; then whatever is picked up from the other games is a bonus. If you win the vast majority of your home games and beat most of the sides you should be beating away from home, you won't be far from a top-four spot. But having beaten Manchester United, this feels like all that good work has been undone with just one point from the following two games. In golfing terms, the Reds followed up an eagle with a par and a double-bogey.

As for what it means for the rest of the season, as frustrating as it is, it is just one game. While the performance raises some doubts as to the quality of the squad, it doesn't mean the season cannot be a successful one. It's a tough loss to take, but it's a long season and there'll be plenty of bumps on the road for all the teams involved. Arsenal lost at home to Villa, let's not forget, but look how they bounced back from it. That's what Liverpool need to do, lick their wounds and come back strongly.

They'll be boosted massively by the return of Luis Suarez, who has completed his suspension and will be chomping at the bit -- and hopefully on nothing else -- when he gets back out there. A player of that calibre will bring another dimension to Liverpool's play and relieve some of the goal-scoring burden off the shoulders of Sturridge.

It's just a pity that, having coped admirably without their star player for nine games, the team fell at the final hurdle just as he was set to return. As injuries begin to take their toll, the return to action of the brilliant but volatile number seven couldn't come at a more welcome time for Rodgers. Let's just hope he can behave himself.