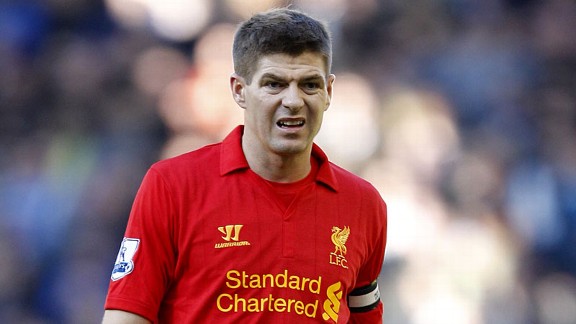 PA PhotosSteven Gerrard belongs in any "greatest ever LFC player" discussion.
There's not been much in the way of good news for Liverpool in recent weeks. Missing out on their most ambitious transfer target of the summer, Henrikh Mkhitaryan, was a bit of a blow, and much like Branislav Ivanovic the Reds also had to deal with Luis Suarez and his out-of-control mouth.

If he's not flashing his drawers at Real Madrid (somewhat understandable) he's humouring Arsenal and their derisory "offer" by refusing to publicly rule out a move to another English club (not so understandable). And it can't just be me who's baffled as to how a player so upset about "media intrusion" can give so many interviews in such a short space of time, especially when he's supposed to be on holiday with his family. Nevertheless, I still love the crazy, nutmegging loon and I desperately hope he stays. He needs to just shut up now, though, as every time he speaks it results in a flurry of depressing, scaremongering news articles. Maybe we could put a muzzle on him; that would solve a number of problems actually.

So between one thing and another, good news has been in short supply of late, but Steven Gerrard signing a contract extension has at least provided a little ray of sunshine in among the storm clouds. It's not really big news - it's not like there was ever any danger of him leaving Anfield and he was always going to be signing a new deal at some point - but it still brings a little smile to the face and the next few years should be savoured, as we are watching arguably the greatest player Liverpool has ever had.

For many that honour will always belong to Kenny Dalglish, for some older Reds it may be Billy Liddell, but regardless of personal preference, Gerrard belongs in any "greatest ever LFC player" discussion. I mean, how many players in history can say they have scored in the finals of the League Cup, FA Cup, UEFA Cup and Champions League? That's not including all the other amazing things he's done and countless truly world-class performances. He's been doing it for 14 seasons too, and he's not done yet.

While he's still got plenty to offer, the clock is obviously ticking now on his Anfield career and sadly he's not going to be around forever. Maybe he'll carry on until a ripe old age as Ryan Giggs and Paul Scholes have done, but there's also the very real possibility he might opt to go down the same path as "Carra" and bow out while he's still at the top and playing every week. If that is the case, then we could be talking two or three more seasons at most. It's a scary thought, as replacing Gerrard is close to impossible.

He is no longer the player he was in his mid/late 20s, but he showed last season he's still a top, top player, and leaving all my obvious bias aside, was there a better central midfield player in England last season? I honestly don't think there's anyone who was even remotely close.


I kept hearing people harping on about how fantastic Michael Carrick was last season, but he doesn't do half the stuff Gerrard does. Don't get me wrong, he's good at what he does do, but he's a little bit "one-dimensional" for me, certainly in comparison to Gerrard, who does a bit of everything and, what's more, does it all to an exceptionally high standard. Is there anything Gerrard can't do? Hell, this summer he's even displayed his beard-growing prowess, sporting some facial hair so magnificent it wouldn't look out of place on his old mate Xabi Alonso.

Looking around the other top sides, there's no one that stands out as being on Gerrard's level. Yaya Toure had been the Premier League's most outstanding midfield player by some distance in 2011-12 but he followed that up with a disappointing season by his own sky-high standards, and there's certainly nobody else at Manchester City fit to lace Stevie's boots.

Frank Lampard had a fine season at Chelsea, but as with Carrick, he's somewhat one-dimensional in comparison to Gerrard. Not as one-dimensional as the plodding crab John Obi Mikel mind, but as we've seen throughout their respective careers, as great as Lampard has been he's not Gerrard and never will be. There's no disgrace in that; Lampard has been a fantastic player in his own right (and still is), he just shouldn't be mentioned in the same breath as Gerrard as he's not in the same class. Very few are.

Neither Arsenal nor Spurs can boast anyone who eclipsed Gerrard last season either, so even at 33, there are still few - if any - better all-round central midfielders than the Liverpool skipper, and if he stays injury-free I don't see that changing this coming season either.

I'm not big on stats and I'm certainly not going to start boring you with them here, but I did see some posted on Twitter and on the forums throughout last season and Gerrard rated high in most of the categories you'd value for a player in his position. Goals, assists, tackling, passing etc. ... I don't need stats to tell me that, though, I know what I saw with my own eyes and once he got over a slow start to the season, he was comfortably Liverpool's second-best player behind the brilliant Suarez. And let's face it, there's no shame in playing second fiddle to the best player in the league.

Incredibly, there were some doubting him after that slow start. I say incredibly, as that's how it looks now, but to be fair he was coming off a couple of injury-hit seasons, he wasn't getting any younger and there were some questions as to whether his style of play was ideally suited to the "possession at all costs" approach of the new manager.

There were some issues early on, with a few goals being conceded as a direct result of Gerrard losing possession in the final third and teams breaking quickly. In the past it wouldn't have been so much of a problem, but the adventurous way Rodgers deploys his full backs so high up the pitch makes ball retention all the more important, and Liverpool had some teething problems in the opening weeks of the season.

It didn't help that the Reds had an unsettled midfield; Joe Allen, Jonjo Shelvey, Nuri Sahin and Jordan Henderson all featured at various stages, but when Lucas eventually returned things settled down and he and Gerrard dovetailed nicely. Gerrard became more comfortable with what he was being asked to do, and to this untrained eye at least, it appeared that Brendan Rodgers also tailored his tactics slightly to adapt to the strengths of players like Gerrard and Suarez.

Whereas in recent seasons the skipper had mostly been deployed further forward, Rodgers used him as an orthodox central midfield player who played box to box. He may no longer be the marauding force that combined so devastatingly with Fernando Torres before the Spaniard downed tools and eventually skulked off to Stamford Bridge, and he's not quite the all-action freak of nature who played centre mid for Gerard Houllier when Liverpool won the treble either. He showed last season, however, that he's still pretty close to it even if he does have to pick and choose his runs a little more carefully than he did in his rampaging youth.

Look at his performance in the Merseyside derby at Anfield, his last game of the season as it turned out. He was head and shoulders above anyone else on the pitch that day. Remarkably, that was his 36th consecutive league start of the season, and had Liverpool won the game he'd probably have postponed his shoulder op and played the final two games in a bid to catch Everton. Up until the week before when he was brought off late on in the rout of Newcastle, he'd played every minute of every Premier League game. Amazing considering his age and the injury problems he's had throughout his career.

The failure to beat Everton probably contributed to the decision to get his shoulder fixed that week, as that result left Liverpool five points back from the Toffees with just two games left. It's a shame he didn't get to complete the entire league season, but on the plus side it also ruled him out of England's summer internationals and has given him a rare summer off.

He should be fresh and ready to go once the season starts, and if the sports science team can keep him as fit as they did last season there's no reason he can't have just as big an impact as he had last year. And if that happens, maybe this time next year I'll be writing about another contract extension.