Barcelona's wide revolution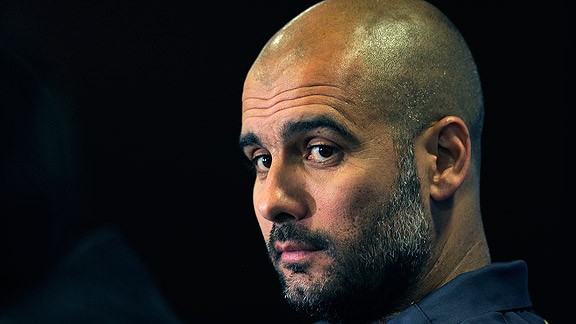 Lluis Gene/AFP/Getty ImagesOne of the staples of Barcelona's success under Pep Guardiola was the use of players out wide to open space in the middle for Lionel Messi.
Part of the fun of watching FC Barcelona over the last four and a half years has been watching them tinkering with the norms of football tactics and formations.

For their fans, and for neutrals who simply enjoy watching individual or group displays of extreme technique applied at high speed, there has been plenty to make you addicted.

For those neutrals who crave a good story (team wants trophy, team overcomes struggles, team lifts trophy, roll credits) there has been drama -- Rome in 2009, victory and defeat in Copa finals at the Mestalla, Clasicos galore, Wembley and those two extraordinary semifinal ties against Chelsea.

But while nobody with a wider knowledge of football's development over the last 50 years would claim that Pep Guardiola specifically invented completely original, groundbreaking tactics, he certainly revolutionised the modern game with concepts which were either forgotten, discarded or scorned.

He was daring, he was thorough and he maximised the fact that Barcelona's football system is clear, defined and able to be applied philosophically to a variety of different challenges.

Guardiola sampled and applied ideas we've seen and heard via Hungary's Hidegkuti, to Inter's Giacinto Facchetti, through Rinus Michels, Franz Beckenbauer, Johan Cruyff, Arrigo Sacchi and the Liverpool of Bob Paisley.

It didn't make Guardiola a plagiarist any more than the Beatles were for using the same notes as Mozart or Ferran Adria is for using the same ingredients as Colonel Sanders. Same ingredients, different recipe, new flavours.

It's seared in my memory that I had a brilliant English teacher when I was young, Eleanor Fraser, who explained avant-garde to me.

It was the early 1970s. David Bowie was Ziggy Stardust, Andy Warhol's 15 minutes had just about ticked out, fashion was androgynous, confusing, daring and about to go punk.

She said: "It's like a meteor, or a shooting star. At the beginning there's heat, motion and light -- it's too bright for most people to understand or to look at directly. But gradually it dissipates and it leaves beautiful sights in the sky, light we admire, patterns, random movement."

I liked the simile, and of course, it hints at the fact that the fire, the light and the energy will not simply reduce to a point where we can all see and appreciate and celebrate -- eventually it will burn out.

What Guardiola, his then-assistant Tito Vilanova, football director Txiki Begiristain and the lead players in the orchestra -- Lionel Messi, Xavi, Andres Iniesta, Samuel Eto'o, Sergio Busquets, Gerard Pique and Carles Puyol -- managed to produce at their fieriest and sharpest was, irrespective of which team you actually support, brilliant, devastating -- life-affirming.

However, the initial fireball has burned out.

Guardiola has gone, Vilanova is fighting to reassert his well-being and all the most senior players are just hitting that age when mental and physical energy requires a little bit of husbandry -- rather than nonstop all-guns-blazing. My honest analysis is that Barcelona remain in the phase where the initial fireball has deposited immense energy, flame and momentum.

But it was interesting to watch Guardiola last season (how long ago that seems now) pottering and tinkering.

Even when his reign was still only three years old, he felt the need to modernize, revamp and introduce new Houdini-tricks to baffle those who would manacle or chain his team. Just like an innovative artist, musician or author, some of his ideas soared, some baffled the public and some just didn't work.

In a pure football philosophical sense Guardiola's commitment to starting with three at the back (with the sacred objective of dominating the middle of the pitch) was "cogito ergo sum."

We are superior in midfield, therefore we "are."

It was a statement of: "Dominance in midfield is our credo, it controls the ball; it controls the flow of the game; it opens up more scoring chances and it augments our defensive power."

Yet it didn't have the effect it was supposed to. The "pure" philosophy couldn't take account of injuries, the absence of Eric Abidal, mental and physical tiredness, the fact that Pique temporarily went through a spiritual crisis in his love for football or the fact that David Villa's crucial cutting edge was absent up front.

OK, punctuation point. Let's leave last season on one side.

In the absence of Barcelona's Ziggy Stardust, the music has played on and it has been nearly as crowd-pleasing. Irrespective of whether it has been Vilanova or Jordi Roura on the bench this season, there has been a continuation of the trend to use "false" wingers who ostensibly start in the two wide positions in the front three but who perpetually want to, or are required to, cut inside.

During Guardiola's initial seasons he would often use Eto'o, Thierry Henry or Pedro wide. Of them, only Pedro can truly be considered a player who is, by trade, an orthodox winger. The African and the Frenchman could produce the goods wide, but they both had long terms in their career as the key central striker. They were asked, perhaps ordered, to adapt.

However, you'd regularly see Guardiola out in the technical area during a match flapping his arms outward from his chest (like an elegant condor taking flight, coincidentally dressed in the finest Italian suit and tie) to signal that he wanted his two wide players "WIDE!!!"

The pitch was to be stretched, opposition fullbacks were to be pulled as far out toward the "winger" they were marking as possible, and space down the middle, normally ripped into by Messi, became a little more available.

Over this season and last that condor has become an endangered species.

Iniesta, Cesc Fabregas, Alexis Sanchez, Cristian Tello, Isaac Cuenca and even Dani Alves have played in the wide positions in the 4-3-3 formation -- only Cuenca is a true winger. Each of them likes to cut inside, to give assists via the short pass or 1-2; each of them likes to score goals. In fact, during the weeks when Iniesta has played out with his habitual midfield position I've often heard the technical staff and players talk about having performed in a 4-4-2 formation. Shock, horror -- Barcelona abandon 4-3-3!

And it's funny, too. In England, when there's a debate about why the national team can't win a competition, it's almost always the formation that is blamed. "Why can we only play 4-4-2?" "4-4-2 is an outmoded system, no one of any stature uses it around the world any more."

Well, Barcelona think they do, when they need to, and they sit free and easy at the top of La Liga, in the Copa semifinal and ready to do battle with Milan on Wednesday in the Champions League.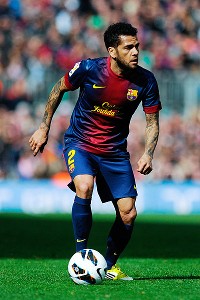 David Ramos/Getty ImagesBarcelona's defense has been exposed by the high-pushing attacks made by its full backs such as Dani Alves.
Width is still important to the Barcelona system, but if it's to be provided by someone going past the outside of the opposition's fullback, that width, more often than not, is demanded from Alves, Adriano or Jordi Alba. They are expected both to defend and to overlap the wide attacker to offer Barcelona either four or even five players up front. Clearly, this was also asked in the early Guardiola days, but not so high up the pitch, not so often and with fewer detrimental effects.

The last few weeks, particularly since the Copa draw against Malaga, and then Barcelona's first La Liga defeat of the season, to Real Sociedad at the Anoeta, have seen both a series of goal assists from the three principal wing backs and a catalogue of faulty defending in the full back positions which has cost them nine straight games without a clean sheet and which, frankly, threatens their maximum trophy potential this season.

Perhaps you have access to review Barcelona's defending in these games on video; if not, then take my word for it.
At the weekend in Granada nobody attacks Aranda's run and cross from the right. Then Nolito is alone at the back post to square for Ighalo to score.

In beating Getafe 6-1, Alba is badly positioned and thus heads a perfect "assist" for opposition striker Alvaro Vazquez to score. At Valencia, Alba fluffs his chance to block the cross and Alves runs to jump with Pique at centre half! Ever Banega is free at the back post to score. Osasuna's only goal in the 5-1 defeat at the Camp Nou comes when there is a free cross from the right. Adriano is tucked in next to Puyol again, more like a third centre half than a full back and it's Villa (!!!) of all people who is trying to close the cross from which Loe scores. Up in San Sebastian, Real Sociedad's three goals come from an A-Z of errors by both Barca's full backs -- men free at either side of their penalty box. Chori Castro, Carlos Martinez and Agirretxe take advantage to plunder goals and assists to turn a 0-2 deficit into a 3-2 win.

Going forward, Barcelona's full backs are devilishly effective. But someone has lost sight of their original purpose.
The old question that introduces new students to basic economics applies here.

The teacher says "Why is Apple in business?" The kids answer, "To make iPhones and computers," and the teacher sneers: "NO! "To make money."

Even making allowances for the fact that Barcelona's principal coach is in New York trying to beat cancer, even accepting that the Catalans' idea is to play well enough to outscore the opponent, it's the case that conceding needless goals in the crucial moments last April cost them the league and, even more markedly, the Champions League.

Barca's players were stung and have returned with great hunger, purpose and entertainment value for us neutrals. But you'd think that if the senior men in the Camp Nou dressing room really hurt badly last season and are determined to make amends, we might be seeing a little more equilibrium.

It has been proved over and again that however avant-garde you are, however talented Messi may be, the simple fact of matching the prosaic (defending) with the poetic (Messi-Iniesta-Xavi) makes you more likely to win -- particularly on days when the gods, the pitch and the referee appear to have conspired to be against you.

Often, in sport, it's good to view your planning, your analysis, your tactics through a different kaleidoscope. Most often it's important to understand and eliminate basic flaws before letting ambition, creativity and dogmatic philosophy rule your actions.

FC Barcelona have the capacity to win the treble. Unless they learn the basic chords, lyrics and playlist properly then they can sing, look and dance like Ziggy Stardust and nobody will applaud. If they get their act together, on the other hand, we'd better hang on to ourselves.

Welcome Back, Crack

In Spain they use the word 'crack' to signify someone who is top. An ace. Simply the best.

It's an expression that has been used about Sergio Canales for some years now, despite him only being 22. Basically the kid has talent in spades -- enough for two players.

But crack is also the sound his knee ligaments have now made twice, costing him 13 months out of the last two seasons -- an appalling price to pay for such a happy-go-lucky youngster who looked as if he were about to take Spain by storm.

Right now it's a little hard to find things at Valencia CF that make the blood surge faster -- a time of renovation and adjustment to financial pain is not something that can be borne with the kind of class, style and football success which the demanding fan base at the Mestalla still consider to be their birthright.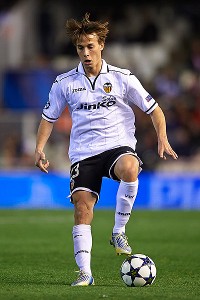 Manuel Queimadelos Alonso/Getty ImagesPlagued by injuries in recent seasons, Valencia's Sergio Canales has finally made his way back.
Canales should have been their joker in the pack, a guy to turn back the lapping tide of crisis and decline.
Someone who produced a couple of goals that oozed class, balance and vision for Racing Santander and then shunned Manchester United's approaches to sign for Madrid because his father felt strong affection for Los Blancos.

But that proved to the wrong choice. Jose Mourinho didn't fancy him, nor did he fancy the fairly straightforward task of helping Canales develop. The "Special-ish One" hadn't asked for this Spanish cadet, so he was pretty much shunned. Whether or not it was because he was a Jorge Valdano signing, the Madrid coach seemed to find other players to favour, irrespective of how much Canales offered a different package of skills.

So the Mestalla appeared like a place where (A) Unai Emery could train and develop him, and (B) the crowd might warm to a kid of patent five-star class at a time when Valencia had been forced to sell "cracks" like David Villa, David Silva and Juan Mata.

Two horrible knee injuries intervened, but now he's not only back and looking elegant when he plays, but Canales has drawn strength from his time in the rehabilitation wilderness.

"The experience has really taught me what it takes to be successful," he recently admitted. "My right leg is much stronger now and I'm also much better in the air. I didn't really expect to improve as much as I have, and because I've been building my upper-body strength I've gone from 71 to 76 kilos."

During his recuperation he analysed video footage of himself playing and sought advice from a maestro like Juan Valeron who suffered the same injury not twice but three times. Canales has also used his passion for basketball as an inspiration, often getting up at four in the morning to watch one of his idols, Kevin Durant, play.

"You can spot the players who are always willing to rise to the challenge, guys like LeBron James who have strength of character and who are always looking to achieve more and more. They are an example to us all, not just in terms of football but as a lesson in how to live."

He collects basketball strips, including one of Michael Jordan's from his university days, and is counting the days until he can go and watch an NBA game in the States.

Like LeBron, Canales is a player who never stops showing for the ball and asking teammates to use him -- whether or not the team is having a good day. He's one of those who likes to trust his talent and to take responsibility.

"Although I've been unlucky with injuries, it's not going to stop me getting stuck in. I'm only ever comfortable in the thick of the action. The Mestalla is an amazing place to play football. It's impossible not to be swept along by the sheer passion of the people here."

It's coincidence, but Canales' return to training was also Ernesto Valverde's first day on the job. The two men have clicked.

"Valverde gives us two or three simple ideas to work with. He like us to press high and then surge towards the opponent's box. My job is to make inside passes around the penalty area, maintain high possession and get the ball back quickly whenever we lose it."

La Liga's economic situation means that the asset-strippers -- Manchester City, Arsenal, Chelsea, Bayern Munich, to name but a few -- will keep plundering.

So beyond the needs of the Valencia Club de Futbol, it's simply uplifting to see Canales return to the stage in the hope that he not only enjoys a few successful, injury-free seasons, but that he does so in Spain.