Super Cup yields first Clasico of 2012-13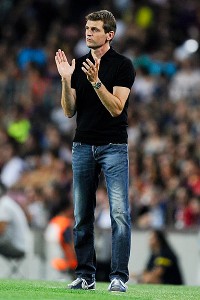 With Pep Guardiola gone, Tito Vilanova is coaching his first Clasico as head coach.

Decades used to pass in Spanish football in which Real Madrid and Barcelona would fulfill their standard commitment to meet for two league games per season, all guns blazing, and the rest of the world didn't long for a superpower battle every couple of months.

But we live in the age of the Clasico, a battle underscored by the fact that by the first week in October, Jose Mourinho will have competed in 14 of them as Madrid manager -- approximately one every eight weeks of his reign.

And this battle recommences on Thursday. Camp Nou. Barcelona versus Real Madrid. Cup winners against La Liga winners. Again.

However, neither I nor any sane person is complaining -- not yet.

It's a personal view, not a quantifiable fact, but I take these matches to be the most explosive, most technically brilliant, most consistently entertaining and most rewarding anywhere in the world.

The recent quality has been exceptional, and even when the excellence drops a scintilla, a plethora of human stories always surges to fill the gap.

There's Iker Casillas' joy two seasons ago at finally winning the Copa del Rey (1-0 over Barcelona in the final) after openly yearning to do so for more than a decade; Eric Abidal's emotional return after his first cancer treatment in the Champions League semifinal elimination of Real Madrid that same season; Jose Mourinho's "por que, por que, por que?" (why, why, why?) rant after the first leg of that semi. The eye gouging, the red cards, the penalty decisions given and ignored -- if the brilliance of Messi, Ozil, Iniesta or Ronaldo drops for a second or two, then the sideshow always steps up to entertain us instead.

The stats alone tell an interesting tale.

Of the eleven Clasicos between Mourinho and Pep Guardiola, there have been four score draws, five Barca wins and two wins for the Special One. Of the 35 goals, Barca has scored 22 and Madrid 13, while Los Blancos have a significant card lead: 50 of the 81 bookings and seven of the nine red cards.

Last season we were treated to two absolute epics with Barca eventually emerging the 5-4 winner thanks to Leo Messi's three goals and an assist.

Part of what has fascinated me about this "world series" of soccer since it became Mourinho vs. Guardiola/Vilanova is that instead of familiarity breeding only contempt (though there have been fair doses of that at certain stages), the intensity has had a hothouse effect on creativity.

During a significant part of the series, Mourinho found it impossible to pick the correct tactics. When he went toe-to-toe with Barca, his side was thrashed (5-0); when he decided it was gloves off and knuckledusters on, the referees intervened.

When he should have attacked (Bernabeu Champions League semifinal, first leg in 2011) he produced conservatism and an attempt at midfield "destruction," using Pepe to try to shackle Messi.

However, the glorious thing for neutrals is that the Special One learned from his mistakes.

At least when his team played at the Camp Nou he did, though it's yet to be proven that he, his squad or the Bernabeu faithful have shed their nervous disposition when the Catalans come calling.

Under hothouse conditions Mourinho flowered a little, invented new ways to use his resources and sequentially won the Copa del Rey and then La Liga.

One significant factor about the stunning game we witnessed in this Super Cup a year ago was that the three red cards and infamous pugilism at the end of Barcelona's 3-2 win obscured how excellently Madrid played.

Twice it went behind, twice it equalized. Real's confidence, technique, pace, power and the position Mourinho's team took up on the field (playing much more deeply but flooding forward in attack when it robbed the ball in significant areas) looked much more appropriate and mature.

Messi, unquestionably, was the difference between the sides.

That performance seemed to stem from seeds planted the previous season when, trailing 2-0 on aggregate, Madrid came to the Camp Nou in the Champions League semifinal and attacked. Real drew 1-1 and was eliminated but gave a mighty performance. Mourinho could certainly have won that night.

The next visit was the Copa del Rey tie last January.

Again Real Madrid was eliminated, but again it conceded twice and managed to square the score. Once more it finished the match distinctly the stronger of the two sides -- the Camp Nou crowd was audibly nervous -- and only the obtuse could fail to notice that a gap was growing between results and what government statisticians trying to explain bad news call "underlying trends."

In short, Real was playing well and intelligently without winning.

Then, of course, came the title defining victory last April during Barcelona's "perfect storm" when it departed two key tournaments (La Liga and the Champions League) in the space of 10 days.

Madrid won 2-1 in Barcelona (its first victory at the Camp Nou in five years) and played virtually without a flaw. Intense, focused, confident, athletic, creative -- Mourinho's side utterly bossed the 90 minutes.

So in theory, with Guardiola gone, Tito Vilanova coaching his first Clasico and Real Madrid now clearly rid of the inferiority complex versus Barcelona that was beginning to choke the club, this should be a firm chance for Mourinho to inflict a serious wound on the new Catalan coach.

Maybe he will do that.

However, it feels as if the elements have just gently drifted toward Barcelona as Thursday night approaches. Of the two sides, Barca appears to be slightly sharper and more clinical. What's more, Madrid suffered a couple of bad breaks against Valencia while football smiled on Barcelona against Sociedad.

The collision between Casillas and Pepe means that the Portugal international, such a controversial figure in these clashes, almost certainly will miss this first leg. He can play without morals, but in both the last Clasico and at the Euros he showed that, on form, he remains an extremely difficult opponent. Mourinho would certainly prefer to have him in his lineup.

Barca? Not only does Messi appear to be in razor-sharp form, it was a tremendous fillip to see David Villa get unexpected game time against Real Sociedad and score a top-class goal -- his first since breaking his tibia in Japan last December.

None of this wins the game in advance, of course. Madrid's stalwarts will raise their game, offering up extra energy and concentration, while the cauldron heat of a Clasico will be an interesting test of Vilanova's decision making powers.

He no longer makes apposite "suggestions" but has to make firm, correct decisions and know that the buck stops with him. We'll watch and learn how he handles it.

But the final element that remains tantalizing is Cristiano Ronaldo. Recently, I'd argue, he has shaken off any last vestiges of the spurious idea that he was somehow not a "big match" performer.

Aside from his winning goal in the 2011 Cup final against Guardiola's team, Ronaldo added four goals against the club in the Super Cup, the Copa del Rey and La Liga last season, scoring both home and away and producing the winner in the April Clasico that finished Barca's title challenge.

At the weekend he didn't have his most convincing match, admitted that he was still in search of his best form and then awoke to rather hysterical newspaper headlines about what might be wrong with him.

Nothing that an early goal on Thursday wouldn't immediately cure, I'd say.

Be that as it may, the Clasico returns, with more angles to it than a dodecahedron, and, into the bargain, there are another 90 minutes and a trophy coming next week.

I'm right up for it, aren't you?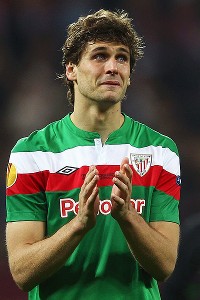 The treatment of Fernando Llorente by some at his club, Athletic Bilbao, by local politicians and by some fans is embarrassing, and misjudged.
Time to call foul

OK, it's only Week Two in Spain, but already it's time for me to call "Foul" -- and to do so loudly.

The treatment of Fernando Llorente by some at his club, Athletic Bilbao, by local politicians and by some fans is atrocious, embarrassing and completely misjudged.

Llorente has been the emblematic player at Athletic for some seasons. He is, with Javi Martinez, the key property, and what's more, he's a totally reliable, hard-working professional whom you'd be lucky to have at your club.

At age 27 and with several clubs interested in buying the services of a World Cup and European Championship winner, Llorente is quite justified in using his last "golden" renegotiation of a long-term contract to push for the best wages he can get.

Equally, Athletic is entitled to try to persuade the striker to stay while finding a way to reduce his demands. Still, it's atrocious the way in which Llorente has been hung out to dry and how the hardliners in the Basque country have been encouraged to turn against him.

President Josu Urrutia not only has condemned the player but spoke about him as if he were showing disloyalty to the cause simply for asking for his worth; then the club made public its claim that Llorente has asked for 5.5 million pounds.

His demands have been called "obscene" as the local mayor, politicians and a sizable minority of fans have hit out at him. Death threats have been daubed on club property. He's being booed in training, and Marcelo Bielsa dropped both Llorente and Martinez for the 5-3 home defeat to Real Betis this past weekend.

(How did that decision work for you, Marcelo?)

This kind of treatment is not only unmerited, it's torturous for an honorable, decent club servant who is merely trying to ensure his future. Nor will Urrutia agree to sell Llorente (at least that's his stance at the moment) to either Spurs or Juventus.

Presumably he thinks it's a good idea to humiliate and hurt an honest footballer, refuse him a move, keep him much to the disgruntlement of the supporters for a season and then watch him walk away for nothing because his contract expires next June.

Yeah, real smart business all round that is, Mr. President.

This situation, plus that of Bayern Munich's relentless pursuit of Javi Martinez, is destabilizing an already troubled club.

Urrutia is within his rights to refuse Llorente the kind of salary that he will undoubtedly receive for leaving and joining a major European club. That's business. But when a player has given everything to the club, scored goals to earn millions of euros and represented Athletic with dignity, I think it's criminal to manipulate the situation such that he is vilified, threatened and his legend with Los Leones tarnished forever.

Last word on the subject goes to the last manager to win major prizes for Athletic Club, Javier Clemente. "This is the first time in the entire history of the club that a player's wage demands have been made public," said the former San Mames boss. "But do we know Marcelo Bielsa's financial package or those of the managers who preceded him? No! And if we don't, then we shouldn't be doing this to a player.

"Each year," Clemente added, "there has been a deterioration in the relationship between the squad and the players -- it's a progressive thing and precisely not what a club with a special identity like ours should be allowing to happen."

It's not often I agree with Senor Clemente, but amen to his sentiments this time.