Balanced Real set clean sheets record
MADRID -- Carlo Ancelotti beamed with satisfaction when asked if he was proud to be going into Real Madrid's club history after his side kept a club record seventh consecutive clean sheet in Saturday's 2-0 La Liga win over Granada at the Estadio Santiago Bernabeu.

"I like this record," Ancelotti said. "Even if there are more important trophies still to play for. But it is good, and it is thanks to all the players. It is not just about defence. The most important thing is the balance we have at the moment. That is the key. I have said it too many times, but now the team defends really well and attacks really well."

The win here was never really in question -- Madrid upped the tempo after a goalless first half and Cristiano Ronaldo and Karim Benzema [again] provided the goals that sealed the three points and sent Madrid top of the table for 24 hours, at least.

Neither was the zero at the other end of the scoreline a surprise, something that would likely have given Ancelotti even more pleasure.

- Report: Real go top with win

Last autumn, while Madrid were getting results such as the 7-3 at home to Sevilla and 3-2 win at Rayo Vallecano, Ancelotti kept mentioning the word "balance." Xabi Alonso's return from injury in November helped,but not enough, as was seen in the 2-2 draw at Osasuna and 3-2 win at Valencia with which Madrid closed out 2013.

That was then. In their first seven matches of 2014 Madrid have conceded a total of zero goals, while winning them all. Sometimes -- like at Betis [5-0] last weekend -- the margin is handsome but more often Madrid are sitting tight, controlling games through possession, making sure they do not conceded, and doing enough to keep winning.

Once again they lined up in Ancelotti's now favoured 4-3-3 formation, with Alonso deep in midfield and Luka Modric and Angel Di Maria on either side. These two players, who looked destined for peripheral roles when Madrid signed Isco and Gareth Bale last summer, are now key to the side's shape and performance.

Di Maria's last appearance at the Bernabeu ended with him thrusting his groin towards fans who were whistling him as he was substituted early after a subdued performance against Celta Vigo on January 6. That lead to a farcical club "investigation" clearing him of any wrongdoing, but in less than three weeks he has evolved from on the way out winger to vital to the team's shape as a "shuttling" left-sided central midfielder. His new double role involves sitting inside beside Alonso when Madrid do not have the ball, and haring forward down the left wing to provide width when his side attack.

Fans seemed to have mostly forgotten the "crotch-gate" incident -- and the Argentina international was involved in two early Madrid attacks, providing a clever pass that lead to Manuel Iturra heading off his own bar and a cross which Sergio Ramos headed narrowly over. He was also to the fore as Madrid improved after the break, getting down his wing to swing over a ball which Benzema headed off the bar as the screw turned further. This was perhaps not Di Maria's most standout game of recent weeks but he again looked comfortable while doing both his jobs, and there was mostly applause when he was subbed off for Asier Illarramendi at 2-0 late on.

"[Di Maria] has played this position for Argentina," Ancelotti told the press room. "His work is very important, he defends very well, he has attacking quality. So I am happy with his play."

Modric is also thriving in the 4-3-3; his form and responsibility in the team have both grown in recent months. It does seem somewhat counter-intuitive but the former Tottenham man has become a tougher, more competitive player since leaving the Premiership for La Liga. The Croatian is now regularly mixing top class creative work with intelligent defensive awareness and has become one of the key players in Ancelotti's side.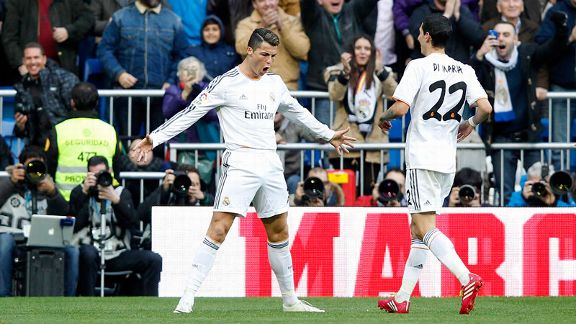 GettyImagesCristiano Ronaldo celebrates his goal.

Here he regularly gained loud applause from appreciative fans for launching quick attacks with incisive balls forward and gliding past challenges in the centre of the pitch, but also for covering back to get a toe in and win possession in own half. You do not see Modric charging into "tackles" risking missing his opponent or giving away free kicks in dangerous positions; instead he just holds up his opponent, waiting for the right moment to nip in and either dispossess him or intercept a pass.

And it was the Croatian who picked out Ronaldo on edge of the box for the Portugal captain to swivel and shoot his side into the lead early in the second half. Modric now has six assists so far in the league, equalling his best ever season [2008/09] for that particular stat at Spurs.

"His best feature is penetration with the ball," said Ancelotti. "At start of the season he had less personality in his game, but now he has that. He is showing his quality."

The solid basis from midfield means that Madrid's front three -- Benzema, Ronaldo and Gareth Bale, do not have too much work to do off the ball. Bale was subbed here at half-time after being kicked early in a particularly painful area, and Ancelotti pointed out afterwards that young replacement Jese Rodriguez had worked harder in defence, while his team as a whole were more "intense" after the break.

Asked if he was suggesting Bale had not worked hard enough during his time on the pitch, the Italian coach said he was not.

"I do not ask a huge defensive work from attackers." Ancelotti said. "I ask them to pressure up-top to force the defenders and goalkeeper to hit the ball long. Covering the full-back if he comes forward is the work of Modric and Di Maria."

The balance brought by Di Maria and Modric (and Alonso) helped mean that Granada finished the game without a shot on target. Sergio Ramos picked up his obligatory yellow card for a crude first half foul on visiting full-back Allan Nyom, but his partnership with Pepe showing signs of coming together -- as it really should considering this is their sixth season together at the club.

Ancelotti said on Friday that Raphael Varane, who has barely played in eight months due to a persistent knee problem, should be back for the trip to Athletic Bilbao next week. The Frenchman is likely to make an already solid defence even more secure.

A few caveats are possibly required at this point. Madrid have not played a team in La Liga's top seven so far this calendar year, thumping Celta, Osasuna, Espanyol, Betis and now Granada, who remain the division's lowest scorers this season away from home. Madrid's defensive solidity, and especially reliance on Di Maria and Modric in defensively responsible roles in midfield, is likely to be tested against tougher opponents, especially in the Champions League.

For example, their clean sheet record could well be halted next week at San Mames, where Athletic have scored in every home game this season and notched 10 in their last two La Liga outings.

But for the moment Ancelotti was more than happy. His "balanced" Madrid are clicking together nicely.