Can Arsenal really run the table?
I guess John Henry finally got his question answered.

Lest you forget, Liverpool's principal owner was aghast this summer after Arsenal put in their cheeky 40,000,001 pound transfer bid for Luis Suarez. "What are they smoking over there at the Emirates?" Henry facetiously asked on Twitter.

Well, the Gunners finally responded this past Saturday and their timing was impeccable given that earlier in the week, Henry's other franchise in red, the Boston Red Sox, looked to be smoking the same stuff -- a rarefied blend of success and talent that is only available to teams of championship pedigree. But let's face it, Little Luis is no Big Papi.

This is not meant to guarantee that Arsenal's comprehensive 2-0 beatdown of Liverpool will necessarily lead to a bubbly-soaked dressing room for the Gunners like the one Henry strutted through this past Thursday night in Boston, but for the first time since the world was young and iPads only came in one size, we can mention "Arsenal" and "Premier League trophy" in the same sentence without being in danger of the men in white coats hauling us off.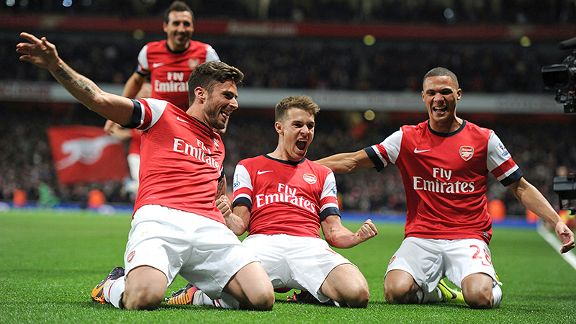 Stuart MacFarlane/Getty ImagesArsenal's comfortable win versus Liverpool is yet another sign that the Gunners' title aspirations might be legitimate this season.

It's not just that the Gunners sit five points clear of Chelsea at the top of the league (mind the gap, Jose, mind the gap). Rather it's that Arsenal are back to playing their champagne soccer of yore, but with a determination and swagger that puts a premium on winning and not simply producing gasps of admiration. Whether they can sustain this combination of fluidity and confidence over the course of the next month, let alone until May, is the question that torments Arsene Wenger's fitful sleep, even more than his recurring nightmare about the unzippable puffy coat.

Certainly though, we'll have a better grasp on Arsenal's joyride once the Gunners emerge from the meat-grinder part of their Prem schedule -- games against both Manchester clubs, Chelsea, Southampton and Everton lurk before Christmas -- but for now, the Emirates is back to being a happy place after successive Cup defeats to Dortmund in the Champions League and to Chelsea in the Capital One/Damn You, Birmingham City Cup had momentarily doused the fervor.

(Is it just me or does soccer breed more minute-to-minute mood swings than one of Carrie Mathison's therapy sessions?)

Nothing like a big game against a top, top, top club like Liverpool to cure what ails you. At the start of every season going back to 1986, aka the last time the league trophy resided at Anfield, Liverpool fans engage in their annual ritual of delusional "This could be our year" thinking. But this season, these farcical expectations were actually accompanied by a soupcon of reality.

- Delaney: Gunners re-assert their credentials
- Brewin: Gerrard on the wane
- Walsh: Doubts plague Liverpool in loss
- Usher: Rodgers must resist major changes
- McNicholas: Arsenal's convincing D

Under Brendan Rodgers, the Reds were playing with purpose and belief and in Suarez and Daniel Sturridge, they boasted the Prem's most lethal strike force, scorers of 14 of the team's 17 league goals. Moreover, with Chelsea having been upset by Newcastle earlier in the day, the match against Arsenal was elevated to the kind of old-school, top-of-the-table collision that Liverpool used to play all the time in their glory years when the names on the lineup sheet were Kenny Dalglish, Ian Rush, Graeme Souness and Kevin Keegan rather than Martin Skrtel, Jordan Henderson, Jon Flanagan and Kolo Toure.

Of course, the same could be said for Arsenal, whose lack of depth was made abundantly clear by a glimpse at their bench, which is thinner than Nicklas Bentdner's humility streak. As my friend Jason, the Football Factory's most boisterous Man United fan, put it minutes before kickoff: "You're only an Olivier Giroud hamstring twang away from the Europa League." Which, you have to admit, is pretty rich coming from a guy who supports a mid-table club that are so desperate they brought in 14-year-old Brooklyn Beckham for a trial last week. (I don't get it -- if he was conceived in Brooklyn, shouldn't he be on the USMNT by now?)

Try as they might, Jason and his increasingly irrelevant ilk didn't impact the buoyant mood at the bar where some 300 Arsenal and Liverpool fans stood shoulder-to-shoulder and pint-to-pint as kickoff beckoned. Given that it was Nov. 2, I was more in my element than in any other month of the year as a number of supporters were in the process of honoring the charitable Movember tradition of growing mustaches -- although none, I'm happy to report, were as luxuriant as mine. Yet.

No wonder I was bristling with confidence, so much so that I made three separate bets on Arsenal to win before I had my first beer.

Granted, there was a hairy moment early on when the Arsenal defense allowed Jordan Henderson to gallop 40 yards unmolested with the ball at his feet until he was in the area and about to pull the trigger. That his shot was so feeble, the ball trickling toward the goal, was both a huge relief to the Gunners and emphatic confirmation that they had little to worry about if they could simply contain Suarez and Sturridge.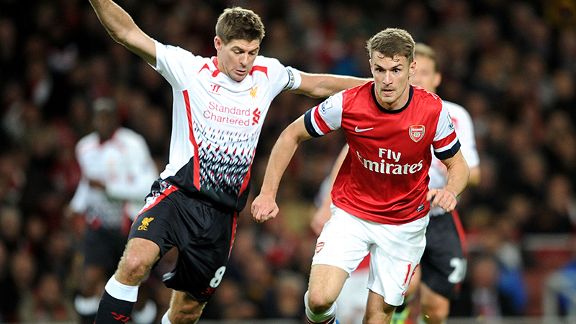 David Price/Getty ImagesSaturday's game saw Steven Gerrard sadly reduced to chasing shadows as Arsenal's midfield controlled the game with ease.

Though Rodgers spoke endlessly last year about instilling a "joga bonito" philosophy in his team, he has clearly abandoned that tactic in favor of sticking three brawny defenders at the back and hoping that the SAS goal machine score more than their opponents. What he seems to have forgotten is that having two dynamic strikers doesn't matter if they can't get the ball. And the ball is more often than not won in the midfield, an area where Liverpool look woefully slow and pedestrian, especially against a squad like Arsenal's, where every player but Bendtner has quick feet and refined technical ability.

You could hear the creaking emanating from the Reds' talismanic 33-year-old midfield anchor, Steven Gerrard. All those groin injuries and surgeries have caught up to Stevie G and Sir Alex was spot-on, if unnecessarily churlish, for writing in his autobiography that the England captain is no longer "a top, top player." And it didn't help that until the second half, when Rodgers brought on the stylish Brazilian playmaker Philippe Coutinho, he was flanked by Henderson and Lucas Leiva. Together, they couldn't cope with the guile and fluidity of the Arsenal midfield as Santi Cazorla, Aaron Ramsey and Tomas Rosicky weaved and skittered their way around them.

Liverpool can consider themselves lucky that Arsenal were without three of their most influential midfielders -- Jack Wilshere, Mathieu Flamini and Mesut Ozil -- or the carnage would have been worse. OK, that's not technically correct. I rechecked the lineup sheet and Ozil was definitely playing, although he was largely invisible until he assisted Ramsey on Arsenal's second goal. But who needs the $67 million German when you have Cazorla? The effervescent Spaniard delivered a potent 19th-minute reminder to the Arsenal fans who have been drooling ad nauseam about Ozil's celestial skills when he smashed in the opening goal.

Every great player is entitled to an off day, of course, and with Ozil looking human, the rest of the Gunners ratcheted up their game. The unsung Rosicky brought impressive zip and one-touch flair to the midfield while Mikel Arteta, the team's captain and cerebral enforcer, didn't have a pass, tackle or hair out of place. Thanks to the swashbuckling runs of Ramsey and the increasingly muscular hold-up ability of Giroud in attack, Arsenal were able to retain the ball for long stretches of time, at one point completing 16 consecutive passes as Liverpool stood back and looked a little dizzy. It was enough for Brian, the Gunners' resident head cheerleader at the Football Factory, to exclaim "Arselona!"

Meanwhile, Suarez and Sturridge looked less like a menacing partnership than a couple of gifted yet selfish individuals. The one time they combined effectively was in the 26th minute when Suarez released his fellow striker down the left with a quick free kick to cross for Henderson to tap in. Unfortunately for Liverpool, referee Martin Atkinson had already blown his whistle for a reckless tackle by Bacary Sagna on Suarez, thereby nullifying the apparent goal. Whether Atkinson should have played the advantage is up for debate, but SAS's failure to cause havoc in the Arsenal defense from open play is not. Suarez spent the better part of the afternoon watching the game from Laurent Koscielny's back pocket, while Arteta kept Sturridge from breaching Arsenal's high defensive line.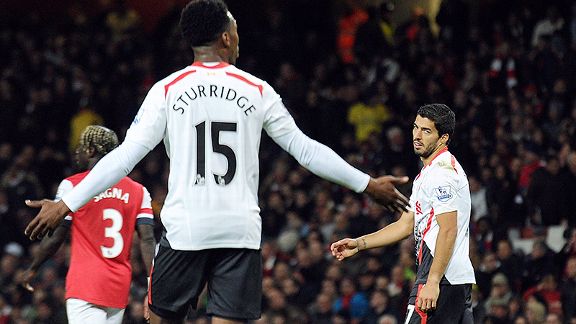 Andrew Powell/Getty ImagesSuarez and Sturridge have been lethal this season but versus Arsenal they were only deadly toward one another as the Gunners' defense handled them with ease.

Both spent as much time standing with their hands on hips as they did running onto the odd through-ball. The culmination of their frustration was palpable in the dying minutes when Liverpool had their best chance to pull a goal back. Thomas Vermaelen -- yes, he still plays for Arsenal -- was on as a substitute for the injured Kieran Gibbs, when he took the time to remind Arsenal fans why he has been tethered to the bench. His loose pass down the wing was pounced on by Suarez, who put his head down and tore into the box. Had the Uruguayan looked up, he would have seen Sturridge all alone in acres of space, preparing to rock his irritating dance moves for the 11th time this season.

But instead Suarez fired wide, sending Sturridge into a hot funk and displaying his unhappiness by throwing his arms out wide like a man who didn't want to admit that he probably should have been closing in on the back post for an easy tap-in after all. To be fair, if anyone in the Prem has a better grasp on selfish play than Sturridge, he'd have to be related to Arjen Robben.

With about a minute to go in the match, Mickey, the Liverpool-supporting bartender, came over and congratulated me on the victory. "As I said, the team that won this game will win the league -- and 20 bucks," he said. Then he went over to the cash register and took out several rolls of change and began mischievously counting them out on the bar.

I laughed. The payment form was apt given that his Reds had just been hung, drawn and quartered.