Thrifty United and Arsenal heading in different directions
Take a deep breath and repeat after me: It's only one game. A single 90-minute match would not have been sufficient for Arsenal's new dream team -- Julio Cesar, Sven Bender, Gonzalo Higuain, Wayne Rooney, Luis Suarez and Luiz Gustavo -- to settle in, if in fact they played for the Gunners, which, tragically, they don't. But just for one heady moment, let's pretend they did.

If Arsene Wenger can play his fantasy fiddle transfer game for three soul-immolating months, shouldn't I be allowed to imagine what it would have been like to have bought just one of these shiny soccer baubles? Hell, Spurs acquired a whole constellation of talent in the offseason, and all they are trying to do is finish ahead of Arsenal once every other decade.

Did I mention that it's just one game?

Oh, Arsene, you cruel tease. Like a burlesque queen, you showed us a little leg over the summer -- the Higuain deal was this close; you triggered the release clause in Suarez's contract -- but it turns out that your transfer dance costs Arsenal ticket holders a wee bit more than 10 euros.

Can you blame the Emirates faithful for feeling Madoff-ed after this weekend's horror show against Aston Villa, a team that finished 11 places below Arsenal in last season's table? Having not spent a single, bloody pence in the transfer market (the great Yaya Sanogo was free), Wenger sure got his money's worth on the field. And this despite all the public posturing that he was sitting on a pile of cash that a "Game of Thrones" dragon would have been proud to call its own. Wenger himself said Arsenal had compiled enough lucre to compete with the Manchester Uniteds of the world for the biggest names, and in that sense, the Arsenal manager was right on the money because the defending Premier League champions also spent squat over the summer.

The difference is that United isn't exactly rolling out table scraps. The Red Devils lapped the field last season and still boast the league's strongest defense (even when Nemanja Vidic and Ferdinand are physically off their game), a circus acrobat of a goalkeeper in David De Gea, the most lethal goal scorer in my former man-crush Robin van Persie (he had two beauties on Saturday, including a flying, hooked volley in a 4-1 beatdown of Swansea) and the Prem's best backup striker in Rooney (who executed a couple of clever passes and decoy runs in 28 professional minutes).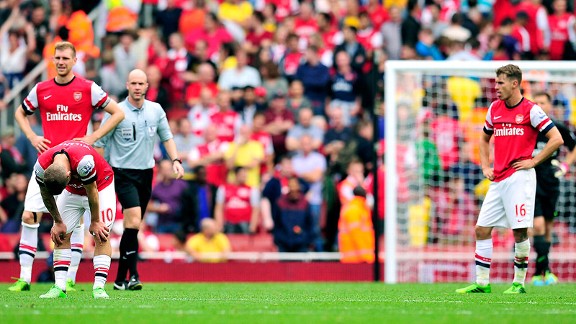 AllsportArsenal's woe is familiar by this point. But when will things get fixed?

Lest you forget, Wazza was one of the earliest examples of Wenger's astonishing capacity for self-delusion before the once-and-future England savior was branded "not for sale at any price" and slapped back onto the subs bench. While entirely understandable, the United reaction is particularly galling given that Arsenal essentially sold them the title last season in the shape of RvP's MVP-esque 30 league goals. Although Rooney has been stamping his feet and holding his breath until his giant face turns Chelsea blue ever since, he betrayed none of that sulky petulance when called upon in the 62nd minute. Of course, the fact that he refused to celebrate his team's goals did not go unnoticed.

United's new manager Sir David Moyes (OK, he's not technically a knight yet, but after his magisterial start on Saturday, it's just a matter of time), however, more than made up for Rooney's lack of passion with the kind of animated fist pumps that were a robust upgrade on Sir Alex's geriatric jig. No surprise that when RvP's second goal made it 3-0, the away end at the Liberty Stadium reverberated with the sound of Moyes' name being sung by even the most skeptical prove-it-to-me-that-you're-worthy-to-chew-Fergie's-used-gum loyalists.

United's latest Scottish boss, rocking a black tracksuit and sneakers for his Prem debut, knows there will be dirty days ahead -- perhaps as soon as next Monday, when Chelsea and the Special One visit Old Trafford -- that will involve staring down foolishly free-thinking referees, berating loudmouth fans and bludgeoning pesky journalists, but on Saturday he let the United love wash over him and was even moved to wave back to the adoring supporters.


Apparently 4-1 road victories go a long way toward gaining forgiveness for Moyes' failed flirtations with Cesc Fabregas and Thiago Alcantara, but this is not the case for Wenger, a man who affects the kind of twitchy demeanor that is consistent with having your house surrounded by a vengeful mob wielding torches, pitchforks and suspiciously runny Camembert.

Wenger's response to the highlight of Arsenal's new season -- a deftly worked goal by Olivier Giroud in the sixth minute to put them ahead 1-0 -- was muted, almost as if he knew that the Gunners had exhausted their good fortune for the afternoon. By the 85th minute, when Villa's Antonio Luna made it 3-1 to the visitors, Wenger's face matched the mood in the Emirates -- dark and foreboding. Those Arsenal fans not streaming toward the parking lot began loudly serenading the Frenchman with chants of "Spend Some [Expletive] Money."

As it happened, I was in Washington, D.C., for the weekend and watched the game at the painfully ironically named Lucky Bar, an Arsenal stronghold that morphed from an atmosphere of demented glee (my fellow Gooners bought me two Stellas in the euphoria following Giroud's goal) to a sepulcher of doom and gloom (I paid for the four-pack of Hemlock Brew I drained in the second half).

Judging by Saturday's abject performance, Arsenal fans can no longer even count on what for the past 16 years has been their divine right: a Champions League berth. If I'm Fenerbahce, I wouldn't be soiling my pants at the prospect of playing a depleted and demoralized bunch of Gunners in this week's qualifying match. The cold, hard truth is that given the current skeletal makeup of Arsenal's squad, very few opponents should fear Wenger's men. Consider that after Laurent Koscielny was controversially dismissed for his second borderline foul in the 67th minute, the Gunners featured a holding midfielder (Aaron Ramsey) at center back, a right back (Bacary Sagna) at left back (for Kieran Gibbs, who was forced off with a head wound midway through the first half) and a grim-faced Lukas Podolski coming on in the 93rd minute after Sagna crash-landed on his neck.

You could see Aston Villa, a young, spirited team that barely escaped relegation last season, gaining in confidence and aggressiveness against a side that had one eye on the Sept. 2 transfer deadline and the other on the tumbleweeds in their trophy cabinet.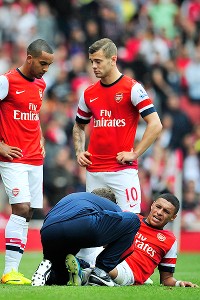 GLYN KIRK/AFP/Getty ImagesAlex Oxlade-Chamberlain's potentially long-term injury only compounded the Gunners' woes.

I suppose I am morally obligated to mention that referee Anthony Taylor didn't help matters by ruling in favor of Villa on every disputed call, except for when he inexplicably gave Luna a yellow card after Alex Oxlade-Chamberlain had slid studs up into the Spaniard's nether regions. Given Arsenal's luck, it was Chamberlain, not Luna, who hobbled out of the Emirates on crutches with a knee injury that could sideline him for up to six months.

But to blame Taylor for Arsenal's defeat is simply a handy excuse to divert attention from the Gunners' stagnation under Wenger. Without injured captain Mikel Arteta in midfield, Arsenal had no one to stamp his authority on the match. Jack Wilshere tried, but larger dogs are rarely afraid of even the most tempestuous of terriers. Oh, how we could have used Luiz Gustavo to lock down the middle of the park, but the Brazilian chose Wolfsburg -- Wolfsburg! -- over Arsenal and Champions League soccer. And all because the German club that finished 11th in last season's Bundesliga offered $3 million more. And I don't want to sound any more paranoid, but Luis Suarez looked mighty cozy at Anfield on Saturday putting his daughter to sleep even quicker than Villa sent the Gunners to bed.

Cue Wenger's prickly postmatch response to the inevitable question of bringing in reinforcements. "People say, 'Buy players, buy players, buy players,'" he hissed. "But who?"

And therein lies the kernel of the tautology facing all Arsenal fans. "On one hand, you can argue that today's defeat may be a good thing," said lifelong Gooner Steve Sutch as he made his way out of Lucky Bar on Saturday, "With injuries and suspensions, Wenger will now be forced to look for cover at several positions, just like he did a couple of seasons ago after United thrashed us 8-2. On the other hand, you can argue that three of those were panic 11th-hour buys -- [Andre] Santos, Park [Chu-Young] and even [Per] Mertesacker. Let's hope he sets the bar a bit higher this time around."

But why does it require an opening day shambles to jolt the dallying Wenger and Arsenal's ditherer-in-chief, Ivan Gazidis, out of their transfer stupor when the window has been open for longer than one of Simon Cowell's relationships? Were Dither and Dally so focused on jettisoning expensive flotsam like Andrei Arshavin and Gervinho that they didn't realize their squad was as thin as Wayne Rooney's old hair? And is it too late in the game for season-changing buys when after Saturday's debacle and a possible Champions League crash-out looming, the price of the players Arsenal covets has only gone up?

Even if the Gunners are willing to meet the latest ransom demands, who would want to come to the Emirates where the feel-good factor appears to have died on the first day of the new season?

Oh wait, I forgot. It's only one game.