Blame Messi for Chelsea's bliss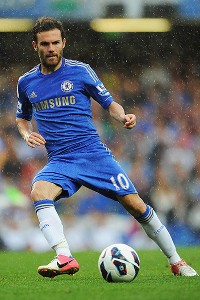 Juan Mata has yet to register a goal or an assist for the Blues this season, but his midfield influence is still vital to Chelsea's cause.


It's all Leo Messi's fault.

The magical one, as prolific a scorer as has ever worn blue cleats, could have ended the problems before they began. But when faced with his God-given duty to save the world from the horror that is Chelsea dominance, he crashed his penalty kick off the bar in the 2012 Champions League semifinal. I hold the shaggy-headed Argentinian genius personally liable for the revolting Blue resurgence that has seen them march all the way to the top of the league table and the soccer universe while my acid reflux keeps matching pace.

Today, the Blues are European champions. Their odious leader, John Terry, has held the Champions League chalice aloft while convincing the British system of justice that Chelsea's cup-winning captain should be deemed as pure as the driven Tebow. With more ghastly silverware in his cabinet, jubilant owner Roman Abramovich decided to spend $125 million on new players rather than on another submarine for his yacht (or maybe he also bought the submarine; I'm not sure because it's been a while since I've been invited aboard).

Chelsea rampant. Financial fair play in tatters. All because of The Flea.

In a happier alternate reality, a place where Messi's spot kick is a few inches lower, Barcelona goes on to beat Chelsea on aggregate before crushing Bayern in the final. The Blues, coming off a sixth-place finish in the league -- their lowest in nine years -- have no Champions League soccer, Abramovich fires off a torpedo of outrage in the direction of Stamford Bridge resulting in another managerial casualty, and Chelsea sinks back into the murk of Claudio Ranieri-like mediocrity from which it arose. A considerably more joyful story, as I'm sure everyone on planet Earth would agree.

That eyesore of a gold star affixed to the Chelsea jersey: Messi's mistake. Roberto Di Matteo and his smug bald pate sitting on the Bridge sidelines, expertly pulling the strings: Lionel's legacy. Eden Hazard, potentially the most remarkable Belgian import since the waffle, and Chelsea's 3-0 start this season to help the leading London side challenge the hegemony of the two Manchesters -- all the fault of ... you guessed it.

The pain isn't helped by Arsenal's current incarnation of The Invincibles, a team seeking to go through an undefeated season during which it accumulates 38 points with no goals scored for or against. But that's a story for another day, one when the scissors aren't within arm's reach.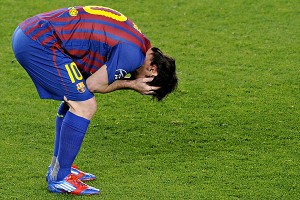 Oh, Lionel. If you'd knocked Chelsea out of the Champions League as you were supposed to, maybe none of this would be happening right now.


For now, it's the frightening prospect of Eden Hazard, bestriding the Prem like the great Gianfranco Zola once did, that gives Sir Alex Ferguson and Roberto Mancini the cold sweats. It's easy to look at the young Belgian's awards (twice voted best young player in the top French league before winning two best player awards) and realize he is prodigiously skilled, but isn't there some unwritten law that dictates no Ligue One refugee can adapt to the searing pace and blunt physicality of the EPL without suffering whiplash for at least a few weeks -- or in Marouane Chamakh's case, 12 months and counting?

Still, anyone who followed Hazard last season can't really be surprised by his seamless transition. If you can make Joe Cole look good in a Lille shirt, you can inject verve and excitement into a Chelsea team that bored its way to the European summit last season. In his first three league games for the Blues, Hazard has made a mockery of the accepted wisdom that the Prem is the world's most difficult league in the world in which to play. It's not just that the 21-year-old has had a seismic impact with a goal and four assists; rather, it's that he's made everyone around him better. Think a pocket-sized Zinedine Zidane with considerably better hair.

In just two weeks, Hazard has raised his sights from the improbable (resuscitating Cole's career) to the miraculous (resuscitating Fernando Torres' career). After a sustained period of irrelevancy matched only by Danica Patrick, the beleaguered striker had begun to show flashes of his old world-class self in the final stages of Chelsea's CL run, benefiting from an improved understanding with his fellow Spaniard, Juan Mata.

With Hazard, though, Torres has achieved something approaching a Vulcan mind meld. Their slick interchanges have resulted in two league goals for El Nino, including Saturday's swerving, outside-of-the-right-foot toe-poke in traffic against Newcastle, a sublime final touch to an instinctive back-heel from Hazard.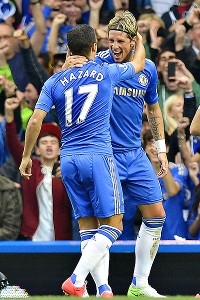 By scoring twice in three league games, Fernando Torres is starting to display the swagger he possessed with Liverpool.


The palpable joy on Torres' face when the ball bulged the net, coupled with the comfort of knowing that he no longer has to struggle in the muscular shadow of Didier Drogba, suggests that we may finally see the Torres who lit up Anfield before being seduced by Roman's filthy lucre.

If body language gives any insight into a person's psyche, then Torres' tortuous demons may finally be exorcised. His signature slouch that used to scream "Why the hell is the goal so small?" has been replaced by a sassy strut that hollers "Look at me! I'm a pretty lad who can't stop scoring!"

And it's this confident, almost brazen, approach that saw the Chelsea striker win a soft penalty against Newcastle, followed by a later booking for doing an Ashley Young in the area after being knocked over by the breeze caused by Fabricio Coloccini sliding on the floor in close proximity.

Of course, there's no guarantee that Torres can maintain his newfound mojo, just as no one can vouchsafe that Abramovich will not become impatient when Chelsea goes through its inevitable, annual can-we-have-a-new-manager-as-we're-done-with-this-one seasonal rite of passage. It's even possible, though increasingly unlikely, that Hazard will turn into another fast-starting Chelsea import like Adrian Mutu (without the positive test for cocaine) or that Fuming Frank Lampard, who stayed rooted to the bench Saturday, will chafe at his lack of playing time.

Unfortunately, it doesn't feel like that kind of year for Chelsea. Its resurrection at the Nou Camp has seemingly lifted the club to new heights, so much so that even Sideshow Luiz is looking strong and confident, all because the greatest player of our lifetime soiled the bed and allowed Chelsea its glorious catharsis.

Damn you, little Leo.