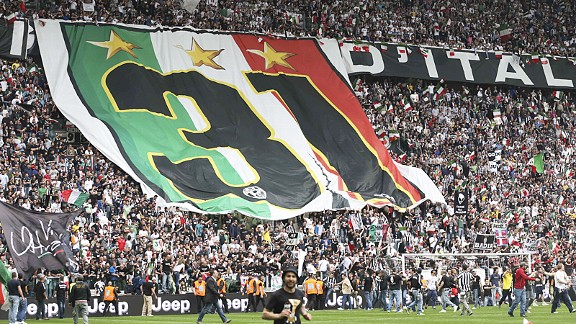 GettyImagesJuventus fans celebrate their 31st title - including the two they were stripped of due to match-fixing
Juventus are the champions of Italy! Defensive solidity, attacking might, strength and consistency has seen the Bianconeri grab their second consecutive title win under coach Antonio Conte. Champions for the 31st time (29 officially, excluding the two they were stripped of due to match-fixing), the Old Lady was above and beyond every other side in Serie A this season. Defeating Palermo 1-0 at home, a less than stunning Juve side did all that was required to spark celebrations in the streets of Turin.

In the 3,150 minutes played in Serie A, Juventus have scored 67 times, averaging a goal every 47 minutes. Conceding only 20 goals, defensive strength and player unity are the reasons given as to why this particular Old Lady is so hard to overcome.

- Video: Juve clinch second straight title
- Pogba sees red as Juve win title

Against Palermo, Juventus were not at their usual best. Despite possessing the ball and producing several attacking opportunities, they lacked that burst of quick pace or final pass to snatch a win early on. Whilst the Bianconeri were criticised for not utilising the strength of their midfield to play a 3-5-1-1 formation against Bayern Munich, who demonstrated such midfield power, perhaps playing more forwards would have been the wiser choice against the Sicilians on Sunday.

Possession ought not to have been the aim of the game against Palermo. Giuseppe Sannino's men lacked real pace to construct genuine chances at goal, with opportunities quickly closed down by the alert Juve back line. With so many midfielders deployed, Juve excelled at controlling the tempo and the ball, but failed to truly threaten on goal with several of their opportunities squandered. There needed to be another reference point, another striker capable of shaking off markers and tapping in the chances the likes of Paul Pogba and Arturo Vidal presented with their delicious passes and crosses into the box.

Nonetheless, a moment of idiocy from Massimo Donati resulted in a Juventus penalty that Vidal converted with ease to hand the Old Lady a win in her own stadium. Up until that point, Palermo had defended with strength, careful to remain alert and strong. However, as La Gazzetta dello Sport pointed out, it's symbolic that the Chilean was the man to score the Scudetto winning goal. Scoring and assisting more goals than any other player at Juventus this term, the midfielder's growing tactical knowledge and impressive displays this season are one of the reasons why Juventus are celebrating the title.

Whether it be his ability to offer width and deliver crosses against Palermo, his extensive running that sees him offer defensive solidity, or his timely runs from midfield that offers the side another option going forward, Vidal has been one of, if not the most important player of the season. His tackles take the pressure off the defence, whilst his goals have afforded Juventus the opportunity to break through at times when they've looked offensively impotent.

However, this victory and this Scudetto do not only belong to the players, but to the inspirational coach and the excellent management that have provided him with the tools required to dominate Italy.

Conte is the man Juventus especially need to thank. Convincing wins mean nothing to the coach if they are accompanied by defensive errors -- only perfection is expected and perfection is demanded. Motivated by his powerful words and winning mentality, Conte has lifted Juventus back to a position of strength, forcing not only Italy but the rest of Europe to fear their exceptional rise from the ashes.

It was he who personally contacted Paul Pogba to tell him of the Juventus project and convince him to join, and it was he who refined and developed the Frenchman's talent. Converting the formation to allow for the starlet's strength, Juventus continue to develop tactically to maintain unpredictability. It was also Conte who converted Vidal from a maddening Energizer Bunny runner into a man with direction and perfect tactical understanding, whilst his work with Federico Peluso saw the player develop into a solid alternative when he was viewed as a mere liability on arrival.

Many questioned just how good Juventus were last season, despite finishing the year undefeated. Without Europe to contend with, it seemed the Bianconeri benefited from a fairly relaxed schedule. This season, they have not only maintained their momentum in the league, grabbing more wins than they did last season, but they also reached the semifinal of the Coppa Italia as well as impressing in the Champions League. It took a Barcelona-thrashing Bayern Munich to eventually knock the Italian Champions out of Europe, and the belief is with a few more investments, the Bianconeri will return more experienced and determined than ever to reach the latter stages of the elite competition next season.

Pogba may have been the first Juventus player to be sent off this season, but his embarrassing spit is not enough to dampen the mood in Turin on Sunday. Juventus are the champions of Italy, and deservedly so. Congratulations to the winners!