Another emphatic response to Inter loss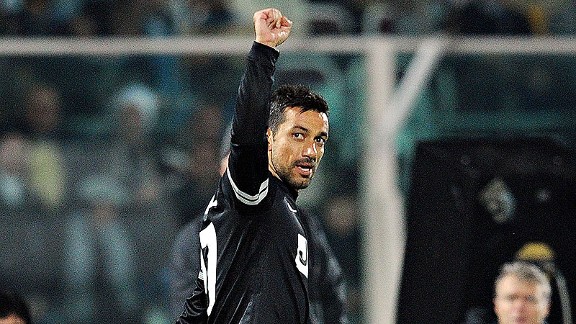 Giuseppe Bellini/Getty ImagesFabio Quagliarella was superb for Juventus in its 6-1 rout, scoring three and showing that he can lead the line.
One defeat has led to Juventus scoring 10 goals in their subsequent two matches. Having demolished Nordsjaelland in the Champions League, the Old Lady turned her attention to Serie A, eager to send a message. She may no longer be labelled invincible but her performances are back to frighteningly good.

- Marotta: Pogba omission "educational"
- Quagliarella helps Juve bounce back

"Juve are six-sational" cried the front page of Tuttosport whilst La Gazzetta dello Sport wrote of the 'Joy of six.' Saturday's rout at Pescara was a wonderful result for a side that has not managed a 6-1 scoreline since 1997, when Marcello Lippi's Juve destroyed a hapless Milan.

The Juve hunger is well and truly back and only calcio etiquette restricted Juventus from scoring more. It is considered poor form to truly humiliate the opponent in Italy, and since the Old Lady already broke a record by inflicting the worst defeat on Pescara at home, there was no need to keep going. Fabio Quagliarella (hat trick) was sensational in both his finishing and his assists, Sebastian Giovinco exploited all the space in the world to threaten opponents while Arturo Vidal continues to score.

This was the match to prove the worth of the Juve collective. While individual magic is much needed to solve difficult matches, Pescara were convincingly defeated by a team that worked in unison. Both Vidal and Andrea Pirlo delivered the accurate balls to the top while Quagliarella and Claudio Marchisio made perfectly timed runs.

On the flanks, Mauricio Isla and Kwadwo Asamoah maintained a high position to offer the attack another option with the latter scoring on a splendid overhead bicycle kick. Questions still hang over Isla's defensive contributions, but his vision and accurate passing are enough to keep him in the starting line-up for now.

However, Pescara ceded far too much space for Juve strikers to maneuver. Constantly caught off-guard and unable to provide the much-needed tackle to win back possession, Juve were never bullied or pressured when constructing attacking passages.

Despite the thrilling performance, there were two negatives. The first is Pirlo received a yellow card, which means he will be suspended for the game against Lazio next Saturday. Paul Pogba will hopefully be introduced in his place should the young Frenchman start arriving for training on time. Having been dropped for disciplinary measures against Pescara, Pogba, 19, apologized for his behaviour by tweeting: "I was wrong, I respect the choice of the club."

The other negative was how fragile the Bianconeri looked from set pieces. Pescara is not good enough to score against Juventus and yet whenever they were in possession, they created a number of opportunities. Juve cannot afford to concede so many free kicks around the box. Against a better opponent, such naïve defending could prove costly.

However, the real test was for Juve's mind-set. Having suffered their first defeat in 49 league games, there was a chance they would collapse mentally. A determined midwee performance against the Danes in the Champions League displayed their mental fortitude and their willingness to fight. However, after scoring two against Pescara, complacency crept in when they invited their opponents to attack as they took a reactive approach much like Juve have repeatedly done this season.

In a match where squad rotation was predicted, Antonio Conte decided he could not afford to drop any points and fielded a full strength team to ensure a result. As such, when the goal was conceded, there was a slight worry that Juve were going to throw it all away. However, the goal shocked them back into fight mode, scoring several more to seal the result.

Complacency is something Juve must avoid. Intensity has been missing this season and after being taught a lesson in humility by Inter, Juve have learned to take nothing for granted.

As Juve sits atop Serie A, the rest of the teams have been warned. She may have stuttered this season, but the determined Old Lady looks to be back to her emphatic best.