Inter should be wary of high-flying Catania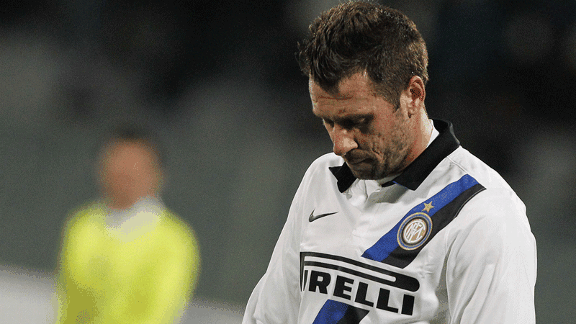 APAntonio Cassano scored against Fiorentina but it was too little too late for Inter Milan
At the start of the season if you told me Catania would be just two points behind Inter coming into their week 27 fixture, I would have probably laughed. If you then went on to tell me that this match could possibly knock Inter down to seventh place in the table, and boost the Rossazzurri up into a Europa league qualifying fifth, I would have been worried about your mental state.

However, here we are approaching round 27 of this year's competition, and that is exactly the situation the Nerazzurri find themselves in. This weekend will see some big matches involving the teams at the top of the table, with second place Napoli taking on first place Juventus on Friday, and then Saturday evening will witness fourth place AC Milan looking to continue their incredible home form to overtake Lazio in third. These games could prove to have a huge bearing on the final standings with the season run-in fast approaching.

On paper, Inter's trip to Catania's Sicilian home shouldn't even compare in importance to those matches I've mentioned, but with the gap between the high-flying hosts and the faltering Nerazzurri being just the difference between winning and losing it will be vital that Andrea Stramaccioni's squad take this game as seriously as last week's derby and give their all to claim the full three points.

My biggest worry coming into this fixture is Inter's appalling away form which has seen them lose six of their last seven league games on the road (the other was a draw). In a mini-league table of the Serie A away form during the last six matches, Inter would be sitting in a disconcerting 20th place, and interestingly Catania would be topping the table ahead of Juventus. For Inter to achieve just one point out of a possible 18 is shocking enough, but with them conceding 13 goals in that time and scoring just three, the depth of the crisis in the club is plain to see.

Sunday's mid-afternoon match at Catania's 23,420 capacity Stadio Angelo Massimino will be a sold out event. Not surprisingly the Nerazzurri coming to town is big deal for the team, who are enjoying possibly their most successful season ever. Since their promotion to Serie A in 2006-07 the Rossazzurri have averaged a final standing of around 13th place in the league, following an unprecedented rise up the table this season you can't blame their fans for holding a small hope of finishing in a Europa league qualifying place.

A home win against Inter would give them a huge boost in fulfilling this ambition, though this is the first of four tough fixtures in a row for Catania, with a trip to Juventus followed by games against Udinese and Lazio, the team and their fans must know that they need to accumulate at least six points from these four to stand any sort of chance of making their dreams become a reality.

Unfortunately for Inter, Catania's current home form is exceptional for a team of their calibre, and the underdogs will be more than aware of difficulties Inter have faced when attempting to defeat less prestigious opponents this term.

In the last six home fixtures Catania have accumulated a very credible 13 points, including a victory over Fiorentina. Their goalscoring at home is also something Inter should be wary of, scoring eight while allowing just five to be conceded isn't a bad statistic especially when compared to Inter's and, considering how threadbare the Nerazzurri's defence will be during this match, goalkeeper Samir Handanovic will once again have to put in a fantastic performance.

As an Interista I have to admit I am extremely worried about this fixture, after all Catania are capable of beating the Nerazzurri as they've proved before by winning two of the last six meetings between the two clubs. This season the Sicilian side are stronger than ever, and it could be said Inter are weaker, so it is the responsibility of Stramaccioni and all his players to bring back the focus to the team on Sunday, and break the run of bad form away from home by showing both sets of fans a dominant and confident performance to claim all three points and stay within touching distance of third place.

If the coach and the team don't win against Catania and use the victory to build a good run of form in the next few games, ahead of Juventus at the end of March, then I believe there is a strong chance that the other teams fighting for the European places will get further out of Inter's reach as the end of the season approaches. The truth we fans have to face is that Inter realistically run the risk of missing out on European competition, but also with Catania having at least seven winnable games left in their fixture list and Inter facing a tricky league run-in, there is a possibility that the unthinkable could happen and they might even finish above the Nerazzurri.