Inter see off Cluj to set date with Tottenham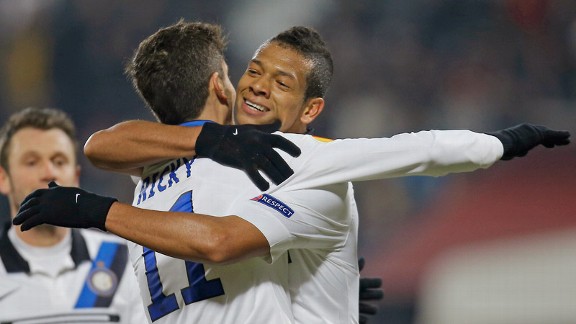 AP Photo/Vadim GhirdaInter's Fredy Guarin won the Europe League with Porto in 2011.
The second leg of Inter's Europa League last-32 clash with CFR Cluj couldn't have come at a worse time for the Nerazzurri, following what I consider to be the team's worst performance this season. To add more pressure, the next league game for Andrea Stramaccioni's squad is Sunday's crucial Derby Della Madonnina, in which they must perform well to keep up pace with their crosstown rival in the race for third.


Despite the domestic issues that face Inter, things look a bit more promising in Europe. After their 2-0 home victory over Cluj last week, the Nerazzurri continued their dominance at their opponents' Romanian home with a 3-0 victory Thursday. Fredy Guarin (brace) and substitute Marco Benassi scored to ensure Inter's progress to the last 16.

Of course, as Interisti know from experience, the next round won't be quite such a walk in the park, with Andre Villas-Boas' Tottenham Hotspur awaiting them. AVB obviously know the Italian club from his time there with Jose Mourinho and the older members of the Inter squad will have bad memories of Gareth Bale running rings around Maicon last time the teams met in the Champions League.

Back to Thursday's game. I have to admit I was surprised to see that Stramaccioni's starting lineup contained so many of his important players, considering the vital game approaching in three days and the fact the Nerazzurri already held a comfortable two-goal advantage. Like many others, I thought the Inter boss would rest players such as Guarin, Esteban Cambiasso, Rodrigo Palacio and Antonio Cassano to keep them ready for the weekend.

I had a vision of Stramaccioni playing an ultra-defensive formation full of youngsters and second-string players who would grind out the match sitting behind the ball justto hold on to the advantage gained in the first leg. It wasn't to be, and the Inter boss had other ideas about wanting to put the game beyond all doubt with at least one away goal to seal Cluj's fate.

By half-time with not one but two away goals in the bag courtesy of Guarin, I thought both Palacio and Cassano would just be spectators for the second half. But only Palacio that was given that luxury.

Cassano saw two more substitutions happen around him as he became more and more exhausted in the second half. By the end of the game he looked so tired I just can't see him being 100 percent fit to start Sunday against Milan. The only real option for him now, in my opinion, is to come on as an impact sub in the second half - though I would not be surprised to see him start regardless of his fitness levels.

I understand Stramaccioni took off Ricky Alvarez and Guarin Thursday in preparation for the weekend. But Guarin has stamina by the bucketload, unlike Cassano who is always generally struggling to keep up the pace by about the 65-minute mark.

Many times in press conferences Stramaccioni says the team should just concentrate on the next game, but sometimes his decision-making has me wondering if instead of planning a couple of games ahead, he himself is only thinking about the current fixture and not what he needs to do for the next game.

One revelation emerged from this game in Romania - and his name is Ricky Alvarez! 'Maravilla' was outstanding, and even despite my recent criticism he managed to remind me why I have also said he has the potential to become a real star.

Credit has to go to Alvarez for creating the opportunities that led to both of Guarin's first-half goals. On the first, he used his trademark trickery and dribbling to take the ball past Cluj players deep in Inter's half before supplying Palacio a pinpoint pass to kickstart the counterattack which was finished by a fairly simple tap in by his Colombian teammate.

He could take full credit for an assist on the second. He picked up on a ball Cluj keeper Jorge Quintas fumbled, but instead of rushing to take a shot that would have most likely have been saved he intelligently controlled the ball, taking it away from the keeper before laying it off to Guarin, who was in the perfect position to place the ball in the back of the net.

Hopefully this performance will signal a reintroduction to regular playing for Ricky, something that I believe will greatly benefit his growth as a player and help him to improve vastly, especially now he has less competition in his role.

It was also great to see Stramaccioni bringing youngsters into the game as substitutions, even though perhaps they should have played from the start. Simone Pasa played well considering his lack of first-team experience. Benassi once again showed he could be a great midfielder for the Nerazzurri, and thoroughly deserved his goal he toe-poked past the on rushing goal keeper late in the game.

I was especially happy to see Ibrahima Mbaye given time. The young defender was one of Inter's most impressive youngsters during the preseason, when he featured in several friendlies, and to be honest I've been at a loss to find a reason why he hasn't been utilised by Stramaccioni throughout the season, especially considering the club's current defensive injury crisis.