Inter drop to fourth with loss to Parma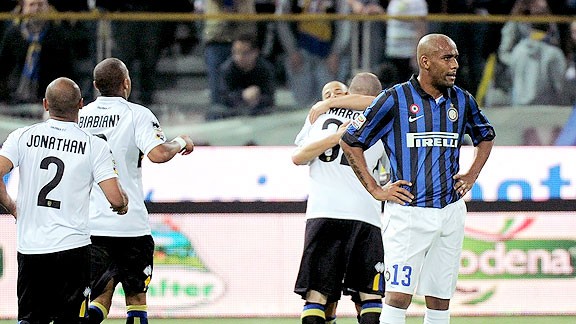 Dino Panato/Getty ImagesFredy Guarin, right, and the Inter defence struggled against Parma
"I want to see the same hunger and determination that got us up into second place. I don't want calm on the pitch, I want calm before and after the game, not during." Judging by Monday's performance against Parma, I think it's fair to say that Inter players misunderstood what manager Andrea Stramaccioni meant when he spoke before the match.

The Nerazzurri seriously lacked that hunger and determination, even looking flustered and panicked at times against Parma in a 1-0 loss. Even before the game the pressure was on Inter, which have won only three times at the Stadio Ennio Tardini out of 22 games. However, that does not excuse the lacklustre play by the entire squad.

- Inter fail to capitalise on Juventus loss

- Are Inter better without Sneijder?

The left side of the Nerazzurri formation especially struggled to deal with ex-Inter player Jonathan Biabiany, who managed to use his superior speed to get past both Yuto Nagatomo and Juan Jesus every time he tried - even by sending Ricky Alvarez out to the left wing wasn't enough to crowd the youngster off the ball.

Luckily for Inter, speed is about all Biabiany has to offer and once he was past Jesus at the back, he never really brought anything impressive to the Parma attack. Otherwise, the Nerazzurri might have lost by a much bigger margin than 1-0.

Once again Samir Handanovic was by far Inter's best player, making several crucial saves to keep the Nerazzurri in it. But one goalkeeper does not make a winning team and the rest of the Inter squad lacked any sort of cohesion across the pitch.

The defensive line could best be described as shocking. The centre backs, with the exception of Andrea Ranocchia, were outplayed by the Parma attackers who all too often found it extremely easy to get past Walter Samuel and Jesus.

Even wingbacks Nagatomo and Javier Zanetti failed to get back quick enough on several occasions, leaving the backline exposed to the Parma counter attacks. Not only that, they also seemed to be missing their usual attacking flair, failing to take the ball into the final third as much as usually expected.

Parma's goal was a prime example of the inadequacies shown by Inter throughout. The solo effort wasn't so much a case of Nicola Sansone going on a fantastic run, dribbling past the Nerazzurri midfield and defence, but instead Fredy Guarin, Zanetti, Ranocchia and Samuel seemed to just move out of his way giving him a clear path into the box.

I wouldn't be surprised if it was the shock of witnessing this meant Handanovic was unable to get down quick enough to save the shot when it came down low into the bottom corner.

Inter's attacking contingency weren't any better at the other end of the pitch. Alvarez made his first start of the season, and it showed all too plainly that the young Argentinean is severely lacking match practise this season. To be fair, at least Ricky had an excuse for his bad performance. Rodrigo Palacio and Diego Milito have scored plenty of goals so far this term, but for the difference they made they might as well have sat in the stands with Antonio Cassano!

Should we be so hard on Inter? I think we need to put things back into perspective - the Nerazzurri have now had three bad results in a row after a fantastic unbeaten run, and at times the squad is still looking as if they need time to gel. That's exactly the point - with the incredible run, and beating undefeated Juventus in their stadium, the fans and media seemed to have lost sight that Inter are in a transitional season.

Just a few months ago the club brought in a full team's worth of players who are still finding their feet in the club, and are still lacking several more players in key positions. Not only that, they are being led by a coach in the infancy of his managerial career.

At the start of the season everyone was happy to give Inter the whole season to bond and find their way. So why is it now that Inter has hit a patch of bad form, people seem to have forgotten this and can't understand why Inter are not top of the table?

Also I'm sure that Wesley Sneijder's contract negotiations is having an effect behind the scenes too, causing a little bit of unrest. But this will resolve itself one way or another soon and I'm sure Inter will start winning they get over the recent injuries and hit their stride again.

All Inter fans have to do in the meantime is keep faith in the management to do what is best for the club, and remember that despite bad results the team are still doing well - after all, the season target is third place, and with over half the season remaining they are in a more than capable of achieving that goal.