Rudderless Inter off-target again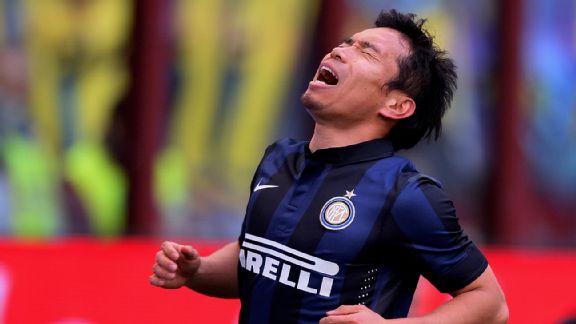 Claudio Villa/Getty ImagesYuto Nagatomo and Inter Milan's scoring woes continued with a goalless draw versus Catania.
It is officially a full blown crisis at Inter Milan after the Nerazzurri drew 0-0 at home to bottom side Catania on Sunday.

- Report: Inter 0-0 Catania

It has been one of the most embarrassing weeks in Inter's 105-year history. The abrupt u-turn on the Fredy Guarin for Mirko Vucinic swap left many fans wondering if there was anyone actually in charge of running the club on a day-to-day basis.

That proposed deal infuriated the Curva Nord, Inter's hardcore fanbase, who not only criticized the deal in a public statement, but also criticized Erik Thohir's ownership.

Before Sunday's match, the Curva Nord protested outside the stadium calling for the resignation of managing director Marco Fassone and technical director Marco Branca, and these protests continued inside the stadium.

At the time when Inter needs everyone pulling in the same direction, the club appear rudderless, seemingly changing direction with every gust of wind.

What Inter needed on Sunday was a win in the worst way. A win would have made everyone forget about the last week, and given Walter Mazzarri a platform to build on.

Except, what happened was that the performance against Catania highlighted all the problems that Inter have been unable to overcome this season. They dominated possession (59% to 41%) and out-shot Catania 13 to five. But for all their possession, Inter were unable to put Catania goalkeeper Alberto Frison under much pressure and one of Serie A's worst defences had a relatively easy task to shut out Inter.

Inter's inability to score has to be massively frustrating for Mazzarri. Inter have now played five games in 2014 and have only scored one goal. There were rumours circulating around the team last weekend that Mazzarri threatened to quit after the Genoa defeat unless Inter brought in a striker. How is he feeling after seeing his side blanked again and with no reinforcements seemingly on the way?

Mazzarri has moved away from his 3-5-1-1- formation in the last two games to a 3-4-2-1 formation where he has Diego Milito playing in the striker role with Ricky Alvarez and Rodrigo Palacio playing behind.

The formation gets Palacio more involved in the game and playing further forward certainly suits Alvarez more than traditional midfield role does. In the two games that Mazzarri has used this formation, Inter have created 24 shots, with eight of them on target. But the fact that Inter have been unable to score in these two games indicates that the formation and or personnel is not working.

One reason that this is not working is the play of Milito. After barely playing for the last year due to injuries, Milito is not as sharp as he needs to be. The problem for Mazzarri is that Inter cannot afford to carry Milito at the moment, especially if they are to hold onto fifth place and qualify for the Europa League next season.

Milito has started the last two matches now, and has had only two shots, one of which was on target. It is extremely difficult to win games when your No.9 is not getting into goal-scoring positions and getting onto the end of crosses and passes. It might be that Milito will play himself into form, but Mazzarri and Inter cannot take that chance. Either Mazzarri puts Palacio back in the No.9 role and brings in another attacking midfielder to play alongside Alvarez or the club needs to bring in another striker this week and drop Milito to the bench. Sorry Diego, but this experiment cannot continue if Inter are to finish in the top five in the league.

An another option would be to give Mauro Icardi a run of games and see what the talented youngster can do, but I don't believe that Mazzarri and Inter are ready to make that move and raise a white flag on the season -- not with 16 games to go.

So where does Inter go from here? Something needs to be done to lift the gloom and doom that is surrounding the club at the moment.

Platitudes from Thohir are not needed at the moment, although that is what Inter fans will get. Bringing in a quality striker would help, but ultimately it comes down to wins. The team simply needs to start winning games.

But with three of Inter's next five games against Juventus (a), Fiorentina (a) and Roma (a), I don't see any opportunity for Inter to put together any sort of unbeaten streak.

The schedule gets easier in mid-March, but that is an eternity away in football. Will Inter still be in with a shot at a Europa League place then, or will Mazzarri already be playing the youngsters in the squad and planning for next season?