Inter stand little chance against in-form Udinese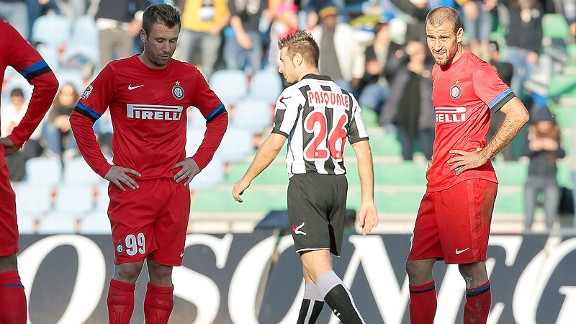 Gabriele Maltinti/Getty ImagesInter's second half slide started with a 3-0 loss at Udinese back on January 6th. The Nerazzurri hope to avenge that defeat this weekend.
Finally Inter are just one game away from the end of a nightmare season that will live long in my memory for all the wrong reasons. A season that has produced very few positives. However, before the club can move on from this disastrous campaign, they have one more challenge to endure in the shape of an in-form Udinese.

- Cassano admits career regrets
- Negredo catches the eye of Inter

Like Inter, the Zebrette have had a season of two very different halves. Prior to their last meeting with the Nerazzurri, the Udine side were having an unremarkable season with just five wins and four losses in 18 games. This meant Udinese hosted Inter as a team in 10th place with 24 points compared to Inter's 35 point fifth-place position.

This was all to change with the Nerazzurri's visit to the Stadio Friuli on the 6th January. Inter were admittedly on a downward trend of form by this midway point of the season, but very few people would've predicted the 3-0 thrashing that Udinese gave the visitors that day. Now 19 games later, the positions have almost reversed and following ten defeats in 2013 it is the Nerazzurri who sit in a mid-table position while their Bianconeri opponents look to hold onto the fifth-place spot with a final day win.

The surge of form shown from this weekend's visitors has seen them collect 39 points in 2013 compared to Inter's pitiful 19. In fact, Udinese have collected more points in the last seven games than the Nerazzurri have since the winter break, winning all of their last seven matches has seen the Zebrette approach the final game as the most in-form side of Serie A. Compare this to Inter whose recent 1-0 win over Parma is the only thing keeping them from being joint worst performers alongside the relegated Pescara.

You can see this all adds up to the Nerazzurri having little chance of salvaging anything from this match, despite Andrea Stramaccioni's words when interviewed on Thursday night: "We want give our fans a good send-off and get a result by playing well. On paper it may look like Udinese will be more up for it, but we'll be just as motivated as they are."

Just who Strama is trying to convince is anyone's guess, but it doesn't take a genius to realise that his Inter squad haven't looked motivated since before the last Udinese game.

I realise Stramaccioni has to say things like this, after all it wouldn't do the club any favours admitting that his team aren't in a position to finish the season on a high, but the truth of the matter is that Inter are once again reduced to a single striker after Antonio Cassano fractured his wrist by falling over on the training field. This again just leaves Tomasso Rocchi, who is unlikely to be able to score the multiple goals needed to secure victory over Udinese.

Inter's 35-year-old frontman can't even blame his age for his lack of goals as Udinese's top scorer Antonio Di Natale is the same age and is the league's second most prolific scorer behind Napoli's Edison Cavani. Di Natale's record this season is a stunning 22 goals in 32 appearances, so scoring is one thing the visitors shouldn't have any trouble doing.

Various sports media in Italy are predicting Inter will be fielding their two young centre backs Simone Pasa and Juan Jesus for this game, and as much as I think these are both defenders with the potential to be great, neither in my opinion has the experience or ability as yet to stop a striker that is as in-form as Di Natale. Andrea Ranocchia may well feature as I haven't heard of any injuries or suspensions that would keep him out of the squad, but with rumours being rife of the Italian defender leaving Inter this summer for Juventus, I wouldn't be surprised to see him omitted from the squad completely, and to be fair even he may struggle to contain the Bianconeri striker.

I, like many other fans, have resigned myself to this season ending with Inter slumping to their record 16th defeat of the season. This in itself gives me hope of massive changes at the club this summer, with President Massimo Moratti pushing to ensure the Nerazzurri never have to endure another season like the one we've just witnessed again. Who knows, we may even see Stramaccioni replaced by the man he faces this Sunday. After all, Francesco Guidolin has proven he has good coaching credentials with Udinese and he has never disguised the fact that he is an Interisti at heart, maybe it is time for him to try his hand with a big club. This could indeed make him an ideal candidate to replace the current Nerazzurri coach if Moratti does change his mind about Strama's future.