A real issue for Inter or just ghosts of the past?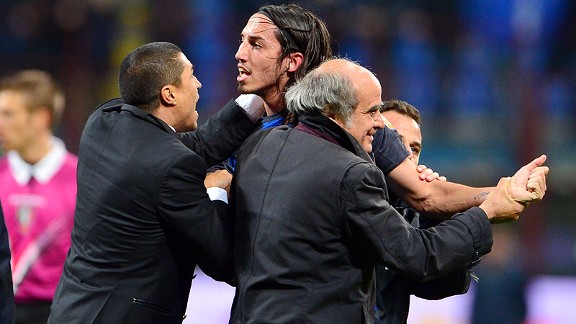 Giuseppe Cacace/AFP/GettyImagesMatias Ezequiel Schelotto and Inter Milan were left indignant by the referee's decisions during their loss to Atalanta.
Sunday's home defeat to Atalanta has yet again sparked fury from everyone involved with Inter over what has been in the past called an 'anti-Inter' bias from referees. The day after the incident Nerazzurri captain Javier Zanetti was asked about the penalty decision that bizarrely went in Atalanta's favour, and he told the press: "I asked the referee (Andrea Gervasoni) on the spot what he'd seen. He said, 'Captain, it was a clear handball..." A handball? Then why was Andrea Ranocchia yellow carded? This question seems to have been avoided by the referee who it appears doesn't know exactly himself what the penalty was for.

- Stramaccioni: Referee 'influenced' loss

I've studied a photo of the moment the incident apparently took place and it quite clearly shows that Walter Samuel had his arms down with the ball above him, and Ranocchia was being held down on his knees by Marko Livaja. To make this claim even more incredulous, not one of the assistant referees called a foul of any kind, and the decision was made solely by Gervasoni.

This season has seen Italian referees come under fire more than once with false fouls called, granting teams free kicks and penalties where they should not have been any, as well as blatantly ignoring calls that should have been made. It's not just decisions on fouls that have come under scrutiny but also there have been numerous cases of phantom goals that have been disallowed despite photo evidence that the ball had crossed the line. On top of all this there are at least two cases of a certain team being awarded goals that have resulted from their players initially being a fair distance offside.

I'm not saying these things are always against Inter; other teams have been victims of these false calls too, but they all seem to favour certain teams while having an effect on Inter's position in the league. I'm not making any accusations here against any particular clubs, but as I stated in one of my articles back in November following a run of bad calls against Inter the Italian football federation (FIGC) need to evaluate the officials they are using for matches.

This alleged 'anti-Inter' mentality isn't even a new concern as Zanetti was quick to point out during an interview at a PUPI Foundation charity event: "We're upset about what happened. It happens to us quite often. We're paying for the fact that we're different. Let's come out and say it so that nobody thinks we just stand by and watch these things go on. Inter's history speaks for itself: we're different to all the others." His resolve to not be beaten by the bias shown towards the Nerazzurri was evident as he continued "We're up against everyone? It's been like that ever since I've been at the club. We like it that way. We like to win and lose honestly."

Back in 2010 Jose Mourinho was disciplined by the FIGC for speaking out against the refereeing decisions made against Inter, and to a point this threat of punishment has kept everyone at Inter from saying too much against such decisions. It seems however, that Sunday's loss against Atalanta was the final straw for Massimo Moratti and his coach Andrea Stramaccioni, who furiously risked his Italian coaching career by stating the facts of the situation: "You cannot award a penalty like that. I'm young, so maybe I'll get run out at the end of the year. But it's incredible to see a penalty like that given. We don't have the strength to be stronger than these episodes."

Straight after the match a furious Moratti told the awaiting press: "A penalty like that truly changes a match. It puts a team in a position in which they feel they don't matter. I believe 20 or 21 matches have passed since the last time we got a penalty in our favour. I think it's impossible not to have deserved one in 21 games. With a non-existent penalty that goes against you, everyone does things in good faith, but I don't believe it. Do I believe it's done in good faith? No."

This comment came in the heat of the moment after the match, but the Inter president's opinion was still the same a day later when he told the press: "My opinion hasn't changed. Whether I'm angry or not, my view hasn't changed. I really don't think I need to explain anything better. You only have to look at the way this season has gone, especially regarding us. When people want to hit you, they do it anyway. When there's a doubt, the penalty on Rocchi doesn't get given. When there's nothing to doubt -- because there was nothing there -- the penalty against us does get given. We haven't had a penalty for 21 games."

In fact, the last penalty awarded to Inter came in the Nerazzurri's famous victory over the then unbeaten Juventus back in November. You cannot tell me that it is just a coincidence that out of the top six clubs Inter have received nearly half the penalty calls than the others? It isn't really a point about penalties though; the real issue is the amount of calls going against Inter and some other teams in general.

There has been a fair amount of talk this season about certain teams gaining advantages from refereeing decisions, and I do hope that it is purely a case of incompetent officials during these matches and not evidence that corruption is still rife in Italian football. Obviously I'm not making any accusations here towards any clubs in particular, but I feel that if Serie A and Calcio in general wants to return to being one of Europe's best leagues, it has to start by looking at these issues that just damage the reputation of the league. Maybe the FIGC should look at bringing in officials from other countries who are less likely to have any bias towards any team in an attempt to stamp out this glaring problem.

Lastly, I would just like to clarify that I'm not entirely blaming refereeing decisions for Inter's abysmal season. The most damage to this campaign for the Nerazzurri has been done by the club itself; however, certain calls by officials have affected the outcome of some games throughout the season, which in turn has had an effect on the current league standings. So with that in mind, it would be ridiculous to suggest the referees haven't had at least a small influence, either that or myself and everyone involved with Inter are just being paranoid and haunted by the ghosts of a dark past that none of us want to revisit.