Three keys for Mexico to unlock Jamaica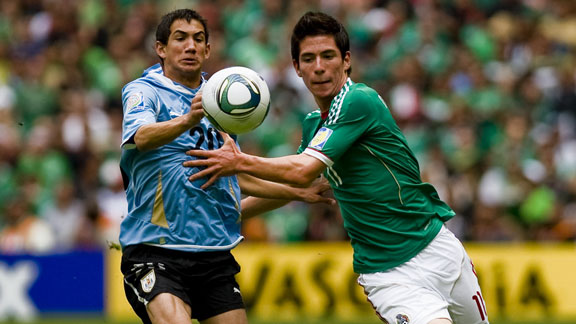 GettyImagesMexico target man Marco Bueno will be key against Jamaica
Mexico takes on Jamaica this evening for a spot in the 2013 Under-20 World Cup in Turkey - a place that El Tri is heavily favored to take. It would of course be a huge upset if this generation of young Mexican talent failed to make the World Cup, given that the ability level is there to make a serious run at winning the tournament this time out.

Stranger things have happened in one-off matches, though. And Jamaica may be a tougher out than many are expecting.

Given that, here are three keys to tonight's match for Sergio Almaguer's side to find success, and a ticket to Turkey:

1. Marco Bueno's ability to occupy the Jamaican central defenders.

Jamaica's central defense is big and athletic; to a level far superior to anything Mexico has faced in Puebla thus far. Even with a general lack of size on the team, Mexico was able to take advantage of El Salvador on set pieces, dominating aerial play in the area.

The strategy against Curacao days earlier was a more apt test for what Mexico will face on Wednesday - a congested penalty area in which balls in the air are unlikely to find their targets.

That means short passing will a key, a detail which plays right up Mexico's alley if properly exploited. And the most important figure in making the passing game click, ironically, will be the man who least touches the ball in attack.

Target man Marco Bueno's movement in and around the Jamaican area, keeping the opposing central defenders occupied and occasionally pulling them out of position with decoy runs, will be vital to Mexico's ability to open up space in attack and combine the way they'll need to in order to create goal-scoring opportunities against what's sure to be a packed-in Caribbean team. Watch Bueno. If he's active enough off the ball, the goals will follow.

2. El Tri's wingbacks' judgment in getting forward without leaving the back third exposed.

The war on the wings is crucial to Mexico's success, both in creating offense and stopping Jamaica coming the other way.

El Tri's talented wingbacks - especially Francisco Flores on the left - love to get up the field and deliver service. But the aerial game, as mentioned, is a likely non-starter tonight, and deeper runs into Jamaican territory may be ill-advised given the speed and deadliness of the Jamaican counter - the Reggae Boyz' best weapon in attack.

The positioning and play of Mexico's wingbacks, then, will go a long way towards reading how well things are going for El Tri throughout the match. If they're comfortably involved on offense while remaining in position to help defend counters, all is well.

3. Winning back the ball without committing fouls.

Mexico will occasionally lose the ball. When Jamaica gets its limited numbers forward, it will be in an attempt to break quickly on goal. When the counter bogs down, the alternative strategy is to look for a set piece in a dangerous spot.

The Mexican defense, lead by Antonio Briseno, will be taxed with winning the ball back and re-starting the attack while avoiding yielding set pieces. Given the explosiveness of the Jamaican athleticism and aerial game, just one or two poorly given free kicks or corners could well cost dearly. Avoid those, and Jamaica will go long stretches without a sniff of the Mexican net.