African players making headlines worldwide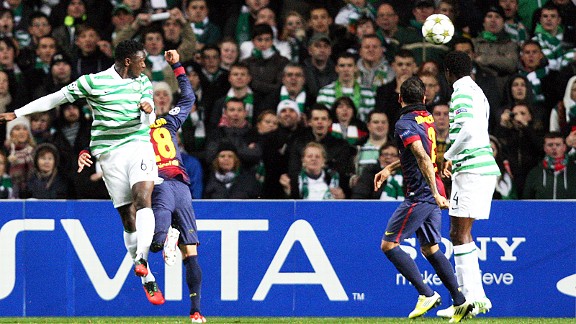 GettyImagesWhere has the Victor Wanyama who put Celtic in the lead against Barca gone?
Victor Wanyama put Kenyan football on the map when he scored the opening goal in Celtic's upset Champions League win over Barcelona on Wednesday. With rumours of a transfer to Manchester United mounting and an estimated value of £25 million, Wanyama became the next big thing almost overnight in a week where African players dominated the agenda.

Anyone whose middle name is Mugabe may have to get used to some attention, but Wanyama's was so excessive, he could have had biographies written about him by now. Football Africa would be wrong not to explore some of his history.

He hails from a sporting family in Nairobi, where his father Noah played for AFC Leopards in the 1980s. The club is still one of the country's top three and finished the recent season three points behind the leaders. Two of Wanyama's brothers play in the Kenyan Premier League - Thomas with fourth-placed Sofapaka, while Sylvester plays for the team who finished in 11th place, Sony Sugar.

The third brother, McDoland Mariga, was part of the Inter Milan side who won the Champions League in 2010 and is currently on loan at Parma. With such good sporting genes in his blood, Victor's talent became obvious early on. He was selected to make his debut for the national team at the age of 15 against Nigeria. His foreign club career began in Germany where he started at Beerschot AC in 2008 before being bought by Celtic.

He became the first Kenyan to play in the Scottish Premier League and has endeared himself to the club's fans because of his commitment to them. Wanyama's charm comes from him being a thinking man. He chose to put the number 67 on the back of his jersey because it honoured the Lisbon Lions - the Celtic team who won the European Cup in that year.

That kind of emotional tie makes Wanyama's claim that he will not consider leaving the club believable. He said he considers it a "family club" and thinks it has created the environment which will allow him to excel in future. Money and fame can change all of that, though.

Just look at Asamoah Gyan. After threatening to abandon his national team in 2008, Gyan actually did it in 2010. He missed goal scoring opportunities at the 2008 African Nations' Cup but it was two years later, when penalty attempts against Uganda and Zambia were squandered in the continental competition and a kick was missed against Uruguay in the World Cup quarterfinal that Gyan could take no more.

The following year he also walked away from Sunderland, reportedly for a large fee, to play for Al-Ain. Gyan did not shy away from talk that he was chasing the money and admitted that because professional sportsmen only have limited time to maximise their income, he would do as much as he could to cash in. The next year he signed a five-year deal with the club and was listed by ESPN as the highest paid footballer in Africa.

Gyan was said to have earned $16 million in the last year but it was the non-monetary accolade bestowed on him recently which made headlines. He has been named Ghana captain for the 2013 Nations' Cup and will take over from John Mensah, who is searching for a new club. It is an appointment which has been met with mixed reactions, given Gyan's wavering commitment to the team versus his obvious skill.

Before any of that could be properly digested, tragedy struck Gyan this week. His mother was killed after being involved in a car accident on Tuesday. She lost control of her car and drove it into a pillar at the Teachers' Hall in Accra and although she was rushed to hospital, she died on arrival.

Another African footballer who knows all about tragedy is Emmanuel Adebayor. The Togo striker has managed to put the attack on the team bus in Angola two years ago behind him and could make his first start of the Premier League season for Tottenham Hotspur on Sunday.

Adebayor is desperate to take the field against his former club Manchester City and Andre Villas-Boas said he will take the extra motivation into account when deciding on the team. If he doesn't get his opportunity this week, Adebayor may see next week as a chance too. Spurs play Arsenal and it's another team Adebayor would like to make a point against, having played for them before.