Zimbabwe in COSAFA Cup final, but problems still loom
Zimbabwe will have the opportunity to defend the COSAFA Cup title they won in 2009 -- when the competition was last played -- after they came through a nervy clash against Lesotho in the semifinals Wednesday with a 2-1 victory in Ndola, Zambia.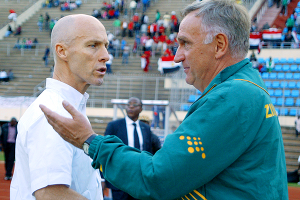 Jekesai Njikizana/Getty ImagesA World Cup qualifying loss to Egypt and Bob Bradley, left, helped lead to Zimbabwe's decision to replace Klaus Dieter Pagels as coach after the COSAFA Cup.
The victory was far from convincing, and although it may paper over some of their recent problems, it will do little to solve the main issues plaguing Zimbabwean football.

Whatever the outcome of the final, German coach Klaus Dieter Pagels' tenure ends after the tournament. ZIFA president Cuthbert Dube said Pagels would have to make way for a local coach.

Dube's argument is the same as Nigerian coach Stephen Keshi's: Africa produces enough of its own coaches to start placing more faith in them rather than continue to employ foreigners who often lack understanding of the culture in which they are working.

Considering that Pagels lost three competitive matches in succession on appointment, even if Zimbabwe go on to lift the trophy here, Dube has a point. But it may not be the right time to make it. Zimbabwe's main job has changed hands so often that they could do worse than stick with the same man.

Since 2010, they have been through six coaches. None have had a long enough run to stamp their style on the team. Norman Mapeza was suspended as a result of the Asiagate match-fixing and illegal betting scandal, held the role on his own and then jointly with Madinda Ndlovu, who also had the job solo for a while.

Belgian Tom Saintfeit, who has done the rounds on the continent, was sandwiched between the two and their period of co-command. Rahman Gumbo also had a brief period in charge before Pagels took over.

Now, Dube wants to go back to employing a home-grown manager. It's a noble thought, but at a time when stabilisation is needed, the constant change may prove more disruptive than anything else.

The evidence is glaring in Zimbabwe's game. They were fortunate to sneak past Namibia on penalties and went a goal down against a spirited Lesotho side Wednesday. Tendai Ndoro's brace proved the difference and the value of selecting from in-form domestic players.

Ndoro is the Zimbabwean Premier League's top scorer for his club Chicken Inn and is riding high on confidence. He said he believes that as a striker his job is to score at least once in every match. Since he didn't manage that against Malawi, he made sure he doubled his efforts in the semifinal.

As a physically strong and reasonably creative frontman, Ndoro is the kind of player Zimbabwe needs for the future. But they will have to reassess some of the rest of their stocks, especially in defence, as they continued to appear on the verge of being breached by Lesotho.

Pagels was not happy with how porous they were. "That was not football," he said in disgust afterwards. "We can play much better. We have to have a better organised defence."

With Saturday's final against the winner of Zambia looming (the hosts defeated South Africa in penalties 5-3 after 120 scoreless minutes), Zimbabwe will have to tighten up quickly if they hope to return to Harare with trophy in hand.

Pagels would far rather they play their southern neighbours, South Africa, because he is concerned about the threat Zambia could pose. "The hosts are in a really good physical condition, better than us."

Zimbabwe beat Zambia four years ago in the COSAFA final and if they can repeat that, they would consider it a step toward their recovery. They need to be careful to regard it just as the start of exorcising the ghosts of Asiagate, but the work to be done still looms large.

Sitting at the bottom of their World Cup qualifying group means Zimbabwe have nothing but pride to play for against Mozambique in September. Then they have Nations Cups to qualify for, and if they can hold on to coach for the period between now and then, it could be the start of some success.