Ethiopia violation shows rule education, enforcement need work
There are many ways to lose a football match. Some are more difficult to accept than others.

Being beaten by opposition who are obviously better or more skilled is the dignified way. Taking the game to a penalty shootout could be considered the lucky way. Being on the wrong side of a dodgy refereeing is the unfair way. Having the result overturned against you by fielding an ineligible player is the stupid way.

-Ethiopia admit using ineligible player

Ethiopia became the fourth African country to have points docked (three) in World Cup qualifying and theirs could prove the most significant. They led what was a sealed group and were guaranteed a spot in the final round until they were found guilty of breaching the rules.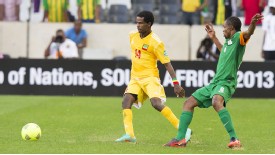 GettyImagesMinyahile Beyene of Ethiopia in action during the 2013 African Cup of Nations
Now Ethiopia, down to 10 points, have to beat the Central African Republic Sept. 6, or, if they slip up, hope South Africa don't secure maximum points against Botswana at home. What was a straightforward road into the two-legged playoffs has become a more complicated one and it could all have prevented if not for an error made by management.

Theirs was a clear-cut case of forgetting or ignoring the regulations, not a matter of being unsure whether a player qualified to represent them as Burkina Faso had with Cameroonian-born Herve Zengue earlier.

Minyahil Teshome Beyene picked up two yellow cards in two previous qualifiers. As a result, he should have served a one-match ban. Instead, he took the field against Botswana. Ethiopia admitted their guilt, accepted their sanction and want to move forward.

But in that little saga lies an unanswered question: Why did Ethiopian officials choose to field a player who should have been on the bench?

It's possible they did not study the statutes closely enough -- which may be difficult to believe, but it happens. It will make the Ethiopian football federation, along with the many others who make the same mistake, appear unprofessional and unorganised and will cast a bad reflection on the game in the continent as a whole.

Considering Togo are under investigation for the same thing and Sudan were found guilty of it earlier on, it should send a message to CAF and even FIFA that better education is needed. Their documents are long, wordy and sometimes difficult to understand; it may not be the worst idea to organise a training camp of sorts for those responsible for ensuring football associations understand when a player is under suspension and how to present their team sheets.

Nigerian club side Enugu Rangers were disqualified from the CAF Confederations Cup because they violated Article 25, which concerns substitutes. The provision allows for three replacement players to be used during a match and for the names of seven candidates to be registered on the match form before kickoff. It seems a simple enough instruction, but tucked away among 57 others, it's an easy one to miss.

That is not an excuse for flouting the rules; it is a reason, albeit a poor one. It should be up to the governing bodies to ensure national FAs cannot lean on it any more by briefing them thoroughly and conducting regular checks to ensure players who are on suspension are aware of their status, as are those in charge.

Sometimes even that is not enough. The Sudanese player, Saif Eldin Ali Idriss, knew the red card he was given during the African Nations Cup quarterfinal against Zambia meant he would have to miss two competitive matches. Reports suggest the country's technical staff decided to overlook that and name him in their team anyway.

If the reports are true, such blatant disregard for rules everyone else is made to follow should not be tolerated.

Ethiopia's penalty was a 3-0 defeat and a fine. Ethiopia's amounted to $6,300, a sizable amount for the country. On a continent where finances is one of the main reasons for the lack of development, asking for more money simply seem unjust but there is nothing to stop the governing bodies from applying a harsher sanction than a single loss.

Maybe FIFA need to disqualify teams from the current competition and one future edition to demonstrate they mean business. Maybe they need to ban them for a period of time that matters. Measures such as those will increase the incentive for countries to play by the rules and let them know the goalposts cannot keep shifting in these cases.