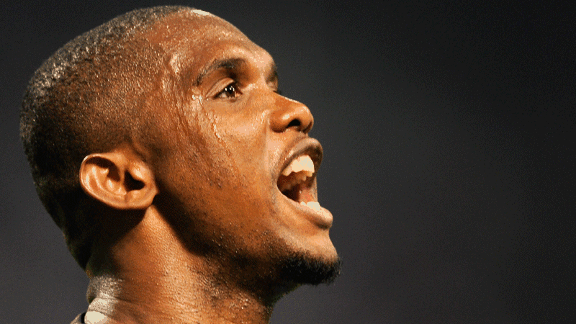 GettyImagesSamuel Eto'o scored both goals in Cameroon's 2-0 win against Togo
Four big upsets could be completed on Sunday when the little guys of African football assert their authority over some of their bigger brothers. For the countries - Cape Verde, Zimbabwe, Central African Republic and Algeria - qualifying for ANC will mean overcoming massive odds and defying expectations and all four are on the brink of doing just that.

- ANC part I: All to defend
- ANC part II: Africa on a knife-edge

Cape Verde v Cameroon

The island nation stunned the now domitable Lions of Cameroon with a 2-0 victory at home but will face a stern test to ensure they do not concede away.

The Blue Sharks, as Cape Verde are known, have been preparing as though it as a World Cup final. They set up camp in Alcochete, the academy of Sporting Lisbon where Cape Verde national Oceano da Cruz is the coach.

Although the country's population only numbers half a million people, they have extensive footballing prowess, mostly showcased through their previous colonial masters, Portugal. Manchester United's Nani, who was born on the island, is a classic example of this.

Many of the players already ply their trade overseas and are well accustomed to top-level football and their striker Odair Fortes, who plays for Ligue 1 club Stade de Reims believes they are ready to tame Africa's giants. "Things are moving right now in Cape Verde," he said. "There are plenty of good, young players who are beginning to make themselves known. Some are trained in Cape Verde, then they go to Portugal at the age of 19 or 20."

Coach Luis Antunes also thinks Cape Verde have put enough work in ahead of the clash. "These are professional players who are desperate to show what they can do at the Nations Cup finals. It has been so easy to work with them because of their experience and their desire."

If they qualify for the Nations' Cup, it will be their first appearance at the continental tournament and cap off a major rise for the country. A decade ago they were ranked 182nd in the world, after the 2-0 win over Cameroon they were up to 51st.

As much as a win for Cape Verde will be an achievement for them, it will be a failure for Cameroon. After their first leg defeat Denis Lavagne was sacked as coach and Jean Paul Akono, the man who lead them to Olympic gold in 2000, was appointed.

His first act was to bring Barcelona's Samuel Eto'o, back into the fold after an eight month ban. Eto'o was exiled for the national team after he drove a players' strike over non-payment, but has been persuaded to return.

Cameroon have not had an easy time of late, they also lost a 2014 World Cup qualification match in Libya and Akono will be desperate to show he can turn things around.

Zimbabwe v Angola

The Warriors of Zimbabwe are symbolic of the situation in the country as a whole - always in trouble. Their most recent headline grabbing stunts involved the match-fixing scandal, which the football federation moved swiftly to sort out.

But now, they could be in the newspapers for the right reasons. A 3-1 victory over Angola in Harare has put them in serious contention to qualify for the ANC, a tournament they have not been part of since 2006 and have only appeared in twice.

The countries footballing fraternity is showing rare unity to get behind the team, with support and advice coming from all sides. Former coach Luke Masomare warned them not to be put off by an Angolan side studded with stars like Manucho and not to expect a warm welcome.

"We should not be intimidated by their overseas stars," he said. "And we shouldn't go there expecting five-star treatment. My message is that even if the team are to be booked into a sub-standard hotel or at a place resembling a shebeen, they shouldn't lose their focus."

Local club coach, Adam Ndolvu who is in charge of Chicken Inn FC had more technical guidance. "I feel we would need to make our midfield very strong because that is the most important area," he said.

Zimbabwe will be without goalkeeper Tapuwa Kapini who injured his ankle at South African club AmaZulu. A major inclusion for them will be the addition of two strikers. Knowledge Musona returns after missing the first leg through injury and Al Hilal forward Sadomba has been cleared of match fixing and is in the squad. Each Zimbabwe player has been promised $10,000 if they progress to the ANC.

Angola have to score two goals without conceding and their frontman Nando Rafael is certain they can do it. He appealed to the public to come and support them in the match. Angola have been training at home and played against current league champions Recreativo de Libolo for practice.

Central African Republic v Burkina Faso

The Central African Republic is one of those teams not many people know much about. They won their first match in World Cup qualification in June, 48 years after becoming FIFA members when they beat Botswana 2-0.

They went on to victory over Burkina Faso in ANC qualifying and although the lead is slender - just a 1-0 cushion - theirs would be a Cinderella story if they manage to defend it. They will be without captain Eloge Enza Yamissi who has a serious injury. Yamissi, who plays for French Ligue 1 side Troyes, will undergo surgery to remove a blood clot formed on the top of his left quadriceps after he sustained a hamstring injury last month.

Even without him, the Republic will have to play out of their skins to keep the Burkinabe at bay. They are regular ANC participants, were ranked as high as 4th on the continent and will want to avoid the embarrassment of losing to a minnow side.

Libya v Algeria

This North African clash may not have fitted into this category if not for the Libyan story of ANC 2012. The team consisted of many players who fought on the front line in the recent revolution and whose footballing structures were turned upside-down because of it. They did not progress very far in the tournament but became its darlings and could miss out on the next edition after going down 1-0 to Algeria in Casablanca.

To make things worse for Libya, they would have qualified automatically for this tournament, because they were due to host it, but the war forced them to swap years with South Africa. Libya will now host in 2017 and have to qualify for next year's edition.

An away goal will be enough to see them through - Casablanca was a home game for Libya because they could not host the fixture - and they have been training in Tunisia to prepare for the clash. Libya have added two defenders Younes Al Shibani of Egyptian side Ismaily SC and Al Allouni but they are without Ali Salam of Ahly Benghazi after he was handed a two match suspension.

Algeria have made no changes to the squad, having added defender Rafik Halliche in the first leg. He was left out for the year before that and was bullish about his commitment to the national side. "I'm always ready to play for the national team, even with just one foot," he said.

Algeria were the disappointments of the 2010 World Cup and will want to make up for that this time around.