In praise of Kennedy Mweene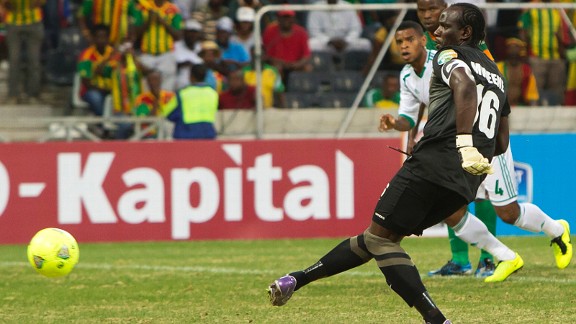 GettyImagesKennedy Mweene of Zambia scores the equaliser from the penalty spot
On his profile page on the Free State Stars' website, goalkeeper Kennedy Mweene is called his club's "best penalty taker". It's not to say that the South African club don't have strikers. But Mweene is accurate and consistent and those are two very good reasons to use him.

In the absence of statistics, one expert estimates that Zambia international Mweene averages seven goals a season for his club. The top scorer in South Africa's Premier Soccer League rarely has more than 16 to his name. For Mweene to have around half of that speaks to his ability to convert from the spot.

It's that skill which his country are indebted to him for as well. If not for Mweene, Zambia's challenge to defend their title may well have been over. Mweene converted what the Guardian's live commentary called "arguable the greatest penalty ever taken." He slotted the ball past his opposite number when he unleashed it into the top right hand corner of the net.

That kick meant Zambia drew 1-1 with Nigeria and now one of Burkina Faso or Ethiopia have the opportunity to take the lead in the group - something not many would have predicted before - because neither of the big sides have been able to stamp their authority on this pool. It also means Zambia have to beat Burkina Faso in their last match and possibly rely on the result of Nigeria's match against Ethiopia, but it also means they are still in it.

Zambia were the better side of the first half but Nigeria controlled the early stages of the second and were rewarded with the lead. Emmanuel Emenike snuck one low to beat Mweene - the only foot the Zambian 'keeper put wrong in the game. Just as they were in their opening match, Nigeria could not hold on to the lead and even though they will be unhappy with the penalty against them, especially because it did not look as though Ogenyi Onazi had touched Emmanuel Mayuka, they have only themselves to blame for not securing three points.

Nigeria had an opportunity when they were given a penalty (a non-controversial one) in the first half. Davies Nkausu was the guilty party as he clumsily clipped both feet from under Ahmed Musa but the Super Eagles could not finish. John Obi Mikel was perhaps put off by Mweene's moving around between the sticks and sent the ball wide of the left post.

Mweene went the right way. Had the shot been on target, he looked set to save it and underlined his worth to Zambia again. Already, Herve Renard has thanked Mweene for keeping Zambia in the match against Ethiopia. He saved Saladin Said's attempt which ultimately ensured the draw. In this fixture, Mweene's hands didn't do it but his mental tactics may have.

Even if it was simply a mistake by Mikel, Mweene's value to Zambia is immense. In the last four ANC matches they've played, Zambia have conceded penalties: against Ghana at the 2012 semi-final, against Ivory Coast in the final, against Ethiopia in their 2013 opener and this time, against Nigeria in the group's most anticipated clash. Each time, the penalty has not been converted.

Asamoah Gyan, Didier Drogba, Said and Mikel have either been denied by Mweene or missed in front of the larger than life presence of the man widely recognised as the best shot stopper in the African game. How he has managed not to get picked up by a European club (or even one of the bigger African sides) remains a mystery.

But Mweene is content with his home in Bethlehem in the Free State. He has made South Africa his home to the point where he did not utter a bad word against the two children who stoned the Zambian team bus after their victory over Bafana Bafana in the Nelson Mandela Challenge last year.

Mweene was one of the players that was hit by a piece of glass and there were serious concerns that he was wounded in the eye but he quickly dismissed all suggestion of that. "South Africans are peace-loving people," he said then. "My eyes are okay, there is no pain."

Instead of labouring the point, Mweene went on to talk about how much he looked forward to playing in the ANC in South Africa and acknowledged that it would be difficult for Zambia to repeat their 2012 feats. So far, Zambia have showed that.

They were hesitant upfront and on occasion slack at the back. They are not playing with the confidence of the team that wants to retain a crown and too much seems to be resting on Mweene. The shot stopper revealed that the team cried after their draw against Ethiopia because they were so disappointed. There may be more tears tonight and even more early next week unless they can take some inspiration from Mweene who is currently their only player living up to the reputation of a champion.

Meanwhile, Burkina Faso emerged as the surprise leaders of Group C after a 4-0 drubbing of Ethiopia. Alain Traore scored twice to give his team the biggest win of the tournament so far.

They take on defending champions Zambia, who have looked far from convincing, next. Both Zambia and Nigeria need a win to qualify for the quarter-finals while Burkina Faso only need a draw.