Who to watch at the African Nations Cup 2013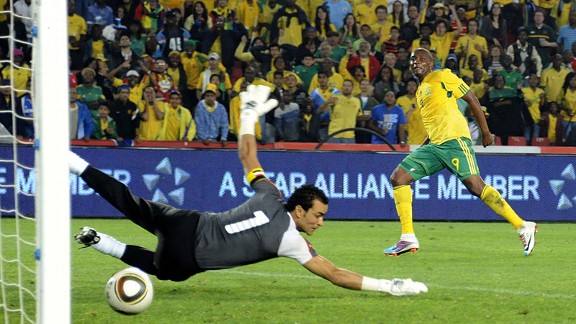 GettyImagesSouth Africa's marquee striker Katlego Mphela
There will be goals, there will be saves, there will be chances that will leave us wondering why they were not goals or saves. There will be winners and losers and controversies. There will be matches we will talk about for years to come and matches no-one will remember even minutes after they are played. There will be heroes and villains and maybe even new champions at the African Nations Cup 2013.

- Moonda: Kings of a continent
- Ameobi left out of Nigeria squad

Because Football Africa knows you will keep an eye on defending champions Zambia and their charismatic captain Chris Katongo and you will monitor the Ivory Coast with their galaxy of stars, we have picked six slightly unusual things to look out for this tournament.

South Africa's strike force
The hosts will be in the spotlight because if not for that status they would not have played in this edition of the competition at all. Bafana Bafana have been the disappointment of their country's sporting codes in days gone by and have not progressed from their 1996 triumph.

The area of most concern has been their inability to find the back of the net and new coach Gordon Igesund has made it his main priority to change that. His pack include the born-again Bernard Parker who has become a force again since joining Kaizer Chiefs, his partner at the club Lehlonolo Majoro and South Africa's marquee striker Katlego Mphela. It's up to them to be the difference.

Parker and Majola have scored 17 goals between them this season so both will go into the tournament with some form behind them. Mphela has the impressive record of with 23 goals in his 47 appearances. The trio are South Africa's best chance of living up to the task they have been given by the bosses who said nothing less than a semi-final spot will do.

Cape Verde
Everybody enjoys a fairy tale and the story of how this small island nation made it to the tournament for the first time in their history is one of those. After shocking continental giants Cameroon, Cape Verde achieved the unprecedented.

Their opponents will hope that qualification is their limit. The odds are certainly stacked against them. Not only are they without one of their senior-most defenders Ricardo, who chose to play for his club Pacos de Ferreira in Portugal instead - they are at risk of not having the cash to fund them. The government appealed for donations from the public to go alongside their own contributions in a drive called "Operation Africa Cup". The postal service will also be issuing commemorative stamps and 10% of the proceeds will go to the team.

Cape Verde are considered the whipping boys of their group, which includes South Africa, Angola and Morocco and not much is expected of them. That means anything they do will be an addition to the magic of their story.

Ethiopia's Swedish sensation
Also rank underdogs, Ethiopia may not immediately strike spectators as having much to watch. They do have something though, Swedish-born striker Yussuf Saleh has been hyped in the local press as one for the future.

He plays his football at Syrianska FC and was picked for Ethiopia in their CECAFA Cup squad, where the country chose to field an inexperienced unit as they looked for talent to take to the ANC. Saleh did not score in any of this three appearances but had a few chances, especially against Uganda.

With the debate between picking foreign-based or local players one of the most frequent ones to crop up at ANC, Saleh's commitment will be on trial as much as his class.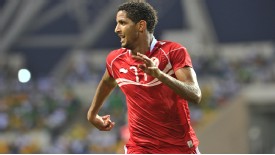 GettyImagesIssam Jemaa was the top scorer in 2012
The North African arsenal
There's two men whose numbers indicate they should be worth watching as they represent Arab football. Algeria's El Arbi Hillel Soudini and Tunisia's Issam Jemaa are the pair in the spotlight.

Soudini was named as his country's young player of the year in 2008 and has had success with club ASO Chlef. In 108 appearances, he has netted 48 times. He also scored both goals in Algeria's final qualification matches over Libya. In the eight times he has appeared for Algeria, he has found the back of the net on six occasions and is considered one of his country's most exciting prospects.

Jemaa was the top-scorer of the 2010 ANC and will want to challenge for that again. He has been playing his club football in Kuwait where he has scored 32 goals in 60 matches and Tunisia will want some of the same from him.

Nigeria's nightmare
Administrative dilemmas are not unusual for teams entering major tournaments and this time Nigeria have been at the heart of one. Their player problems have included the public spat with Peter Odemwingie after he was left out without it being communicated to him. The West Brom striker sent a series of Tweets criticising the administration in the aftermath.

They have also had trouble securing the services of Newcastle United striker Shola Amoebi and are now considering approaching Obafemi Martin. The Nigerian FA are so disappointed that Amoebi has a clause in his contract that could prevent him from turning out for them that they want to approach FIFA and invoke the five-game suspension in accordance with Article 31 (1) of the statutes.

While the infighting goes on, Nigeria have a reputation to play for at the tournament. Being one of the continental heavyweights, they have plenty to prove.

The veteran
Every tournament will have its stalwarts and this time it is Burkinabe striker Moumouni Dagona. He will make his sixth appearance in the competition, having first played in 2004. In 12 matches he has only scored once and will want to add to that record.