Mandela's sporting legacy will live on
JOHANNESBURG -- "I feel like a young man of 15."

Those were Nelson Mandela's words on May 15, 2004. He was 85.

Mandela was part of a high-profile South African delegation that went to Zurich to make final bids for the right to host the 2010 World Cup. His impassioned speech -- in which he asked the voters to send the tournament to his country as a way to celebrate its 10th year of democracy -- was said to be the game-changer. How could anyone say no to Mandela?

And they didn't. South Africa became the first country on the African continent tasked with hosting football's biggest event, a major coup considering that the country's sporting isolation had ended little more than a decade before the decision was made.

"It is 28 years since FIFA took a stand against racially divided football and helped to inspire the final story against apartheid," Mandela said, referring to the sporting boycott imposed on South Africa, which also affected him. "While we were on Robben Island, the only access to the World Cup was on radio. Football was the only joy to prisoners," he remembered. With the tournament headed to his homeland, Mandela would be able to watch the games live.

Hindsight is bittersweet. Mandela could not attend the opening match between South Africa and Mexico as planned because his 13 year-old great-granddaughter Zenani was killed in a car crash after a pre-tournament concert, and the family were in mourning.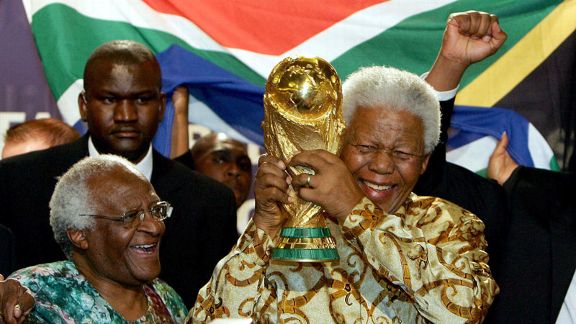 GettyImagesNelson Mandela was instrumental in bringing the World Cup to South Africa in 2010.
Mandela did eventually appear at the competition, for the final. July 11, 2010, was the last time South Africans saw their greatest leader looking healthy. Dressed all in black with a fur hat to protect his ears from winter's chill, Mandela and his third wife, Graca Machel, were taken around the Soccer City perimeter on a golf cart. Mandela smiled his warm smile and waved to the crowd; his expression masked his pain and the he allowed the cheers to wash away his tears.

The great statesman had by then learnt to deal with loss, perhaps because he had suffered it en masse. The best years of his life were lost to a prison cell on Robben Island; his marriage to Winnie Madikizela was lost to the struggle against apartheid; and by the time the World Cup came around he had lost some of his greatest friends including Oliver Tambo and Walter Sisulu, who had done time with him and shared his dream.

For the sake of the county, he often put aside the hurt that came from events to lead the march to reconciliation, and that extended to healing on the sports field. A year after democracy, in 1995, Mandela attended the Rugby World Cup final and presented Francois Pienaar with the trophy South Africa won.

Mandela's actions had great symbolism. The country's first black president, who represented the majority that had been disenfranchised, participated in an event in a sporting code which was largely played and supported by the white minority. Mandela wanted to breach those boundaries, and when he appeared wearing the Springboks jersey -- willingly donning the colours of the former oppressor -- he succeeded. "Nelson, Nelson," the crowd chanted.

"Thank you for what you have done for South Africa," Mandela told Pienaar. The Springboks captain's spontaneous reaction could not have been more perfect. "No, Madiba, thank you for what you have done," he replied.

In isolation, that moment united South Africa. In reality, it did so only for the time in which it lasted. Apartheid's legacy could not be dismantled with one sporting trophy and in such a short space of time, but that was one step towards it.

Following that event, Mandela appeared at other tournaments and brought his Midas touch to the South African soccer team as well. He was in the Bafana Bafana kit when they won the African Nations Cup in 1996 and appeared alongside Neil Tovey when the cup was raised.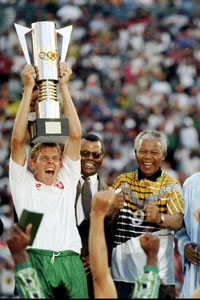 GettyImagesNelson Mandela celebrates South Africa's surprise 1996 African Nations Cup triumph on home soil with captain Neil Tovey.
That same year Mandela made a strong case for the Olympic Games to come to the continent as well, but it seems his magic would not extend that far. "The Games have been staged in the four other continents. Now is the time for Africa to complete the five Olympic rings," he said.

Cape Town was bidding for the 2004 event but eventually lost to Athens. No other South African city has entered that territory again but there is talk they might in the near future. Their only regret will be that Mandela will not be around to see it.

Still, his legacy will live on in sport. Mandela has an arena named after him; the Mandela Bay Stadium stands proudly in Port Elizabeth, the city in the Eastern Cape province where he is from. He was a keen boxer and took an interest in many other codes, once dressing up in cricket whites to attend a match between South Africa and England. Sports teams visiting South Africa were often visited by Mandela or made a stop at the Mandela home. David Beckham, Tiger Woods and Muhammad Ali are among that group, and all extended their condolences upon his death.

In South Africa, sport was as much a political tool as any other because it could be used as shop front; sometimes for segregation, sometimes just for power-wielding. Even though sport is essentially about separation -- winners from losers, good players from great ones -- Mandela always chose to see it as something that could bring people together. He saw it as a great leveller, a great restorer of the human spirit and the thing that could make anyone, even an 85-year-old man, feel 15 again.

"Sport has the power to change the world. It has the power to inspire. It has the power to unite people in a way that little else can." -- Nelson Mandela