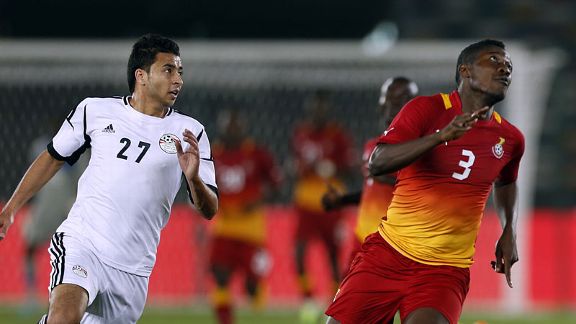 GettyImagesEgypt and Ghana will battle it out for a place at the 2014 World Cup.
Brazil 2014 is still nine months away, but Tuesday's qualification playoff between Ghana and Egypt is a match dubbed worthy of the finals. It has all the makings of a top-level event: Ghana, the best-performing African side at the 2010 tournament, up against Egypt, historically the continent's highest rated team.

Both are champions of their bloc, Egypt most notably so because they are record holders in that department. They have won the African Nations Cup (ANC) seven times, and across several eras, from the competition's inception in 1957, through its mid-periods in the 1980s and most recently in the 2000s, with three successive victories from 2006 to 2010.

That dominance has not translated on a global stage, though: Egypt have made only two World Cup appearances, in 1934 and 1990, and both times fell at the first hurdle. More consistency at global level has long been a demand of the national team and some, like Hosni Abd-Rabou, who was involved in their ANC wins in 2008 and 2010, believe this is a watershed moment for the current celebrated group of players.

"Winning the two matches against Ghana is the last chance for one of Egypt's best ever football generations to appear in the World Cup," he told Reuters. The players he is talking about include Egypt's mainstay Mohamed Aboutrika and long-serving defender Wael Gomaa.

Abd-Rabou believes they have what it takes to get there and are "not scared of Ghana." History agrees with him. Egypt have beaten Ghana eight times in the 17 matches they have played, including the 2010 ANC final. Ghana beat Egypt en route to the ANC final in 1992, but have triumphed in only three other matches, one of which was earlier this year in Abu Dhabi. Six contests have ended in draws.

Egypt's recent continental form has been staggering, even if they have lost matches against teams like Qatar and Chile on the road. They won all six of their pool matches in World Cup qualifying, beating Guinea, Mozambique and Zimbabwe, and had reached the two-legged playoffs before the final weekend. They scored 16 goals in qualifying, second only to Ghana's 18. The leading goal scorer in the campaign is Mohamed Salah, who has found the back of the net six times so far.

The Black Stars' superb strike rate was largely thanks to a 7-0 thrashing of Lesotho. The only match they lost along the way was to then-continental champions Zambia. They will probably enter the tie as favourites, with memories of their performance in South Africa three years ago still fresh.

Apart from being the only African team to get that far in the competition, it reflected the progress they had made from Germany 2006, when they played in the round of 16. The next step would be a semifinal spot, and Ghana will no doubt have that in their sights.

But first, they have to beat Egypt without Kevin-Prince Boateng, Isaac Vorsah and Jonathan Mensah. Late last week, when Ghana held their first full training session, a psychologist with the Ghana FA -- Ebusua Dwarfs coach professor J.K. Mintah -- said the team was "60 percent ready" to play Egypt but believed they had enough time to get that close to 100 percent by Tuesday.

Egypt, though, claim to have been ready about a month ago. When the draw was made, former U.S. coach Bob Bradley, the man who has been credited with turning them into a powerful international force, declared his squad prepared to play any one of the teams they were paired with. His only wish was for them to play at home in the second leg.

With the first match taking place in Kumasi, Egypt are due to host the second, but Ghana have requested the clash be moved because of the violence in that country. With a decision yet to be made, it will no doubt be playing on Egypt's mind, but they will have to put aside and give this first fixture their full attention.

Africa would have wanted to see both these teams at the World Cup and, whatever happens, the sense of disappointment that one will have to miss out could be overwhelming. For the side that makes it through, the achievement of seeing off one of the biggest names in world football can only stand them in good stead come the event itself.

Whoever it is should be under no illusion that they will carry a significant amount of the continent's hopes for the tournament and will be expected to go beyond the knockout stage -- perhaps even go where no African team has ventured before.