Premier League Week 12 Fantasy Preview - Saturday's Games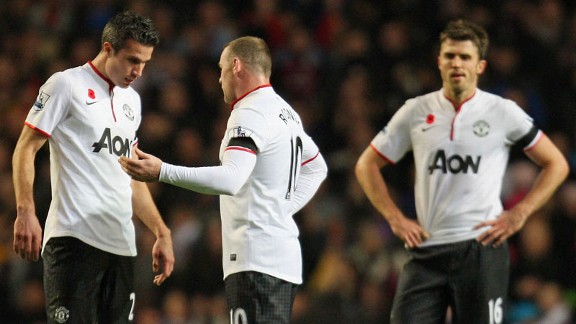 John Peters/Man Utd/Getty ImagesMichael Carrick, right, and Manchester United may be without Robin van Persie, left, and Wayne Rooney on Saturday.
Ten Premier League matches are on the menu this weekend. Eight are Saturday, and the early game offers the most intrigue (note-Player fantasy points in parentheses):

Saturday November 17
Arsenal-Tottenham: Both London teams need a result to get back in the thick of things. Arsenal are in 8th place (4-4-3), has scored 18 goals and only conceded 11. Media darling and fantasy disappointment Jack Wilshere (4) returns to the lineup after a one-game suspension. Another fantasy flop, Alex Oxlade-Chamberlain (16) is also back. Theo Walcott (34) left the Fulham game with a hamstring issue and is a doubt. Gervinho (33) is out, Wojciech Szczesny will be in goal. Arsene Wenger is hopeful Olivier Giroud (39), who had a brace last weekend, will deliver again. Sir John suggests Santi Cazorla (61) take penalty kicks in place of Mikel Arteta (44), who gagged last Saturday. Spurs are in seventh treading water (5-2-4), giving up 16 goals while scoring 18. Midfield problems continue with Moussa Dembele (29) out. Gareth Bale (51) and Clint Dempsey (37) are marginal fantasy performers. The best of the fantasy lot is Jermaine Defoe (54) whose fitness will be assessed at game time. Emmanuel Adebayor (34) started last weekend and would love to score against his former club.

Liverpool-Wigan: The Reds remain in a fog at 13th with a poor 2-6-3 record. Luis Suarez (61) is tied as the top fantasy scorer at his position and avoided a fifth yellow card against Chelsea. He scored for Uruguay Wednesday. Liverpool has given up more goals (16) than it has scored (14) and will have Steven Gerrard (52) and Glen Johnson (27) back. Raheem Sterling (40) started for England in midweek. Wigan is just behind Liverpool in 14th place and with a 3-2-6 record has a good fantasy forward in Arouna Kone (53) and an excellent fantasy keeper in Ali Al-Habsi (46). Wigan could be Liverpool's seventh draw.

Manchester City-Aston Villa: Second-place City is the league's only undefeated team (7-4-0) and has given up 10 goals in 11 matches. Samir Nasri has been ill and may not play. Joe Hart (44) surrendered four goals to Sweden's Zlatan Ibrahimovic Wednesday but will have few threats like that from Villa (2-3-6, 17th), which has only scored 10. Darren Bent (29) is forward non-grata for manager Paul Lambert. Andreas Wiemann (23), who had a brace against Man U, is Lambert's preferred threat although Christian Benteke (33) offers attack and had a goal for Belgium in midweek.

Newcastle-Swansea City: The Magpies are without suspended Fabricio Coloccini and have a string of injury concerns, including Demba Ba (54), Jonas Gutierrez (28), Yohan Cabaye (43) and fantasy fizzle Papiss Cisse (27). Alan Pardew's team is in 10th and has only scored 12 goals. Tim Krul is back in goal; however, Newcastle is without a clean sheet this season. Swansea, (3-4-4 record (11th place) has scored 16 goals against 15 conceded. Michu (71) has not scored in three matches.

QPR-Southampton: With a combined record of 1-6-15, this is the ugly match of the day.

Reading-Everton: Winless Reading 18th place will be hard-pressed for a point against Marouane Fellaini (74) and the fourth-place Blues. Not having injured Kevin Mirallas (32) will hurt Everton.

West Brom-Chelsea: WBA (6-2-3, 5th) will be without Romelo Lukaku since he is on loan from Chelsea (7-3-1, 3rd). John Terry and Frank Lampard are out, Ashley Cole (50) may play. David Luiz (28) should be recovered from an illness. Juan Mata (72) was part of Spain's team in midweek and is on a torrid fantasy streak. Torrid does not describe Fernando Torres (45), who has just four goals.

Norwich City-Manchester United: This should be no contest even though NC is 2-2-0 in their last four matches. Norwich have scored eight goals while giving up 18. The defense of table-leading United is not solid, with 16 goals conceded; however, United's offense has scored 29. Injury concerns include Wayne Rooney (ankle, 35 fantasy points) and Robin van Persie (thigh, 67). Danny Welbeck (24) scored for England and Chicharito (25) has been hot with three goals in three games, so Sir Alex Ferguson may decide to play it safe with RVP and Rooney.

In Part 2, I will offer thoughts on the remaining games, Fulham-Sunderland Sunday and West Ham-Stoke Monday.