Gameweek 14: Fantasy Review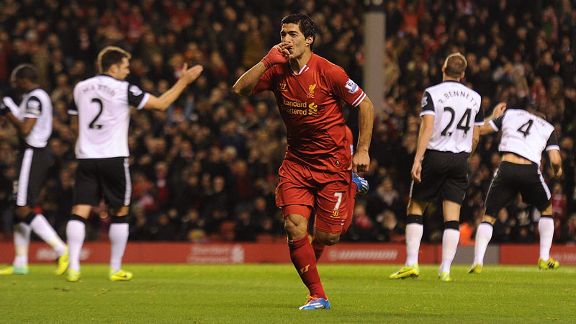 GettyImagesIt was the Luis Suarez show at Anfield; the Uruguayan helped himself to four goals.
The midweek's 10 games are over -- after a boring game Tuesday, the nine on Wednesday brought a glut of goals.

ON FIRE

Luis Suarez, Liverpool
After the wretched road loss at Hull, Suarez responded with four goals and an assist against Norwich. He now has 13 goals and two assists in the nine games back after suspension. He is No. 2 among fantasy forwards.

Sergio Aguero, Manchester City
The top point-producer among forwards scored his 11th goal.

HOT

Aaron Ramsey, Arsenal
The top fantasy point producer for all positions had an assist to go with his brace on Saturday.

Yaya Toure, Manchester City
A brace for the Ivorian gives him three goals and two assists in five games. He is No. 2 among fantasy midfielders.

Eden Hazard, Chelsea
His brace and an assist on Wednesday lifted him to the third-highest fantasy midfielder. He has three goals and two assists in four matches.

Bryan Oviedo, Everton
Leighton Baines' replacement has two goals, one assist, and two clean sheets in the last two games while deputizing for the England international. Before that he had played 39 minutes. Oviedo is listed as a defender on ESPNFC's team page; however, he is considered a midfielder on the ESPNFC's fantasy game page and was given six points for his game-winning goal against Manchester United.

Frank Lampard, Chelsea
The midfielder's goal and assist gives him three goals and an assist in three games.

Mesut Ozil, Arsenal
A goal and two assists in his last two matches.

Jay Rodriguez, Southampton
The forward's goal Wednesday gives him four goals and one assist in his last six games.

FIRST GOALS OF THE SEASON

Nicklas Bendtner, Arsenal: He had played 35 minutes before Wednesday's game.
Jozy Altidore, Sunderland: The transfer fantasy bust finally found the back of the net in his 12th game played.
Gabriel Agbonlahor, Aston Villa: While teammate Christian Benteke's prolonged scoring slump continues, Agbonlahor got his first goal and second assist of the season in Wednesday's road victory.
Raheem Sterling, Liverpool: A goal and an assist to put the frosting on the 5-0 cakewalk over Norwich.
Lewis Holtby, Tottenham: The Spurs' midfielder with spotty playing time came off the bench to score the late winner at Fulham.
Fabian Delph, Aston Villa: A goal to remember that came late in Villa's road victory over Southampton.
Vlad Chiriches, Tottenham: The defender's goal was sorely needed by punchless Spurs that have only 13 in 14 matches.

PROMISING FORM

Philippe Countinho, Liverpool: A goal and an assist in three games indicate the midfielder may be back on the beam.
Jonjo Shelvey, Swansea: A goal and an assist on Wednesday give him two goals, an assist, and a clean sheet in four games.

GIVING AND TAKING

Phil Bardsley, Sunderland: The Black Cats' defender conceded four goals -- one of them his own against Chelsea six minutes from time -- but then scored seconds later in the home loss.

BRICK WALLS

Tim Howard, Everton: His clean sheet against Manchester United gives him five shutouts in six games and keeps him the highest fantasy goalkeeper with 85 points.
Wojciech Szczesny, Arsenal: S-zz is close behind with points in second place, and also has five out of six clean sheets.
Seamus Coleman, Everton: Another clean sheet on Wednesday along with two goals and an assist make him the top fantasy defender with 87 points.

FORMER FANTASY STARS WHO ARE JUST PLAIN BAD

Marouane Fellaini, Manchester United: The midfielder has no goals or assists and 27 measly points in nine games.
Juan Mata, Chelsea: One assist in his eight games and 25 fantasy points.

BELIEVE IT OR NOT

Marouane Chamakh, Crystal Palace: The Arsenal flop forward scored his second goal of the season. In 13 games, his two goals have come off on four shots.

BELIEVE IT OR NOT NO. 2

Julian Speroni, Crystal Palace: The goalkeeper and his defensive line for the 19th place Eagles have three clean sheets in their last four games.

Gameweek 15 starts in just two days. The crunch of Premier League matches makes for wonderful entertainment and also challenges fantasy managers as we try to figure out team rotation. I'll have a weekend preview on Friday.