Gameweek 33 Fantasy Preview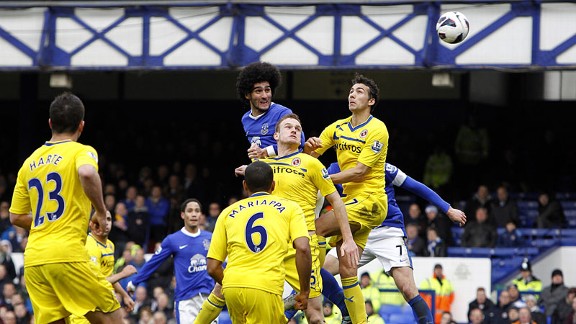 PA PhotosMarouane Fellaini returns from a two-game suspension and will be keen to atone for his absence
There will be 11 games on the schedule this week with five teams playing two games and Tottenham and Swansea idle.

- Blog: Gameweek 33 strategy

Five games offer a sneaky look at announced lineups for the week since Saturday's games all start at 1000 ET.

Saturday, April 13

Arsenal (16-8-7) – Norwich (7-14-11)

Santi Cazorla is the heart and soul of Arsenal. He could get Theo Walcott and Jack Wilshere back and has in-form Gervinho (two goals, three assists in three games) and Olivier Giroud looking for goals. Per Mertesacker is suspended for this game. Norwich City offers little fantasy possibilities and is inching toward the drop zone.

Aston Villa (8-9-15) – Fulham (10-9-12)

Christian Benteke is the hottest fantasy player with ten goals and one assist in his last 12 games. Villa is on a run to escape relegation. Revived Gabriel Agbonlahor is out injured.

Dimitar Berbatov had his string of five goals in four games broken. Villa will want the result more than Fulham, which rests tenth in the table and can be road kill.

Everton (13-13-5) – QPR (4-12-16)

Maroune Fellaini and Steven Pienaar return from suspension. Kevin Mirallas, now injury-free, has three goals and two assists in his last three games. QPR has only scored 29 goals in 32 matches and is very close to relegation.

Reading (5-8-19) – Liverpool (13-10-9)

Dead last Reading has a "kick me" sign on their backs having given up 63 goals in 32 games. Liverpool, frustrated against West Ham, will find the net several times. Luis Suarez is walking on eggs with nine yellow cards. A Europa League spot is still possible.

Southampton (9-10-13) – West Ham (10-7-14)

The Saints' Rickie Lambert has two goals and an assist in his last three matches. Jay Rodriguez has scored three goals and grabbed two assists during the same period. Artur Boruc has been a revelation in goal. Luke Shaw has been battling a bug. West Ham gets Andy Carroll back. Jussi Jaaskelainen was phenomenal against Liverpool as was defender James Collins.

Sunday, April 14

Newcastle (10-6-16) – Sunderland (7-10-15)

The bloom has gone off Moussa Sissoko but Papiss Cisse offers fantasy points with two goals and an assist in his last four matches and a goal in the Europa ouster. Hatem Ben Arfa would be a welcome return.

Sunderland is a sad case and in the midst of a closing killer schedule. No one on the team is worth fantasy consideration.

Stoke (7-13-12) – Manchester United (25-8-4)

Once a defensive stalwart, Stoke is bleeding goals and now is not that safe from the relegation trap door. Their only saving grace is how bad QPR and Reading are and Sunderland has become. A mystery is that more fantasy managers have Asmir Begovic than any GK. Sir John will dump him this week.

Man Utd will not be courteous visitors. An own goal against Man City on Monday hardly reflects the 71 goals scored this season. Wayne Rooney, Robin van Persie & Company will come with boots on the ground loaded with goals. David De Gea will get his seventh clean sheet in the last eight matches.

Tuesday, April 16

Arsenal – Everton
Per Mertesacker returns from suspension for Arsenal's second game of the week. This will also be Everton's double-dip.

Wednesday, April 17

Manchester City – Wigan (8-7-16)

Fantasy managers face the Roberto Mancini roster rotation question since City will have played Chelsea on Sunday in the FA Cup Semi-Final. Sergio Aguero and Carlos Tevez should start; however, only The Scarf knows.

Certain to start will be Wigan striker Arouna Kone who had his string of goal scoring stopped by QPR. He has four goals in five matches. Against Man City, Wigan will be hard-pressed for the point they need to get above Sunderland in the table.

West Ham – Manchester United

This is the second game of the week for both teams with only three days rest for SAF's lads. Look for roster rotation involving Chicharito, Shinji Kagawa and possibly van Persie and Rooney.

Fulham – Chelsea (17-7-7)

This will be the Cottagers' second game of the week, while Chelsea will have played on Sunday in the FA Cup Semi-final against Manchester City. Demba Ba is out injured. Fernando Torres teased the Blues' supporters with a good form against Sunderland and scored in Europa play. Juan Mata has had a great season, but looked gassed last weekend and was held out for the Europa loss.