Positional tweaks could help Jelavic rediscover his form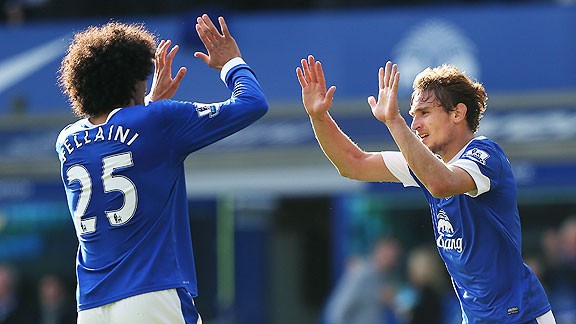 Alex Livesey/Getty ImagesWould Nikica Jelavic, right, benefit if Marouane Fellaini, along with Leon Osman, was moved in the Everton formation?
Looking at the sides around Everton in the table going into Monday's match at Southampton, they all have a player capable of dictating the play in the final third. Looking through the list, there is one player who looks out of place - Juan Mata, Santi Cazorla, Luis Suarez, Gareth Bale and Everton's own Marouane Fellaini.

Aside from Fellaini, these dynamic players come alive with the ball at their feet in advanced areas. Missing a traditional number 10 alongside him, with Fellaini more like a talented battering ram, Nikica Jelavic appears to be suffering from the lack of creativity around him.

The spotlight falls on Fellaini in most matches and Jelavic is struggling to rediscover the form he showed on his arrival at Goodison. When the opposition presses the Everton defence, there is a tendency to use Fellaini as the out ball. While there is nothing wrong with that, given Fellaini's first-class chest control, the line of attack appears focused on the Belgian rather than Jelavic.

Showcased by his form in previous seasons, Fellaini excels in midfield and there is a strong case for the midfield missing his physical presence. His tackling and ability to turnover possession shine through in midfield. Short of numbers in the midfield area, Phil Neville and others have plugged the Fellaini void in central areas, the results mixed at best.

There is no doubting Fellaini's effectiveness in the advanced role; his goal and assist returns are testament to that. Nevertheless, a return to his natural position could help bring the best out of Jelavic and strengthen an often-brittle midfield. Everton are often susceptible to fast counters and Fellaini's replacements lack his engine and running power as they try to cut out opposing attacks.

In a Fellaini-less midfield, a surprising player has taken up the defensive mantle. Known more for his quick feet and creative abilities, Leon Osman has shown a newfound defensive side to his game this season. Leading the way on tackles attempted and completed, Osman is in the form of his Everton career. Consistently delivering each week, Everton's midfield gem is sure to be in the running for the club's player of the year award.

Still, in spite of their successful seasons, Osman and Fellaini appear more suited to the role currently filled by the other. Alongside the water-carrying abilities of Darron Gibson or Neville, Fellaini would be able to carry out his box-to-box duties, breaking up play and providing an attacking threat in the final third.

Despite his tough-tackling performances of late, Osman is also at his best when further forward. Freed from his defensive shackles, the England man can buzz around the pitch and link up with the other creative players in the side. Already playing the best of his football in tandem with Leighton Baines and Steven Pienaar, a move forward would allow Osman to influence the match in game-changing areas.

Shorn of the finances to affect playing matters with signings, David Moyes already has a possible solution within the Everton setup. As his main striker looks to rediscover his best form, the creative talents of Osman could be the key to the goal-scoring door for Moyes and Jelavic.