Too late for nearly man Osman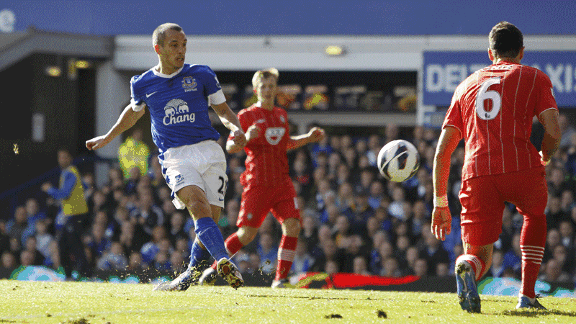 EmpicsLeon Osman has shown great ability at times for Everton


Following Jonjo Shelvey's England call-up, a number of Everton fans took to Twitter to question his inclusion at the expense of Leon Osman. Pundit Stan Collymore backed the claims, describing Osman as underrated. Often the Everton scapegoat in recent years, Osman has been far more consistent of late. However, the increasing calls for an England nod are slightly overreaching. If Osman ever had an England chance, it has long gone.

Capable of the sublime and the ridiculous in equal measure, there is an overriding sense of frustration when discussing him. Able to dribble past several with sharp footwork, Osman is just as likely to miss the target with his shot. Seemingly lacking that missing ingredient, be it strength or a yard of pace, he falls just short of being a top player.

Earlier in his Everton career, after loans spells at Derby and Carlisle, Osman found himself used on the right of midfield. Lacking the pace to go beyond the full back, his tendency to drift infield left the Everton right back exposed - a trait ruthlessly highlighted by Chelsea in the 2009 FA Cup final.

After Steven Pienaar departed in January 2011, Everton fans finally saw Osman reach a level of consistency. Forming a left-sided partnership with Leighton Baines, Osman was the standout Everton player for the rest of the season. Managing just one goal and one assist prior to January, Osman scored four and assisted five in the final months of the campaign.

Despite impressing on the left in the latter stages of 2011, Osman is at his best centrally. Suited to the trequartista role behind a lone striker, Osman has found himself employed in central midfield this season. Alongside the more defensive Phil Neville, Osman is able to link defence with attack. Nonetheless, there are clear drawbacks to the use of Osman as a central midfielder.

Lacking the tackling ability of Marouane Fellaini and Darron Gibson, Osman is prone to surrendering possession. Newcastle demonstrated this with Demba Ba's goal at Goodison this season as Yohan Cabaye dispossessed Osman and Ba broke to equalise.

With good close control and quick feet, the obvious role for Leon Osman is behind Nikica Jelavic. Free from defensive shackles, Osman can focus on the strongest aspect of his game: playing attacking football. At his best, the England shouts are valid; at his worst, his tendency to become anonymous in matches is all too clear.

Regardless of the team performance, certain Everton players perform game after game. Osman is rarely one of those and that is another possible reason for England overlooking him. Playing well in good Everton performances, Osman rarely stands out when Everton have an off day.

Constantly seeking possession when Everton are on form, Osman is guilty of shirking responsibility when Everton are struggling. However, that is a trait displayed by most Everton midfielders and not just Osman, something David Moyes needs to work on.

Drifting in and out of form, Osman has remained under the radar of various England but he can still count himself unlucky to have no caps or call-ups. After all, during his Everton career, England caps have fallen to David Bentley, Joey Barton, Kieran Richardson and Jake Livermore. Despite his flaws, Osman would be justified in feeling aggrieved at some of the players chosen ahead of him.

Unfortunately, with age now firmly against him, the England ship has sailed. While lacking the consistency of the main England midfielders, Everton's very own midget gem remains a good player. Ultimately, the failure to nail down a permanent role in the Everton midfield and a lack of consistent performances has cost him.