Poyet charged with bringing identity and harmony to Sunderland
A 45-year-old former Premier League star with experience managing in the lower leagues. That's the man Sunderland have chosen to replace the 45-year-old with experience managing in the lower leagues: Paolo Di Canio. Of the many narratives unfurling on Wearside at present, that similarity between Sunderland's last manager and his successor Gus Poyet is perhaps the most prevalent.

Randall: A nervous welcome

Much like Di Canio, Poyet has been parachuted into the Stadium of Light with the team at a low ebb and relegation on the horizon. The situation may remind him of the one he inherited at Brighton with the Seagulls cast as potential relegation candidates on his arrival. Survival in his first season was swiftly followed by promotion to English football's second-tier as champions in his second campaign.

Poyet's success at Brighton was accompanied by a slick style of passing football, a concept that was absent prior to his arrival, as it is in the North East. His goalkeeper did not kick it out, instead he was required to play from the back, with the same message delivered to defenders more used to aiming long.

When the club reached England's second tier, his demand for an aesthetically pleasing style did not waiver. However, that stubbornness is also viewed one of Poyet's biggest weaknesses.

An advocate of 4-3-3, his plan A was not matched with an adequate plan B. The club went two seasons without coming from behind to win -- a frightening statistic given Sunderland have only taken the lead twice in seven games so far this campaign. However Brighton also never lost a game after taking the lead under Poyet.

Variety was shunned and substitutions were often like-for-like swaps rather than tactical tweaks. That same issue was also prevalent with Di Canio. An advocate of 4-4-2, his calls for something new were promptly ignored as he persisted with his tactical vision. It's arguably why the club currently sit bottom of the table without a win. And for those in the stands who cried out for change, vindication has to a degree arrived with caretaker boss Kevin Ball.

Although he may have not won a Premier League game during his brief tenure, few can contest that performances have improved -- in part thanks to his deployment of 4-3-3 which has gifted Sunderland greater control in midfield. His upturn has also been founded on players the club's director of football deemed not fit for purpose. Yet perhaps it is harsh to solely blame Roberto De Fanti's signings. Adaptation to a new league is difficult at the best times, even more so when the team-mates you may look to for support are just as fresh to the surroundings.

Di Canio oft lamented the tools he had at his disposal, Poyet cannot do the same. For Brighton he advocated a talismanic striker supported by a talented winger on one side and an industrious grafter on the other. With Jozy Altidore the club's premier fit striker at present, casting Adam Johnson as the former and Emanuele Giaccherini as the latter would suggest this Sunderland side is fit for Poyet's purpose.

If he is to succeed however, he will need to distance himself from comparisons to the man he has replaced. Disparaging character references were not in short supply for Di Canio. Phil Bardsley and Titus Bramble, along with former charges at Swindon Town, provided enough of a cautionary tale for any club believing the Italian was the answer.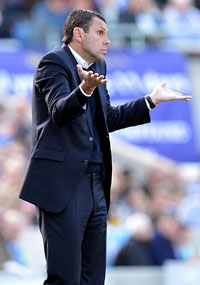 AssociatedGus Poyet was accused of lacking a plan B at Brighton.
For Poyet, there is just one notable dissenter: Vicente. Formerly of Valencia, Poyet convinced the Spaniard that the coastal air of Brighton was where he should head after the Spanish sunshine. Two seasons brought injuries, few starts, and a subsequent release amid claims his manager was 'egotistical'.

With just a degree of irony, one of his most vocal supporters of late far is a former Newcastle player. Steve Harper spent a month under Poyet and was left impressed by what he saw.

"He was very impressive," Harper told Sky Tyne and Wear. "He will want Sunderland to play total football, playing out from the back, beginning with the goalkeeper, because he encourages his players to go out and express themselves. He wasn't scared to let players know where they were going wrong or when they weren't doing what he expected of them, but he was approachable and friendly and tactically astute with it.

"The North East can chew managers up sometimes, but I think he's got the character to do well. It certainly won't faze him."

Harper's character assessment will be tested early into Poyet's tenure with Sunderland. Newcastle arrive in only his second game -- his first at the Stadium of Light. At Brighton, Poyet was accused of underestimating the rivalry between Brighton and Crystal Palace. At one stage he beat Palace 3-0, but Palace had the last laugh with a play-off victory and Premier League place last season.

Defeated 2-0 at home by Palace, the game had provided a microcosm for Poyet's shortcomings. Tactically rigid, the post-match narcissism in his press conference did little to soothe the pain felt by Brighton's fans. It was at that point things appeared to unravel for the man nicknamed the 'radio' -- his message was not seeming as clear.

His handling of the press was also a bone of contention at times. When links to better positions elsewhere arose, Poyet was all too happy to talk and his public support of compatriot Luis Suarez during the Patrice Evra affair ruffled feathers and, while not as controversial as conjecture over Di Canio's political ideology, it did not portray him in the most positive light.

His time at Brighton reached breaking point when it emerged that someone had defecated in the Crystal Palace dressing room prior to the play-off second leg. Although it may provide ample material for Newcastle fans now, at the time it was the precursor to a bizarre series of events in which it seemed Poyet learned of his dismissal live on the BBC while on pundit duty.

What is known, is that with Poyet's appointment Sunderland owner Ellis Short has found another manager willing to work with a director of football, in this case one who has been held accountable for the club's extensive summer outlay. Again, much like Di Canio, Poyet had a questionable record with recruitment. There were undoubted highs, such as unearthing Liam Bridcutt, balanced by questionable decisions like allowing prolific striker Glenn Murray to leave for Crystal Palace.

Conjecture over strengthening is arguably redundant given the January transfer window is still months away. Instead, Poyet must work with a group that speak a variety of languages, play a variety of ways, and appear to still be bedding in. But as well as needing a full-time manager, Sunderland have longed for an identity on the pitch. It has long been an issue, with a series of managers providing new faces, new ideas, but not new outcomes.

At Brighton, Poyet achieved that implementing an identity and ushering the club into a new stadium, with a new style, and a new mentality. Ultimately his ambition is what many believe saw him leave the Amex Stadium and while that can be admired, for Sunderland his appointment was the only logical choice for a club that has seemed short on common sense in recent months.

With so much yet to be known, one thing is sure, a brief honeymoon period of success like that which Di Canio courted will not be enough. Sunderland need a genuine upturn -- and more importantly their second appointment from the lower leagues to work out.