Football awaits Fergie's latest opus
Alex Ferguson, My Autobiography will announce the return to public life of its eponymous subject when released next month.

The ninth book in his name will most probably be Ferguson's final published words on his near six decades in football. He is such a man apart that his latest tome is being anticipated with the gravitas of a Prime Ministerial or Presidential memoir.

Speculation is already rife. No known logic or studies of previous Ferguson behaviour suggest that he will be sparing in his opinions. He will not be voicing empty platitudes for the sake of it. Age shall wither only his sworn enemies.

His previous works have all contained carefully but unerringly aimed barbs. Published during his days at Aberdeen, A Light In The North was scathing about Scotland's Old Firm clubs. Six Years At United, published in 1992, bemoaned the failings of Manchester United's failing scouts, renegade pair Paul McGrath and Norman Whiteside, and saved its last chapter to bemoan the Sky revolution that was heading English football's way and would, ironically, enrich him and his family for generations to come.

In 1999's Managing My Life, the freshly honoured knight of the realm besmirched former assistant Brian Kidd, unforgivably in the eyes of many United fans, and even lambasted the club for his own low salary. Scores were settled, old wounds were opened. Like the best autobiographies, it read as if heard in Ferguson's voice.

Last weekend's Observer suggested that Wayne Rooney can expect to feel his ears burning. It was a wholly logical conclusion from highly educated guesswork, but only a select and secretive few are currently aware of the book's contents. Others who might expect a volley of Govan invective are Rafa Benitez, Sven-Goran Eriksson, Roy Keane and the dissident supporters who opposed the Glazer family's takeover of Manchester United. There will be no sea change in opinions on the club's owners. Considering that he is reported to be receiving £2 million a year from United for an ambassadorial role, the burning of that particular bridge seems wholly unlikely from Ferguson.

The likes of David Beckham and Ruud van Nistelrooy, favourite sons who strayed, might expect only mild admonishment, since both have seen the error of their ways, and been admitted back as kindly courtiers. Cristiano Ronaldo should receive a glowing report. Bebe will probably not be mentioned at all. John Magnier, JP McManus and the Rock of Gibraltar affair should be sidestepped. "Grown men move on" is the phrase attributed to Ferguson after a settlement was met with Irish bloodstock magnates who operated at a sharp end way beyond even Ferguson's ken.

In truth, we deal in conjecture, as the Ferguson camp, ghostwriter Paul Hayward and publishers Hodder & Stoughton are giving nothing away before publication day. In a break from the norm, Ferguson's book will not be serialised by a UK newspaper. Instead, the public will get to hear his side of the story at almost the same time as the media, who get a news conference only the day before the release date.

The public will get to hear the Ferguson story in person, too. As October turns to November, five public appearances are planned in which he and trusted media pals Eamonn Holmes, Dan Walker and Dougie Donnelly will be "in conversation." Ferguson Inc., run by son Jason, are counting on a sellout tour for which tickets went on sale Friday, to top up a rumoured £2 million advance and then attendant royalties once the book is its expected success.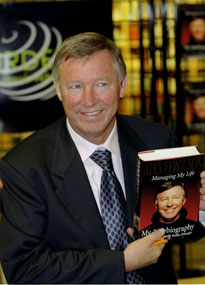 GettyImagesSir Alex Ferguson released "Managing My Life" in 1999.
However, the publishing industry's relationship with football has changed markedly since 1999. Two decades on from that Sky revolution, a book deal is no longer necessary to top up a player's pension. And now that managers are paid almost as well as players, the same goes for them, too. Having previously written a series of season diaries to add to his earnings, Ferguson had no financial need once United met the demands detailed in Managing My Life.

"The economics of the publishing industry are such that it's almost impossible for the publisher to offer the level of money that would mean anything to anyone on Premier League wages," says Neil White of Backpage Press, the independent publishers behind the award-winning Barca by ESPN's Graham Hunter, its forthcoming follow-up on the Spanish national team, and soon to release an English translation of Andrea Pirlo's autobiography.

"Louis Saha did a book a couple of years ago. It was critically very well received but financially I don't know what was in it for him."

A now increasingly common function of the football autobiography is to allow players and managers to get their message delivered directly to fans, rather than through a football media that is ever more distrusted.

"That has to be the driver for any player lower than David Beckham or Ryan Giggs' profile," explains White, who cites Craig Bellamy's recent book as a leading example. "If they are going to do the book properly they want to get their own story out, but they are simply never going to make the money they can make from playing."

Publishers no longer want bland tales of players enjoying the "odd pint of lager" and "getting stick from the lads" that littered the market in the 1980s and 1990s. To attract the money on offer from newspapers for serialisation, controversy and sensation are required. Clarke Carlisle's status as PFA chairman and Countdown contestant has done little to win the public's eye, but strident views on Rio Ferdinand can, as Monday's Daily Mail proved.

Carlisle's book follows the confessional blueprint pioneered in 1998 by Tony Adams' Addicted, the tale of the Arsenal and England captain's battle with alcoholism. The genre reached a high point in 2000 with Tony Cascarino's Full Time. It revealed that Cascarino was never actually eligible to play for Ireland, and had altered his passport and hair colour to hide his age and land a new playing contract. Paul Kimmage's expert ghostwriting converted a football journeyman's story into a classic. Roy Keane followed a similar template with Eamon Dunphy for a 2002 blockbuster that landed him an FA charge and subsequent ban.

Keane is not one for contrition but an ill-judged autobiography has landed others in deep trouble. Brian Clough lived to regret going to print with his views on the Hillsborough Disaster. Ashley Cole's public image has never recovered from his depiction of almost crashing a car at Arsenal's meagre offer of £55,000 a week; My Defence swiftly became an attack weapon for detractors. Many a writ has resulted from poorly chosen words; Rooney was forced to settle out of court with former manager David Moyes, with whom he is now uncomfortably reunited.

A far wider range of football books has grown beyond autobiographies. The market has diversified, from Inverting The Pyramid, the tactics textbook with which Jonathan Wilson began a genre, to investigations of foreign football, such as David Winner's Brilliant Orange or those by ESPN's own Phil Ball and Uli Hesse.

"People with a level of access and level of insight no longer feel that they need to wait for a footballer to allow them to write a book," explains White. "If they want to write about a certain type of football, they are now more able to tell it."

The audience has matured, enjoys far greater access to information through TV and the Internet and thus knows more about the game at home and abroad. There is now a market for the continental star's translated book, too. I Am Zlatan Ibrahimovic hit British shelves this week, and is a thoroughly entertaining read in the taking-no-prisoners style of Maradona's El Diego.

After 14 years away from bestsellers' lists and review sections, Ferguson the author re-enters a rather different frontier. "With someone like Fergie, you kind of know the bricks and mortar of that story," suggests White. "What it's going to take to make it work is to give a new angle or some of the motivations behind the decisions he made."

Even if Ferguson's opus is something of the last of its kind, his book is bound to be a hit that generates acres of newsprint. The football world -- and beyond -- eagerly awaits a chance to be variously angered, entertained, outraged, enlightened and, ultimately, informed.