European transfers: Who made the grade?
AC Milan -- Grade C+
Team: (4-3-1-2) Abbiati; De Sciglio, Mexes, Zapata, Abate; Montolivo, De Jong, POLI; KAKA; El Shaarawy, Balotelli.
Ins: Jherson Vergara (Deportes Quindio), Matias Silvestre (Inter), Andrea Poli (Sampdoria), Valter Birsa (Genoa) Riccardo Saponara (Brescia), Kaka (Real Madrid), Alessandro Matri (Juventus).
Outs: Luca Antonini (Genoa), Taye Taiwo (released), Massimo Ambrosini (released), Mathieu Flamini (released), Kevin Prince-Boateng (Schalke).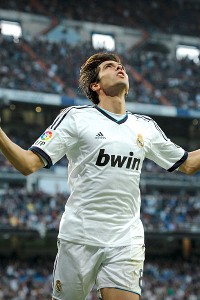 AllsportKaka's main role in his return to AC Milan will be to mentor fellow acquisition Ricky Saponara.
Bearing in mind the "painful but necessary" cuts made a year ago and the line out of the club that Mario Balotelli was their big signing of 2013, many weren't expecting much from Milan this summer. Owner Silvio Berlusconi's decision to retain coach Max Allegri was contingent upon a change in style, with the team expected to play a classic No. 10, so Kevin Prince-Boateng was sold and Kaka brought back from Real Madrid to mentor fellow new signing Ricky Saponara. The Brazil international's romantic return has generated great enthusiasm, but Milan's insistence on further reinforcing the final third together with him and Alessandro Matri, rather than seriously addressing the back four, has confused many.

Atletico Madrid -- Grade B+
Team: (4-4-2) Courtois; Luis, Godin, Miranda, Juanfran; Turan, Gabi, Tiago, Garcia; VILLA, Costa
Ins: Roberto (Benfica), Martin Demichelis (Malaga), Toby Alderweireld (Ajax), Joshua Guilavogui (Saint Etienne), Leo Baptistao (Rayo), David Villa (Barcelona)
Outs: Joel Robles (Everton), Martin Demichelis (Manchester City), Radamel Falcao (Monaco)

Atletico have had so many prolific strikers over the years: Christian Vieri, Jimmy Floyd Hasselbaink, Fernando Torres, Diego Forlan, Sergio Agüero and Radamel Falcao. It's a testament to their knack at replacing them. When Falcao left for Monaco, few -- considering their financial problems -- thought they'd be able to repeat the trick, but to get David Villa for potentially as little as 2.3 million euros is one of the transfers of the summer. Holding onto Diego Costa, as well as goalkeeper Thibaut Courtois for another year on loan from Chelsea, not to mention taking Martin Demichelis on a free from Malaga -- only to sell him then to Manchester City and use the proceeds to sign another Belgium international, Toby Alderweireld from Ajax -- also leaves you with the feeling that Atleti have had a good summer relative to their needs.

Barcelona -- Grade B-
Team: (4-3-3) Valdes; Alba, Puyol, Pique, Alves; Iniesta, Xavi, Busquets; NEYMAR, Messi, Pedro
Ins: Neymar (Santos)
Outs: Eric Abidal (Monaco), Thiago Alcantara (Bayern Munich), Gerard Deulofeu (Everton on loan), Bojan (Ajax on loan), David Villa (Atletico Madrid).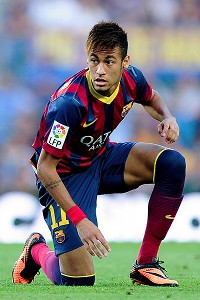 David Ramos/Getty ImagesNeymar's signing made a splash but didn't address Barca's defense or an inability to keep a clean sheet.
Barca won La Liga at a canter last season but they've never looked as vulnerable in the past five years as they did in the spring. Milan almost knocked them out of the Champions League and Paris Saint-Germain were only ousted on away goals, with Barca looking desperately to an injured Lionel Messi to get them through. It caught up with them against Bayern Munich, when they were comprehensively outplayed. Neymar's box-office signing was in part a response to that, someone to freshen things up a bit, share the burden with Messi, not to mention bring in revenue as a marketing sensation. What made Barca mortal again, however, was their defence and an inability for a long time to keep a clean sheet. Efforts to reinforce the centre-back position with either David Luiz or Thiago Silva came to nothing. Instead, they're relying on veteran Carles Puyol to stay fit, which is wishful thinking. On another note, the loss of Thiago Alcantara was a disappointment.

Bayern Munich -- Grade B-
Team: (4-1-4-1) Neuer; Alaba, Dante, Boateng, Lahm; Schweinsteiger; Ribery, Muller, GOETZE, Robben; Mandzukic.
Ins: Jan Kirchoff (Mainz), Thiago Alcantara (Barcelona), Mario Goetze (Borussia Dortmund).
Outs: Anatoliy Tymoshchuk (Zenit), Luiz Gustavo (Wolfsburg), Mario Gomez (Fiorentina), Nils Petersen (Werder)
Bayern left Dortmund coach Jurgen Klopp unable to speak after they took advantage of a clause in Mario Goetze's contract to pry him away from the Westfalenstadion during the summer. Weakening a direct rival was a welcome sensation, though it hasn't lasted, given how Dortmund have gone about their transfer business. Considering Goetze's move and how many creative, central-oriented midfielders Bayern already have in Toni Kroos and Bastian Schweinsteiger, the question is: Was signing another one in Thiago Alcantara really necessary beyond satisfying Pep Guardiola? Might it lead to tension as some are left out? There's also a sense that Bayern might regret selling Luiz Gustavo, bearing in mind they now lack a specialist capable of breaking up play in the middle of the park. Then again, that's just not Pep's style.

Borussia Dortmund -- Grade A-
Team: (4-2-3-1) Weidenfeller; Schmelzer, Hummels, Subotic, Großkreutz; Bender, Gundogan; Reus, MKHITARYAN, AUBAMEYANG; Lewandowski.
Ins: Sokratis (Werder), Henrikh Mkhitaryan (Shakhtar), Pierre-Emerick Aubameyang (Saint-Etienne).
Outs: Felipe Santana (Schalke), Leonardo Bittencourt (Hannover), Moritz Leitner (Stuttgart on loan), Mario Goetze (Bayern Munich)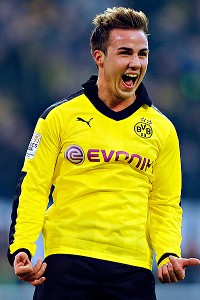 AllsportMario Goetze's loss is significant, but Dortmund have a fine replacement in Henrikh Mkhitaryan.
Klopp's intention this summer was to make his team even quicker. With the acquisition of Pierre-Emerick Aubameyang, one of the fastest forwards in the game, he has done just that. Though losing arguably the finest German player of his generation in Mario Goetze to rivals Bayern Munich, Henrikh Mkhitaryan is a fine replacement with the intelligence to thrive in this system. He brings great goal-scoring ability, too. Dortmund deserve credit for digging their heels in and not allowing Robert Lewandowski to follow Goetze to Bayern. A pay raise has eased the situation and he's been professional about things, resolving to see out his contract. The team is still perhaps a little short at the back, even though cover at centre-back has been found in the form of Sokratis.

Inter -- Grade C+
Team: (3-5-1-1) Handanovic; CAMPAGNARO, Ranocchia, Juan Jesus; Jonathan, Guarin, Cambiasso, Kovacic, Nagatomo; Palacio; ICARDI.
Ins: Hugo Campagnaro (Napoli), Rolando (Porto), Wallace (Chelsea on loan), Marco Andreolli (Chievo), Saphir Taider (Bologna), Ruben Botta (Tigre), Diego Laxalt (Defensor), Mauro Icardi (Sampdoria), Ishak Belfodil (Parma).
Outs: Ezequiel Schelotto (Sassuolo), Ibrahim Mbaye (Livorno), Matias Silvestre (Milan), Alfred Duncan (Livorno), Ruben Botta (Livorno), Diego Laxalt (Bologna), Samuele Longo (Hellas), Antonio Cassano (Parma).

There was great uncertainty around Inter throughout this window as Massimo Moratti negotiated the sale of a stake in the club to the Indonesian businessman Erik Thohir, which is expected to go through in the coming days. Even so, the Nerazzurri still managed to improve the defence with the pickup of Hugo Campagnaro on a free from Napoli. Inter hope Saphir Taider can be their Paul Pogba in midfield while the acquisitions of young strikers Ishak Belfodil and Mauro Icardi continues the first team's rejuvenation and means they won't be caught short up front like they were last season. The inability to bring in a player for the role out wide on the right apart from Wallace on loan from Chelsea threatens to be a problem considering how fundamental a role it is to Walter Mazzarri's teams. Inter have been unflashy. The sale of Antonio Cassano to Parma means linking midfield and attack may be an issue, at least until Mateo Kovacic finds his feet. For many, Inter's best signing this summer isn't a player but the coach, Mazzarri.

Juventus -- Grade A-
Team: (3-5-2) Buffon; Chiellini, Bonucci, Barzagli; Lichtsteiner, Vidal, Pirlo, Pogba, Asamoah; TEVEZ, Vucinic.
Ins: Angelo Ogbonna (Torino), Fernando Llorente (Athletic Bilbao), Carlos Tevez (Manchester City).
Outs: Luca Marrone (Sassuolo), Reto Ziegler (Sassuolo), Felipe Melo (Galatasaray), Emanuele Giaccherini (Sunderland), Alessandro Matri (Milan).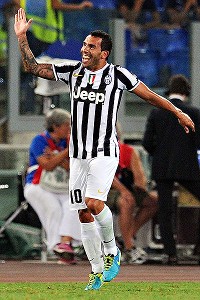 AllsportIn Carlos Tevez, Juve have finally found their go-to scorer and one who suits Antonio Conte's system.
Though Napoli and Fiorentina really captured the imagination with their signings this summer, the consensus in Italy is that Juventus still had the best window. And why might that be? Well, it's because the Old Lady finally found what she was looking for: the so-called "top player." After missing out on Sergio Aguero, Luis Suarez and Robin van Persie in the past, Juventus got themselves the go-to goal scorer they needed and one who's perfectly suited to coach Antonio Conte's system in Carlos Tevez. They secured another option up front in Fernando Llorente, too, the latest freebie after Andrea Pirlo and Paul Pogba. Serie A's best defence also got younger with the signing of Italy international centre-back Angelo Ogbonna. A wide player with pace, capable of allowing the team to play 4-3-3 as an alternative to 3-5-2, is perhaps the only target they missed.

Monaco Grade -- A-
Team: (4-2-3-1) ROMERO; Kurzawa, ABIDAL, CARVALHO, Fabinho; TOULALAN, KONDOGBIA; Ferreira-Carrasco, MOUTINHO, RODRIGUEZ; FALCAO.
Ins: Sergio Romero (Sampdoria), Eric Abidal (Barcelona), Ricardo Carvalho (Real Madrid), Nicolas Isimat-Mirin (Valenciennes), Geoffrey Kondogbia (Sevilla), Jeremy Toulalan (Malaga), Joao Moutinho (Porto), James Rodriguez (Porto), Radamel Falcao (Atletico Madrid).
Outs: Ibrahima Toure (Al-Nasr), Carl Medjani (Olympiacos), Nampalys Mendy (OGC Nice).
Monaco's team is almost completely unrecognisable to the one that won promotion to Ligue 1 at the end of last season. A complete overhaul has taken place to make this newly promoted side instant title contenders. Centre-backs Ricardo Carvalho and Eric Abidal may be old, but they bring experience and reassurance. Jeremy Toulalan and Geoffrey Kondogbia make for a balanced midfield, while Joao Moutinho, James Rodriguez and Radamel Falcao have all played together at Porto and so need no time to jell. Perhaps more could have been done to improve the goalkeeper position. Sergio Romero isn't a huge upgrade on Danijel Subasic, but apart from that, Monaco have arguably done a better job at assembling a potential title-winning team at the first attempt than PSG did in 2011-12.

Napoli -- Grade B+
Team: (4-2-3-1) REINA; Zuniga, Britos, ALBIOL, Maggio; Inler, Behrami; Insigne, Hamsik, CALLEJON; HIGUAIN.
Ins: Pepe Reina (Liverpool), Rafael (Santos), Raul Albiol (Real Madrid), Jose Maria Callejon (Real Madrid), Dries Mertens (PSV), Gonzalo Higuain (Real Madrid), Duvan Zapata (Estudiantes).
Outs: Alessandro Gamberini (Genoa), Hugo Campagnaro (Inter), Walter Gargano (Parma), Edinson Cavani (Paris Saint-Germain).
Like Tottenham, Napoli sold their best player -- for Gareth Bale, see Edinson Cavani -- and have used the money to strengthen the team across the board. The difference here is that they also have a new manager, Rafa Benitez, and he has endeavoured to reconfigure the team rather than simply augment it like Andre Villas-Boas. Napoli made a real coup by outbidding Juventus and Arsenal for Gonzalo Higuain, whose goals will gradually make the fans forget Cavani. More have been added in Dries Mertens, as much a provider as a finisher on the left, and Jose Maria Callejon, who despite scepticism has started the season very well indeed. Doubts, however, surround the defence and the transition from a back three to a back four. Christian Maggio is more of a wing-back than a full-back and yet Napoli didn't choose to reinforce that position. After signing Raul Albiol, they didn't bring in another centre-back to partner with him either, despite interest in Martin Skrtel. Given Benitez doesn't appear to rate captain Paolo Cannavaro, that might prove a problem, though Napoli have started the season in spectacular fashion, so far living up to the hype.

Paris Saint-Germain -- Grade B-
Team: (4-3-3) Sirigu; DIGNE, Thiago Silva, Alex, van der Wiel; Matuidi, Thiago Motta, Pastore; Lavezzi, Ibrahimovic, CAVANI.
Ins: Marquinhos (Roma), Lucas Digne (Lille), Edinson Cavani (Napoli).
Outs: Mamadou Sakho (Liverpool), Clement Chantome (Toulouse), Diego Lugano (West Brom), Kevin Gameiro (Sevilla), Sylvain Armand (Rennes), David Beckham (retired).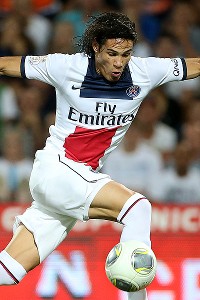 John Berry/Getty ImagesIt remains to be seen whether Edinson Cavani can click with fellow elite striker Zlatan Ibrahimovic.
Predictably, PSG went back to Serie A to do their shopping this summer. They coughed up the 64 million euros Napoli were demanding for Edinson Cavani and got a player who, along with Falcao and Robert Lewandowski, is one of the top strikers in the world right now. Another one, Zlatan Ibrahimovic, plays for PSG, and doubts remains as to whether they can play together. On paper, however, this forward line is formidable. Paying Roma 31.4 million euros for centre-back Marquinhos a year after they signed him from Corinthians for an initial fee of just 1.5 million euros seems like folly. As with Javier Pastore, PSG have bought on the basis of potential, and the Brazilian teenager has plenty. The fee is overblown, though, but PSG have the money and they can spend it how they choose (unless, of course, Financial Fair Play has any effect at all). Bringing in Lucas Digne means they have a bright future at left-back. On the other side, however, I remain to be convinced by Christophe Jallet and Gregory van der Wiel. Could they not have bought another right-back?

Real Madrid -- Grade B+
Team: (4-2-3-1) Casillas; Marcelo, Sergio Ramos, Varane, Arebeloa; Modric, ILLARAMENDI; Ronaldo, ISCO, BALE; Benzema.
Ins: Daniel Carvajal (Bayer Leverkusen), Asier Illarramendi (Real Sociedad), Isco (Malaga), Gareth Bale (Tottenham).
Outs: Ricardo Carvalho (Monaco), Raul Albiol (Napoli), Jose Maria Callejon (Napoli), Kaka (Milan), Mesut Ozil (Arsenal), Gonzalo Higuain (Napoli).
The Gareth Bale saga dominated the headlines so much, it's easy to forget how Real injected a more Spanish feel to the team earlier in the summer. Daniel Carvajal returns to the club after emerging as one of the best right-backs in the Bundesliga at Bayer Leverkusen. Asier Illarramendi was expensive but should succeed fellow Real Sociedad alumnus Xabi Alonso, while Isco brings the flair of a toreador. His arrival and Bale's have pushed Kaka and, more significantly Mesut Ozil, to the exit. It's not quite like four years ago when Arjen Robben and Wesley Sneijder were forced out the door, but a similar sensation prevails and one wonders if it'll come back to haunt the Bernabeu. Also, do Real even need Bale other than to respond to Barca signing Neymar? They seem a little short up front, too, following Gonzalo Higuain's sale, though Cristiano Ronaldo and Bale himself could presumably occupy the role if needs be, while Alvaro Morata might fulfill the promise he showed at the Under-21 European Championship.