Jose Mourinho is back in his natural habitat
They came for him, for his return. Fans got off the overground at West Brompton and the underground at Fulham Broadway and walked in thousands to Stamford Bridge. They wore the blue of Chelsea, the white of Chelsea. There was a sense of anticipation. A new season was about to start against Hull City, but an old familiar face was on the bench. It was the one they longed to see. The Special One. The Happy One. One of them.

He has "some white hairs" now. And despite the leaden skies over London, there was no gray Armani cashmere coat like the one he wore in his first spell. But there was no mistaking -- it was him all right. Of that there was no doubt. It was Mourinho, Jose Mourinho at "my stadium," in "my dugout," with "my people." Back in his "natural habitat."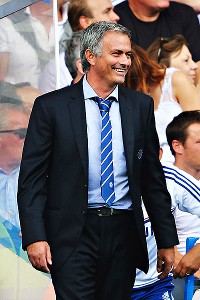 Clive Mason/Getty ImagesHe has more gray hairs now, but Jose Mourinho made good on his promise to return to Chelsea.
The language he has used since his homecoming is evocative of David Peace's in "The Damned Utd" only re-imagined, as though Don Revie were walking back into Elland Road after Brian Clough's 44 days in charge of "his" Leeds United.

That never happened, of course. But this, the Second Coming of Mourinho at Stamford Bridge, has. The prayers of those who frequent the Shed End and the Matthew Harding Stand have been answered. Their dreams have come true. Mourinho always promised that one day he would return. He was as good as his word.

Those with which Mourinho opened his first set of Chelsea programme notes in six years were more akin to a cult leader than a football coach. "It's great to write again to my Blues brothers," he insisted, "and I start with a question: How would you feel if Mr. Abramovich asked you to manage and coach our first team? How would you feel as a Chelsea supporter? Proud? Excited? Motivated? Ready? That is exactly what I felt." As one of them would.

And just as Mourinho predicted in Friday's news conference, the fans sang his name. They did so even before he walked out on the pitch. When the big reveal did come, there was no showmanship. Emerging from the tunnel, he merely kissed his fingers, gave a brief wave and took his seat. It was restrained, understated, low-key.

Mourinho didn't want the focus to be on him. He wanted it to be on Roman Abramovich as the Russian oligarch celebrated the 10th anniversary of his first game as owner of Chelsea. He wanted it to be on the players, the team. And soon enough it was.

After just four minutes, Hull goalkeeper Allan McGregor came to punch a ball that had found its way into his area and, late to it, struck Fernando Torres across the face. He redeemed himself moments later by saving Frank Lampard's penalty low to his right, but the writing was already on the wall. The newly promoted Tigers looked in for a mauling, and manager Steve Bruce's face had turned a shade of puce. Afterward, he would praise the intensity Chelsea played at for the first 20-25 minutes, an intensity they couldn't cope with.

Oscar, in particular, gave Hull the runaround in the early stages. He was here, there and everywhere. A ghost. And so when the lively Kevin De Bruyne played a ball behind the defence and Oscar appeared to poke it under McGregor to open Chelsea's account for the season in the 12th minute, the Hull defence looked spooked.

Another fright came when Lampard forced McGregor to tip a shot over the bar. Chelsea's all-time top scorer would get the better of him soon afterward. Unable to beat McGregor from 12 yards, he did so from near 30 with an excellent swerving free-kick, a soft one won, Bruce argued, after Torres went down rather easily in the 24th minute.

Things stabilised from there until the stroke of halftime. Hull grew more composed and occasionally managed to break out. Sone Aluko countered on the right, and it was from there that he and his teammates looked for forward Danny Graham, though their crosses were either claimed by Petr Cech or overhit. For the most part, the loan signing from Sunderland looked isolated, and as a consequence, Hull threatened little.

But for McGregor, the visitors would have gone in at the interval 3-0 down. Stunned by a Branislav Ivanovic header from point-blank range, he pushed the ball up and, falling back, clawed it away at the last, the Goal Decision System showing that it hadn't crossed the line.

Other chances to add to their 2-0 lead would come Chelsea's way in the second half. On for Torres, Romelu Lukaku held the ball up characteristically well, laid it off and saw fellow substitute Andre Schurrle, the £19.3 million signing from Bayer Leverkusen, released through on goal down the right. His attempt to chip the onrushing McGregor, however, ended rather agonisingly on the roof of the net.

Before the close of play, Chelsea supporters got a look at their other new recruit, Marco van Ginkel, as he replaced Oscar and took up a position behind Lukaku.

Signs of encouragement weren't lacking for Chelsea. "I'm very happy," Mourinho said. He hailed "that quality, that dynamic, that creativity," which they showed in the early stages. "... The three boys behind Fernando in the first half were fantastic," he said, "and in the second half, they disappeared," an eventuality Mourinho found understandable considering the ages of Eden Hazard, Oscar and De Bruyne and their international commitments in midweek. Chelsea, though, are off and running.

"I am fast," Mourinho once boasted, "fast like a lion ... woosh." This comment came before the 2010 Champions League final and was in response to criticism of his dash onto the pitch, finger pointing to the sky after Inter knocked Barcelona out at the Camp Nou in the semifinals. Yet it could just as easily have been applied to the manner in which his teams start seasons.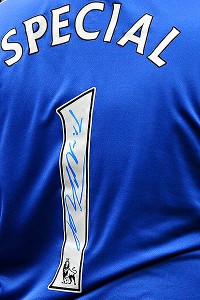 Ben Stansall/AFP/Getty ImagesBlues fans came from far and wide to see a familiar face score a season-opening win.
They get away quickly, very quickly. Chelsea were a team in Mourinho's image at Stamford Bridge on Sunday, a lion with a bound to its step and a ferocity of intent that simply had too much for the Tigers.

Remember how in 2004 his first Chelsea side started with seven wins and two draws from their opening nine league games. Then in 2005, they came blazing out of the traps with nine straight victories.

Reflecting on that time, Sir Alex Ferguson admitted: "They caught us on the hop ... and we were playing catch-up all the time."

Win against Villa on Wednesday and then beat David Moyes' Manchester United at Old Trafford a week from Monday and the pressure will already be on their rivals, even at this early juncture, to keep up.