Gold glad to protect game's future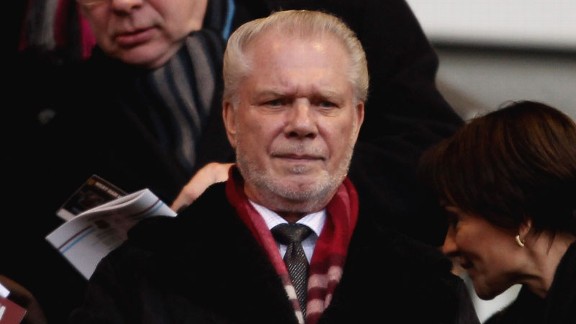 GettyImagesDavid Gold has overseen West Ham's return to the Premier League alongside co-owner David Sullivan.
West Ham chairman David Gold has called for the transfer window to be closed before a ball is kicked in the Premier League season and expressed concern that some football agents are "behaving like wild animals" in an exclusive interview with ESPN FC.

Even though Gold is eager to add an additional striker to manager Sam Allardyce's squad before the season gets underway, West Ham have done most of their business for the summer early with the club-record purchase of striker Andy Carroll from Liverpool backed up by the capture of Shakhtar Donetsk's Razvan Rat.

Those deals were apparently conducted with swift efficiency by all involved, but Gold is nonetheless suggesting that controls need to be placed on the minority of agents who are intent on stripping money away from football by fair and foul means.

"I would start by stressing that 99 percent of agents are acting in the best interests of their clients and most I have dealt with have been honestly going about their business, but there are a few who behave like wild animals," says Gold, whose devotion to West Ham started as a child, when he was raised in the shadow of Upton Park. "These agents get a sniff of blood, or a sniff of money in this case, and they are ferocious in trying to get it. I have to stress that it is only some agents acting in this way, but those who are stretching business practice to the limit need to be controlled.

"Even though this transfer window system is encouraging these less-than-desirable agents to thrive, I believe the current setup of a fixed period for player transactions is a necessary evil of the game. The alternative is a free-for-all where clubs could sign players all year around, and that would create permanent instability. That simply would not work, especially for a club like West Ham.

"What I would like to see is a way of bringing down the curtain on the transfer window before the season starts. That may be tricky with different countries starting their seasons at different times, but we could all pick a date in August and say all transfers need to be concluded by then. Maybe it is something to look at."

Discussing changes to the fabric of the game led neatly to what may one day be hailed as Gold's finest triumph since he made his return to the list of Premier League owners after his Hammers regained their topflight status last summer.

Along with Stoke chairman Peter Coates and Sunderland owner Ellis Short, Gold led the way in urging Premier League clubs to agree to work within a strict financial framework that ensures financial ruin is not the end result of ambition. The punishments for clubs that record end-of-year financial losses of more than £105 million will now include the option of points penalties. Gold believes the guidelines are crucial to safeguard the future of the game.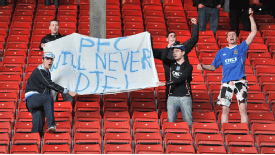 GettyImagesA number of Premier League owners are determined that their clubs will not suffer the same fate as Portsmouth.
"We had to fight long and hard to get the proposal through and we only just managed it, but it was one of the great breakthroughs in the Premier League in recent years," says Gold, who played for the club's junior teams before he made his millions in the business world. "The prospect of another Portsmouth happening or of seeing a great club like Glasgow Rangers collapse under financial strain in the future, it cannot be right. Hopefully, the guidelines we are all working with now ensure a level playing field for everyone.

"To be honest, I don't care what Manchester City and Chelsea are doing. I don't care what Manchester United are doing. I care what Stoke, West Bromwich Albion, Crystal Palace and Hull are doing, because if they spend ridiculous amounts of money when they come into the Premier League and West Ham go down as a result, I'm the big loser out of that.

"Then, a couple of years later, the club that benefited from overspending may well run into financial trouble themselves, but that is too late for me and my club as we are still trying to recover from the relegation we suffered due to the fact we chose to be finally prudent and run our club sensibly.

"I want the clubs around West Ham, our chief competitors in the Premier League, to operate within a similar financial framework, and that means not paying out ridiculous sums on transfers, player wages and agent fees. It means operating as a business and not spending everything we have on trying to reach beyond our means.

"The end result is that Premier League clubs will not spend too much more money on wages and fees than they did last year, and with the new television deals coming into the game this summer, clubs should have a cash surplus next summer. At that point, we could look at reducing ticket prices. Wouldn't that be fantastic."

These are exciting times for Hammers fans as they aim to establish a long-term foothold in the Premier League before their move to London's Olympic Stadium in 2016, with Gold quick to respond to the cynics who question how West Ham will fill their new 55,000-capacity stadium each week.

"This is a question that has been asked time and again, so let me explain our vision for the next few years," says Gold. "We are aiming to a be a debt-free club by the time we move to the Olympic Stadium and also an established Premier League team, which means top-half finishes for the next few years.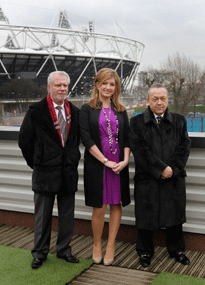 GettyImagesDavid Gold believes the future is bright for West Ham with their move to the Olympic Stadium in 2016.
"If that is the position we find ourselves in come 2016, we will have a fantastic platform to push on and take this club to the next level, which would be pushing for European qualification and attracting new supporters in the process. In terms of filling the stadium? Well, we sold out our final 17 league matches at Upton Park, and the expectation has to be that the 35,000 fans who attend games at our current home will follow us to the Olympic Stadium.

"On top of that, every club moving to a new ground tends to attract an additional 20 percent on top of their current supporter base because people who may not enjoy the experience of using the horrible transport links around Upton Park will welcome the chance to watch the team at the Olympic Stadium.

"In addition, we are moving to one of the most iconic sporting arenas in the world, and thousands of people will relish the chance to watch football there, with the seats up close to the pitch and the facilities in and around the Olympic Park site providing such a wonderful experience for all who visit. Not only will our football supporters get to see their team play in the Olympic Stadium, but all the other Premier League football supporters across the country will get to watch their team play there too."

Informed, opinionated and eager to consider innovative ideas, David Gold is clearly relishing the chance to shape the future of a sport and club he dearly loves.