Sunderland sharpen up as rivals slog on the Tyne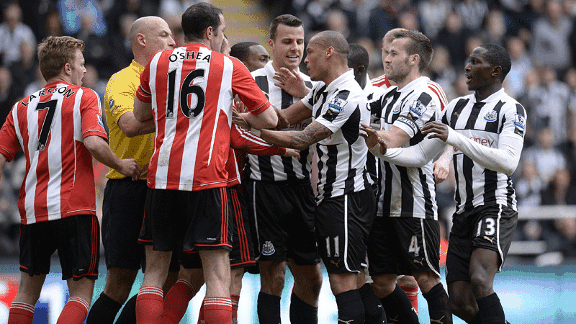 PA PhotosNewcastle and Sunderland have had contrasting fortunes this summer.
Hope always springs eternal in North East football. Depression lurks within easy reach too. Though last season saw both feeling down in the dumps, the relationship between Newcastle United and Sunderland can be symbiotic. When one is down, the other is often feeling up.

It has been Sunderland's summer so far. Optimism flowed after a rather smart 3-1 victory against Tottenham in Wednesday's preseason Premier League Asia Trophy. Paolo Di Canio's new signings impressed, with Cabral scoring, Emanuele Giaccherini influential and Jozy Altidore causing trouble. Forgotten man Wes Brown, last seen in last year's preseason, scored a goal and looked assured in central defence.

Taking on Di Canio as manager was a crazy plan but it might just work. The spectre of his political beliefs will always be in the shadows but Sunderland may just have a galvanising figure in charge. It had been a club reaching for identity for far too long. Di Canio's volcanic nature suggests longevity cannot be taken for granted, but for now there is a sense of direction.

For better or worse, the listlessness of Martin O'Neill's final months in charge will not be repeated while the Italian is in charge. This could be quite a ride. There is also the high amusement factor of goings-on at the other side of the Tyne-Wear conurbation. Newcastle have returned in style to their perennial position as a circus of high farce. Mike Ashley remains its mute ringmaster.

Paris Saint-Germain striker Kevin Gameiro joined Sevilla on Thursday. Newcastle fans could only fume as yet another supposed transfer target headed somewhere other than St James' Park. Their team was desperately short of quality personnel last season.

Had it not been for the benevolence of QPR's Jose Bosingwa, who gifted them both goals in their penultimate match, Alan Pardew's team would have entered the final day of the season needing a result to stay in the Premier League. That game was against Arsenal, who required a win to qualify for the Champions League.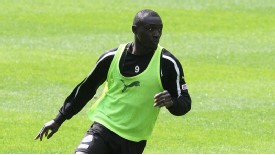 GettyImagesPapiss Cisse and "Wonga-gate" have hung over Newcastle in the past week.
Newcastle ended the campaign with only Papiss Cisse as any kind of a credible striker. And he has only just made an about-turn on the religious principles that would prevent him wearing the club's new sponsor on his shirt. Payday loan company Wonga charge an APR of 5,853 percent, but Islam does not allow interest on borrowing money. By sheer coincidence, Cisse's boycott ended not long after tabloid pictures appeared of him gambling in a casino, another practice frowned upon in the Koran.

One striker will not make a summer. Newcastle ended last season bereft of goals. Fresh blood is needed. While all around them, including Sunderland, are freely spending the funds from a bumper new TV deal, no money has yet been spent on transfers.

If 17-year-old Olivier Kemen is acknowledged as one for the future, Newcastle's only signing of the summer has been Joe Kinnear. The runaway mouth almighty has been quieted after the rambling diatribes that accompanied his return to the club as director of football. However, the feeling that Kinnear is a Trojan horse to smoke out Alan Pardew from his eight-year contract remains. Though there is a suggestion that the manager has recently gained a small victory over his supposed superior.

Kinnear cronyism has been headed off at the pass. Ask players of a certain age for their most feared opponent and striker Mick Harford would always be the answer. However, Harford is 54 now and Kinnear, who worked with him at Wimbledon and Luton, had planned to bring him to Newcastle as eyes and ears on the training ground. Harford chose to take a similar role at Millwall instead and Kinnear has been denied a right-hand man.

For now, Pardew fights on, but Newcastle is nothing if not a club divided.

The Ashley axis maintains its wall of silence. Chairman Derek Llambias departed the scene as Kinnear arrived. The suspicion is that the owner has lost interest and Kinnear's appointment was Ashley's idea of making it someone else's problem. It took the club days to officially confirm Kinnear's appointment, and no statement was made on the Harford dalliance either.

Meanwhile, Pardew's public utterances bear an edge of panic at the lack of reinforcement. Bafetimbi Gomis of Lyon was mentioned weeks ago. Darren Bent, relegated to Aston Villa's "bomb squad" with a new shirt number of 39, is available. Marseille want Andre-Pierre Gignac off the wage bill; QPR the same with Loic Remy, and a bid for him has supposedly been lodged. As yet, no movement.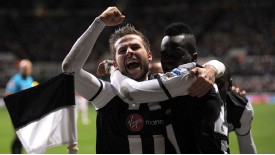 GettyImagesYohan Cabaye and Cheick Tiote: no longer A-listers.
Selling to buy is hardly a new direction for Newcastle but there seem few takers for formerly cashable assets. Hatem Ben Arfa, Cheick Tiote and Yohan Cabaye were valued at a king's ransom a year ago. Injury and loss of form have tarnished all three. None of them is on the must-have A-list for any major suitor now. January's tardy supermarket sweep of Francophone talents may yet throw up a gem, but Pardew's is a squad of gaping holes and underpowered components.

Denied direction and the confidence of his bosses, Pardew has been understandably tetchy but also unnecessarily defensive too. "I was a little bit disappointed with the press about that," said Pardew a fortnight ago, bizarrely annoyed that reporters might have seen a story in skipper Fabricio Coloccini's attempted flit back to Argentina in January. Last season saw hacks banned for reporting squad rifts.

And with Pardew working in the dark, the club's fans can hardly enter the season with any sense of hope. The manager looks a sitting duck, but Ashley is waiting for him to jump first. And beyond that, the future is Kinnear. The courting of Harford was a clear attempt to put a succession in place.

There is no such thing as business as usual when your business has become so unusual. By comparison Sunderland, the club of Paolo Di Canio, seems an oasis of normality and progression.