Mazzari the right manager amid Inter's ownership uncertainty
Over the summer, Inter president Massimo Moratti flew to London to attend a Rolling Stones gig in Hyde Park. It led Il Corriere della Sera's Fabio Monti to wonder if he sang along as they played "It's All Over Now."

After 18 years as Inter's owner -- a period, incidentally, in which he has spent over €1.1 billion -- Moratti is in negotiations to sell a stake in the club.

Unlike the girl Mick Jagger sings about in the aforementioned Stones number, he isn't doing it because he used to love Inter. Moratti still does. It's more a case of if you love someone then you should set them free.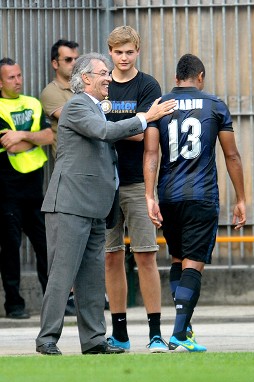 Dino Panato/Getty ImagesA fan of his team as well as an owner, Massimo Moratti feels an obligation to Inter beyond being a stakeholder.
For some time the Moratti family company, Saras, Italy's biggest oil refiners, hasn't been able to subsidise Inter like it did in the past. Earlier this year it posted a net loss of €90.1m and, not for the first time, a dividend payment wasn't proposed.

If Inter were a self-sustainable club then it perhaps wouldn't matter as much. But they're not. Their last year-end accounts showed a loss of €77m, and La Repubblica predicts that their next set will only be marginally less in the red.

Without a privately owned stadium and the match-day and commercial income that goes with it; without the TV money of old that used to be bargained on an individual rather than a collective basis; and without the revenue from the Champions League, a competition Inter won in 2010 but were missing from last season and will be the next, the strain on Moratti is telling.

He could of course be forgiven for thinking he'd eased it a year ago when Inter announced they had "reached an agreement which envisages the acquisition of a stake [reported to be 15 percent] in [the club] by a group of Chinese investors [thought to be the China Railway Construction Corporation]."

Moratti seemed thrilled. And why wouldn't he? He'd achieved what he wanted to achieve: attracting the investment and expertise required to build a new stadium ["by 2017"] while retaining control of the club.

A new era appeared about to begin. The controversial red design of Inter's away shirt, supposedly reflecting the colours of the city of Milan, was viewed suspiciously by some as a gesture to the new investors from China. The grumbles were noisy, although the silence on the deal itself was deafening. It had fallen through. Moratti was back to square one.

Lazard, the U.S. financial advisory and asset management firm, were consulted to find potential buyers. A brochure was produced and a redacted copy of it printed in Tuttosport to accompany an interview with Moratti in the spring.

In it, he once again stated his intention to sell only a minority stake -- "30 to 40 percent" -- but also admitted that a time will come, just as it did for his father Angelo in 1968, to leave. "It'd have to be the right moment," Moratti explained, "then if it were to happen ... Selling comes to mind for many reasons. But then ... Then I think about the fans, about the confidence they place in me. And I say to myself: 'I can't screw them over.' "

As a fan himself, that applies to Moratti too. He feels a huge sense of responsibility for Inter. It's been in the family (on and off) for 31 years. A lot of sentiment is bound up in it and, as such, parting with the club isn't a decision he'd take lightly. It'd be with a heavy heart that Moratti lets Inter go. But he wants what's best for the club.

It's with all this in mind that Moratti has taken time to be convinced by Erick Thohir, to ascertain the seriousness of the Indonesian businessman's interest, to establish his credentials and find out what his intentions are before accepting an offer.

In due course, Moratti has had to come to terms with the fact that a minority stake does not hold an attraction to Thohir and other investors. Why would anyone be prepared to pour a significant amount of money into a company or, in this case, a football club without then getting a say in how it is run?

So here's the state of play. Thohir apparently made Moratti an offer in May of close to €300m for 75-80 percent of Inter's shares. According to Il Sole 24 Ore's football finance expert Marco Bellinazzo, there will be a "call" option incorporated into it, namely the right for Thohir to acquire at a fixed price the remaining shares over a period of 24 months. They are still studying whether to define the call option so Thohir can exercise the right to purchase at will by September 2015 (as is the practice in U.S. contracts) or whether he can only do so from September 2015 to the end of two years (according to the European practice).

Friday's La Gazzetta dello Sport claimed that "after months of contact, [talks] are on the final straight." One interesting detail included in the pink paper's report was that, although Moratti's share in Inter is expected to fall to 23.3 percent, Thohir is inclined to allow him to remain as president, and not just as an honorary one with a purely symbolic or ceremonial role. He apparently wants to lean on Moratti's experience of the Italian game -- something he has next to no intimate knowledge about -- and that of those around him.

It remains to be seen, of course, whether that really is the case.

Nothing yet has been made official, and caution should be exercised with the memories of the collapse of the arrangement with the China Railway Construction Corporation still fresh. Should it go through as reports indicate, fans shouldn't expect the kind of spending associated with Roman Abramovich at Chelsea and Dmitry Rybolovlev at Monaco or the sheikhs behind Manchester City and Paris Saint-Germain. A comparison the papers in Italy are making is with Roma and how they've gone about their business since the takeover by American investors two years ago.

Amid all the uncertainty, it's probably for the best that Inter appointed a coach in Walter Mazzarri whom many regard to be a guarantee. You might say that there's no such thing in football but there'll be a person sat in the dugout at San Siro next season who, relatively speaking, has never failed since embarking on his coaching career.

Born in Tuscany, a short distance from Livorno, Mazzarri managed to get the club promoted to Serie A for the first time in 55 years. He performed his next miracle in Calabria with Reggina, whom he led to top-flight survival despite the 11-point penalty they received for their part in the Calciopoli scandal. Mazzarri should have won the Panchina d'Oro, Italy's Coach of the Year award, for that achievement.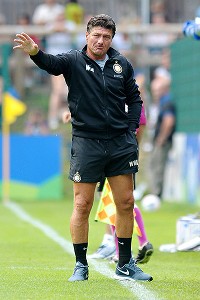 Dino Panato/Getty ImagesWalter Mazzarri's success at Napoli serves to season his track record. At Inter, he'll have to make the best of the club's reconstruction.
After that he went to Sampdoria. They finished sixth one year and got to the Coppa Italia final the next, which they lost on penalties to Lazio. A brief sabbatical followed before Napoli called. Back in Serie A for two years, they had consolidated their place in the league and aspired to push on. Mazzarri was the man to do it.

Napoli finished third in his first full season, qualifying for the Champions League, the successor to the European Cup, which they hadn't been in since 1991. That competition was prioritised in his second season and Napoli were unlucky to be knocked out by eventual winners Chelsea in the round of 16, particularly after getting out of a group of death comprised of Bayern, City and Villarreal. They ended the campaign in fifth, but won the Coppa Italia for the first time since 1987. With Napoli runners-up in his final year, Mazzarri left for a new challenge knowing he'd done a fine job.

Coaching Inter, as Moratti says, is different than other clubs. Mazzarri, however, feels ready. He doesn't lack the requisite experience like his predecessor Andrea Stramaccioni. "You might have heard me say this before," Mazzarri told reporters, "but when you coach Napoli for four years you get your [coaching] license upgraded and feel you can coach at any club. That might offer some sort of guarantee; we'll have to see."

It won't be easy, that's for sure. Inter were ninth last season, their lowest finish since 1994 and for the first time in 14 years aren't in any European club competition, which will allow Mazzarri -- as Antonio Conte was able to at Juventus in 2011-12 -- to concentrate solely on Serie A and the Coppa Italia, a trophy he wants to try to win again.

Getting back into the Champions League, you feel, has gotten tougher and not only because Serie A lost its fourth qualifying berth a couple of years ago. Already ahead of the rest, the sense is Juventus have pulled even further away with the additions of Carlos Tevez and Fernando Llorente. While Milan picked up more points than any other team in 2013, there's anxiety that Napoli and Fiorentina in particular, but also Roma, have done more to strengthen.

Inter's squad isn't nearly as bad as last season suggests. A catastrophic injury crisis -- exacerbated by a board that could have prevented it from spiralling out of control in January, but did not, leaving Stramaccioni's inexperience cruelly exposed -- was responsible for the unravelling of what in the beginning had been a promising campaign. Providing everyone's fit and stays healthy, Inter will be a lot more competitive.

In Samir Handanovic, they have one of the best goalkeepers in Europe. Hugo Campagnaro, who follows Mazzarri from Napoli, was one of the best centre backs in Serie A last season. And although Inter continue to neglect their academy, they have added more promising young players to the first team. Joining Juan Jesus and Mateo Kovacic are Mauro Icardi and Ishak Belfodil. Both are strikers, and as such Inter won't be short of them like they were last season when Diego Milito and Rodrigo Palacio got injured.

Goals will not be an issue. Appointing Mazzarri is like signing a 30-goal-a-season striker, says Marcello Lippi, no less. Why? Because he gets players scoring. Take Nicolas Amoruso and Rolando Bianchi at Reggina, for instance. Their goal-to-game ratios went from 0.27 and 0.04 respectively to 0.44 and 0.41 under his management. Other examples include Giampaolo Pazzini at Sampdoria and of course Edinson Cavani at Napoli. Their goal-to-game ratios went from 0.23 and 0.31 before Mazzarri to 0.57 and 0.75 with him. Milito, Palacio, Icardi and Belfodil should thrive.

Areas of the squad still need reinforcing, notably the right flank, but if there's one thing Mazzarri has built his reputation on, it's making the most of what he's got. Without the resources of old, that's precisely what Inter need. Asked by La Gazzetta dello Sport how long it will take for Inter to get back to challenging for honors again, Mazzarri said: "I hope as little time as possible, but I won't sell smoke. I look at the facts."

Not one to shy away from a challenge, Inter's reconstruction remains his biggest yet.