Spain can -- and will -- be champions again
Before anyone tries to tell you any different -- fellow columnists included -- one of the things proved at the Confederations Cup is that there is nothing wrong with Spain's basic playing system and that they can win the World Cup next summer.

No question.

Brazil were more athletic, more clinical and more aggressive in the final, and thus there's also no question that they merited their win. Equally, they are a squad on the rise, finding unity, showing conviction, working hard and giving a premium to the areas of the team where they have talents who make the difference.

However, on Sunday night the margins were slimmer than the score line suggests. The seismic shift between what should have been a Pedro equalizer and what then became a cleverly worked Neymar goal, which meant Spain hit the halftime dressing room two goals behind rather than even at 1-1, was massive.

Marcotti: Selecao on verge of greatness
Duarte: Scolari surprises the masses

The world champions routinely find second-half surges as teams tire against them and routinely score late goals to draw and win. At 3-0 down and, subsequently, with 10 men, it should have been a rout. Instead, Spain ended the more sprightly and more threatening side, just as they'd done in extra time against Italy. Julio Cesar saved exceptionally from Pedro and David Villa. Sergio Ramos missed a penalty. Iniesta and Jesus Navas carried the fight to the hosts and, generally, Vicente Del Bosque's men began to do precisely the things they'd failed to do in the first half.

However, what has become equally apparent is that the way Spain feels about Brazil's northern venues, Recife and Fortaleza in particular, is the same way a cat feels about water: back arched, fur sticking up, claws extended, naked fear.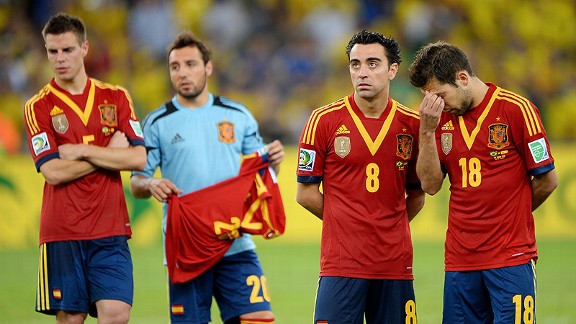 Stuart Franklin/FIFA/Getty ImagesSpain was outplayed by Brazil, perhaps, but you'd be foolish for reading too much into it.

Both of Spain's matches prior to the final were in the Estadio Castelao, played at 4 p.m. local time (rather than midevening) in high temperatures, but most crucially, under a cloud of massive humidity. The tests against Nigeria and Italy meant that Spain's iron men were made of rubber by the time the final came.

The Spanish playing style, the system they have used to win the last three major tournaments, is completely intact. When Brazil pressed La Roja and you saw the ball not whizzing from boot to boot, when you saw Phil Scolari's players knowing precisely how to smother the goal kick, the first challenge, the first-pass outlet and then the third and fourth too, part of the recipe was Spain's tiredness. Mental and physical.

But that's the luck of the draw in tournament football. Winning a World Cup has always brought with it cultural, climactic, linguistic, dietary, transport and accommodation challenges. Meet them and your football can impose itself. Fail them or shy away from them and you are "cooked" before a ball is kicked.
What Del Bosque is left with -- apart from ensuring that his team qualifies despite one or two interesting-looking ties in the coming months -- is assimilating this experience and finding several coping strategies.

One, I'm certain, will be the return of what they call the doble pivote, part of Spain's current playing DNA. In 2008, only Marcos Senna was used as a midfield "pivot" to break up play, restart forward movement and give cover to the creative players as they passed the ball around and sought openings. This role is a traffic controller; sometimes it's vital that there is a pause and extra care taken, sometimes it's vital that pace, power and risk dominate.

During the last World Cup and then in Euro 2012, it was largely the case that Xabi Alonso and Sergio Busquets doubled up on this work. They are a central part of the reason that Spain's three lines -- of defence, midfield and attack -- work so sweetly together and conceded only three goals in 13 tournament games before this summer's Confed Cup. When there's a double pivot, it's harder to take the ball away from Spain and tougher to attack their back four, and their lines are less ragged.

Next comes personnel. Because the coach hasn't spoken about it, it's not yet clear why two specific players, Javi Martinez and Santi Cazlorla, weren't given more game time.

Martinez is the stranger case. He played less than a quarter of the available minutes and while his role late on against Italy was meritorious and showed Del Bosque's faith in him, the impression lingers that he's not being used sufficiently.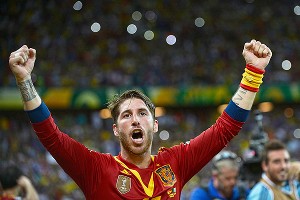 Yuri Cortez/AFP/Getty ImagesSergio Ramos missed a penalty against Brazil but will marshal an evolving team next summer if the likes of Thiago and Isco make the transition.

With retrospect, might Del Bosque have chosen to start with a doble pivote of Busquets and Martinez against Brazil? A system that would have allowed Xavi to enter a much more stretched and "broken" game second half in the hope that he'd give a more compact and explosive performance in exploiting the space available?

I think so.

What has been proven beyond doubt, first by Bayern Munich against Barcelona and then Brazil against Spain, is that if opponents are fitter, fresher, quicker and physically dominant against technical teams that possess the talent and system to win but who are mentally and physically tired and thus imprecise and less hard-working, the result is a foregone conclusion.

Martinez is a hybrid of both camps. He has all the knowledge, technique, vision and habits of this great Spain era but he is powerful, athletic, quick, aggressive and hungry enough to have been a star of Bayern Munich's seductive treble win.

Meanwhile Cazorla is creative, technically exquisite, has bundles of explosive energy, is confident, has the power to score and make goals -- and got less than a quarter of the available time. Strange.

Roberto Soldado, too, is entitled to think that his energy and his goalscoring threat at the start of the season might have been put to better use in both the semifinal and final.

This is not to reprimand a man whose decision-making, nerve and understanding of pressure situations has been a determining element in Spain's last two tournament victories. But Del Bosque did err in choosing the conservative tactic of rewarding his semifinal heroes from late-Thursday night with another game in the final. Squad rotation will be a still bigger and more important element in search of success next summer than it has been thus far.

I'm aware that many armchair punters only want to appreciate the swan's elegance and don't care to be reminded of the little, orange, webbed feet paddling like fury underneath the surface. But tournaments are often won by the inelegant propulsion as much as the serene elegance of Iniesta's half volley in Soccer City or the careering speed of Jordi Alba's breakaway goal in Kiev.

By which I mean that La Roja have made an art out of tournament logistics. They choose, and often develop, their training base with immense care and pre-planning. Ditto travel. Which is why these past few weeks have been frustrating. The Spanish caravan has hopped from one place to the next while those who research such matters haven't been able to find a site that meets their requirements for next summer - it's reminiscent of their experiences in Rustenburg four years ago at their last Confed Cup experience.

One example is that Spain wanted to fly from Fortaleza overnight after the Italy game, arrive in Rio, go straight to a team hotel, rest, train and feel established by early Friday afternoon. That wasn't possible, FIFA and the organising committee told them. Details went against the world champions.

Ultimately Brazil, the country as much as the Selecao, is a test. Weather, distances, infrastructure, quality of hotels, training facilities and logistics -- that will be the case for 90% of the teams who arrive there and in no way are Spain alone in that.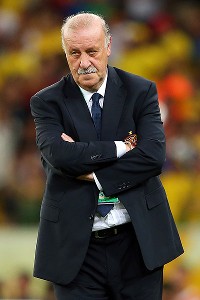 Alex Livesey/FIFA/Getty ImagesVicente Del Bosque got his lineup wrong vs. Brazil on Sunday, but it was just the latest slip in a Confed Cup full of small difficulties.

But as Del Bosque and his expedition managers withdraw, licking their wounds, you can bet that the post-mortem will focus largely on how to level the playing field by imposing some of the working conditions that have been so fundamental to Spain's tournament efficacy in 2008, 2010 and 2012.

New talents will challenge this season and, I dare say, make the plane. Suddenly the three goalkeeping slots are a five-way fight -- Diego Lopez and David De Gea are going to slug it out with the incumbents. Nacho Monreal, Dani Carvajal and Martin Montoya will regard themselves as having a real chance of displacing Alvaro Arbeloa. If fit, Isco appears to be not only a certainty but a necessity, Thiago is figuring on a move simply to augment his chances of making the flight next summer and, one would hope, Xabi Alonso will be fit again.

Elsewhere, Del Bosque will look askance on David Villa showing displeasure at Juan Mata not giving him a scoring pass instead of Torres during the game against Tahiti. Ditto Gerard Pique for getting himself sent off and Sergio Ramos for queue-jumping the established rota in order to take (and miss) the penalty against Brazil.

For all their talent, Spain's success has also been a process -- rules established and applied both on and off the pitch. If that process is undermined externally or disintegrates internally then it becomes a threat much greater than that of Brazil, Argentina, Germany, Italy, Holland and so on.

One battle has been lost, but not yet the war.