Rock and goal: Football and music together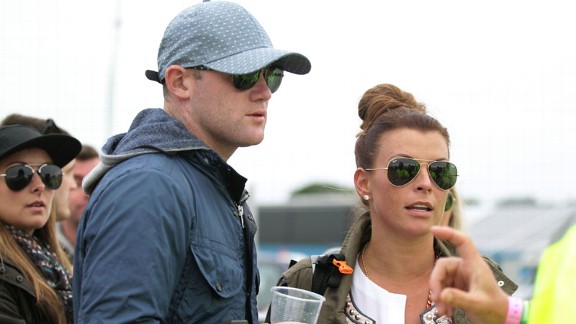 AssociatedWayne Rooney has been a regular at music festivals, including Glastonbury.
This week's expected summit between David Moyes and Wayne Rooney has been delayed by the striker's trip to the Glastonbury Festival. His luxury camper van is probably still stuck in traffic on the M5 after Stereophonics uber-fan Wayne and wife Coleen took in the hip sounds of headliners Mumford & Sons late on Sunday.

Now that "Glasto" is a summer social diary event to match Wimbledon fortnight, it stands to reason that Rooney and Prince Harry would be quaffing together in the VVIP beer tent, but it is difficult to imagine footballers in the 1970s or 1980s offering up the excuse of Glastonbury for not being in the boss' office first thing on Monday morning.

Back when the smearing of woad on naked bodies and communal psychedelic experiences were the done thing at Worthy Farm, footballers, as a general rule, were not fans of headline acts like Hawkwind. Even though Rooney's Liverpool home was a hotbed of cosmic music at that time, the likes of Steve McMahon, Peter Reid and John Bailey were highly unlikely to board a tie-dye fun bus to go locate their third eye in a cornfield.

Instead, this was the era of Luther Vandross, steak and chips and the odd pint of lager, as any Q&A with footballers in Shoot magazine would tell you. Any self-respecting player's BMW's CD player would belt out the big-boned soul king but this was a time when footballers were not really supposed to like music. Instead, Vandross and Lionel Richie served as indicators of a smooth, confident man about town.

Pat Nevin, Chelsea and Everton winger of the 1980s and now respected pundit, had musical taste to render him a fish out of water. Not only did he enjoy the ethereal sounds of the Cocteau Twins and Durutti Column, he was even called for an audience at the Cheshire home of Morrissey, and had the New Musical Express calling him "the first post-punk footballer."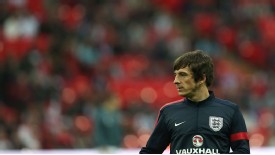 PA PhotosLeighton Baines has a specific look modelled on his taste in music.
There might be something about Everton. Barry Horne, Toffee anchorman of Nevin's day, was similarly enveloped in the world of obscure indie music. In the present day, Leighton Baines' hairstyle is no accident. The bouffant and coiffed sideburns are all indicators of his love of mod-inspired indie music. Indeed, Baines is a good friend of Arctic Monkeys acolyte Miles Kane, he of the Union Jack suit and earnestly plodding but hardly unit-shifting 60s R&B sound.

Others in football possess deep rock credentials. Former Charlton and West Ham manager Alan Curbishley's older brother Bill has been The Who's manager since 1976 and managed Robert Plant after Led Zeppelin disbanded in 1980. On early solo tours of the United States, Plant would be asked about the symbolism behind the rather threatening motif on his stage backdrop. Perhaps it was an update of the symbols that "Zep" members chose for their fourth album? The truth was rather more prosaic. "Percy" and his band were performing in front of a reproduction of Wolverhampton Wanderers' club badge; to this day, Plant remains a season-ticket holder at Molineux.

Back in the 1970s, Midlands metal ruled the world, and there was a significant kinship between footballers and rockers. Andy Gray and Trevor Francis, the leading strikers of Aston Villa and Birmingham City back then, are still great friends with Tony Iommi, Black Sabbath's lord of doom-laden riffage, and Geezer Butler, Sab's bass king and Lucifer-citing lyricist.

Some time in the 1990s, it finally became fashionable to like both football and music.

The two had always lived happily enough alongside each other, but rarely crossed over. Before that, the nods had been fleeting. The only football man mentioned in a Beatles lyric was Sir Matt Busby during John Lennon's "Let It Be" dirge "Dig It," though Albert Stubbins, Liverpool forward from 1949-53, is one of the icons included on "Sgt. Pepper's" gatefold sleeve. Paul McCartney attended Everton's 1966 FA Cup final win but, ever the politician, has declared himself a fan of both Merseyside clubs.

The 1980s were a time when the tribes began to properly cross over. As hooliganism dwindled, thanks in no small part to the far more peace-loving Ecstasy-tablet-fuelled rave scene, fans got more into their sounds.

A full alliance forged in 1990 with Englandneworder's "World In Motion," a chart-topping combination of the Mancunian/Maxonian indie-dance fuhrers, the traditional beery singing that any football record had previously contained, and John Barnes' superlative rapping. Somewhere in the vaults, however, is a studio off-cut of Peter Beardsley attempting his Liverpool team-mate's rhymes. This is perhaps the holy grail of recorded music itself.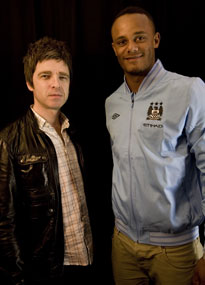 GettyImagesFormer Oasis guitarist Noel Gallagher is a famous Man City fan.
And then things went silly. Oasis' Gallaghers sported Manchester City kits with "Brother" as an apt sponsor and then Damon Albarn, the son of a college headmaster, decided to assert dubious working-class credentials by being seen swigging lager at Chelsea. No also-ran act could now be interviewed without some form of nod to "footie." Such an unnecessary pretence continues to this day.

No episode of "Soccer AM," Sky TV's eternal Saturday morning session of "laddy bantz" and off-camera japery, is complete without a monosyllabic indie landfill act asserting football credentials from underneath their fringes. The same has now gone for urban acts too. To the bemusement of much of the Finsbury Park crowd, Dizzee Rascal's recent appearance supporting Manchester legends Stone Roses (three Red, one Blue), saw him appropriate Italia '90 terrace anthem "Let's All Have a Disco" into his No. 1 smash "Bonkers."

The two great and most popular subcultures of post-World War II Britain are now hand in hand. Disturbingly, it has gone corporate too. Visitors to last season's FA Cup semifinal and final were treated to a sponsor's "talent" contest for an "FA Cup anthem." Lumpen Sheffield rockers Reverend and The Makers beat off the stiff competition of Coventry shouters The Enemy, and 90,000 were treated to the winning song being belted out. Thank you for the music.