Final defeat not the death of Tiki-taka or Spain
Let's get this out of the way up top. Yes, this was a beat down. No, Tiki-taka is not dead. And neither is this Spanish team.

• Marcotti: Brazil dominates Spain
• Five Aside: Brazil efficiently dominates for title
• Confederations Cup Final Gallery



It's always tempting to draw broad conclusions, to spot themes and trends.

You have Barcelona and Real Madrid trounced in the Champions' League semifinal. Spain being given a rough ride by a Balotelli-less Italy. And now this.

But sometimes you can rush to judgment. For a start, Real Madrid under Jose Mourinho weren't exactly a Tiki-taka side. And Italy, under Cesare Prandelli, tried to play exactly the kind of short-passing, possession game that Tiki-taka is founded on. So rumors of its demise are decidedly premature.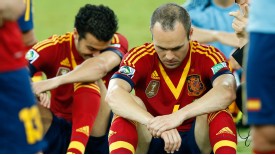 APSpanish players feel the pain of losing to Brazil 3-0 in the Confederations Cup final.
You can lose because your opponent outplays you. Or because you make poor choices. Or because you don't get the breaks.

And sometimes it's all three factors converging, which is what happened to Spain.

"We lost to a very good team who played a great game and scored straight away," said Sergio Ramos. "That made it all uphill for us. In the first half hour, they were all over us, they were physical, they were intense, we couldn't bring the ball out of the back the way we wanted."

That's the "credit Brazil" part. As for not getting the breaks, you only need to look to Ramos' missed penalty ("I tried to angle it, but I got it wrong," he said. "It can happen.") to David Luiz's goal-line clearance, to Fred's fortuitous goal, scored while he was prone on the Maracana pitch.

Al Pacino was right in "Any Given Sunday" when he gave his "Game of Inches" speech.

But it goes beyond that. When you press the way Brazil do, you leave gaps. Gaps on which a needle-threading team like Spain ordinarily can feast. But not on Sunday night. Not against this Brazil side.

"They chased us all over the pitch, they weren't afraid to be physical and get stuck in and it broke our rhythm," said Vicente Del Bosque. "It's not an excuse, it's an explanation."

And that's where the Spain boss has to shoulder some of the blame. Against the press that Luiz Felipe Scolari laid out early on, it might have been a good idea to mix it up a little, perhaps with the odd ball over the top to Fernando Torres or Pedro, just to stretch the opposition. It's always tough to go a goal down so early in the game and, truth be told, it's not the sort of thing to which Spain are accustomed. But you need a plan for a fight back and Del Bosque's simply didn't work.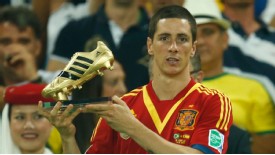 APDespite winning the competition's Golden Boot, Fernando Torres failed to fire in the Confederations Cup final.
Then there were the personnel decisions. It's not so much Alvaro Arbeloa -- he did have a nightmare against Neymar, but then you're not going to drop the guy who got you there and played consistently well in previous outings -- as it was opting for Juan Mata and Fernando Torres. Mata was simply muscled off the ball too often, forced into blind alleys, harangued by the double pivot of Luiz Gustavo and Paulinho when he came inside (as was Andres Iniesta, to be fair) and stranded and isolated when he turned wide. Del Bosque had options that were pacier (Jesus Navas), more combative (Cesc Fabregas) and more physical (Javi Martinez). With hindsight, each might have been more effective.

As for Torres, apart from the reverse pass to set up Pedro's chance that Luiz cleared, he did little off the ball, and less on it, partly because he was getting the wrong kind of service, partly because he simply isn't the player he was. The David Villa brigade will argue it would have been a different story with El Guaje from the start. Maybe they're right. Certainly, having Torres on the pitch and using him in this manner tends to turn him into a passenger.

Del Bosque was gracious in defeat.

"We didn't get carried away when we won, we're not going to now that we've lost," he said. "We know how difficult it is to win. Maybe once in a while it's good to lose, so we don't believe in our own invincibility."

If Spain can take those words on board and coolly examine what went wrong -- not just against Brazil, but in the semifinal too -- they'll be just fine. Because it's not their style of play that's dead, but as with most such things, it's about finding a way of playing that suits your talents, and Spain are both stacked with talent and suited to playing this way. This was simply a night where a convergence of factors cost them the final.

The challenge is to study these factors and minimize the chance of them happening again. Do that and Spain will be, just as they were before the tournament began, the favorites to win it all in the World Cup. Where it really counts.