FIFA must change to live in the real world
A cold June day at Ellis Park, Johannesburg, was turning into the bitterest of nights as Brazil were due to play North Korea at the 2010 World Cup. Our van pulled up far short of the usual drop-off point. We were to be allowed no closer to the stadium. Over the other side of a police line were a mass of people wearing the familiar uniform of stadium helpers. They would be providing no help to us today. They were on strike, hitting out against the pitiful wages being paid to ensure the safety and comfort of visitors to the stadium.

Their protest was conducted peacefully, but dancing and singing filled the dusk air. Those of us who grew up in the 1980s would have recognised a similarity in style to the protests that filled news bulletins in the apartheid era. The atmosphere rippled with tension. The local cops called in to replace them were heavy-handed and ill-informed. One of them asked me what my laptop was for as he tore through my bag.

Four years before in Munich, I was in a station bar, watching a TV broadcast of the host nation's match with Poland. Football will always, from experience, provide an instant bond between people, and especially at the major tournaments. The game offers an instant opening gambit for conversation, and one was soon struck up with a group of Bavarians who had caught a train into the city to see the Tunisia v Saudi Arabia match I had just attended. They all spoke good English, except for one, and he was trying his best.

"In Germany, Budweiser is s---," he said. He could offer no more. His friend explained the group's anger at having to drink the American brew because German beer was not available to fans in the stadium. Germans are very particular about their beer.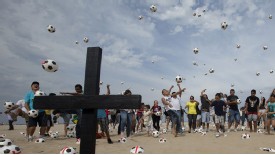 APBrazilians staged a protest on the Copacabana beach, in Rio de Janeiro, regarding the cost of stadiums.
Two anecdotes with differing grades of triviality, but both sprang from the same root as the protests affecting this month's Confederations Cup. A World Cup is, we are told, a festival of football that brings the planet together to celebrate the sport we all love. Fans traverse the globe to bathe in the delights of a host country opening its doors and welcoming the world.

In South Africa, why were the workers allowed to be so poorly paid? In Germany, why must local tastes have been so flagrantly ignored? And in Brazil, why is a country of such inequality flaunting a set of shiny new stadia when so much else needs to be righted? They have already spent three times what the South Africans did, and some of the stadiums are not even yet finished.

"First-world stadiums; third-world schools and hospitals", said one banner in Brasilia. FIFA continues to maintain a wilful ignorance.

Areas surrounding the stadia are little but a temporary theme park that could be anywhere in the world. An exclusion zone prevents non-endorsed businesses from operating within a huge radius. In South Africa, street-selling, a significant source of income for the majority black population, was banished miles away. The opportunity to benefit from tourism was denied to locals. FIFA collected the cheques, but was prepared to pay very little of the social cost. The dream world of a FIFA World Cup offers very limited benefit to the people of a host country.

Fancy a beer? Budweiser or nothing. A soft drink? Only Coca-Cola's products were available. Journalists lucky enough to attend such events are not of widespread concern, but confiscations of homemade food were carried out, forcing those who covered matches to subsist on a diet of inedible chicken burgers for a month.

The motto is "For The Good Of The Game." In fact, it is difficult to see much beyond the good of FIFA being served, almost exclusively so. The tax breaks they seek from host countries are the most damning indictment of this; the satchels are filled and then jetted back to tax-haven Switzerland.

"I am not ashamed about what we are doing, we are doing well. We are just organising an event - a major sporting event in the world," said general secretary Jerome Valcke on Monday, employing the typical sidestep of an entity refusing to acknowledge its place in the real world.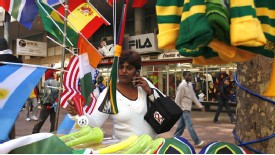 APThe opportunity for locals to benefit from tourism was restricted at the 2010 World Cup.
"We are using our money to develop football because that is our obligation to do so," he continued, after stating that FIFA is a non-profitable organisation, possessing "the most transparent" accounting system available. He neglected to mention that public figures show a non-profitable organisation with reserves of $1.378 billion.

The collateral damage of hosting a World Cup is shown in South Africa's ghost-ship stadia. Even the prudent Germans built a stadium in Leipzig that now houses only a third-division team. Similar fates await new constructions in Brazilian cities like Cuiaba, Manaus, Natal, Curitiba, Fortaleza and Brasilia.

By then, FIFA will be back in its Alpine stronghold, counting the loot and planning the next showpieces in Russia and Qatar, two countries where the type of mass protests staged in Brazil are far less tolerated. The dissociative pronouncements of Valcke and Sepp Blatter suggest this probably suits FIFA down to the ground.

Taking the tournament to new territories could be argued as admirable enough, yet an approach of conquistadors hauling treasure back to the mother ship continues. Qatar will provide a purpose-built "FIFA World" like none before, bespoke hermetically sealed centres where officially endorsed wares will be dealt exclusively. It really will be Budweiser or nothing. Once Qatar 2022 is done, its eight stadiums will likely rot in the desert in a style even Ozymandias could not have competed with.

"I can understand that people are not happy, but they should not use football to make their demands heard," said Blatter last week, still unable to accept that football is part of society, and especially in Brazil.

The good of the game must be good for the people too.