Carroll's fading fortunes lead to long-term hope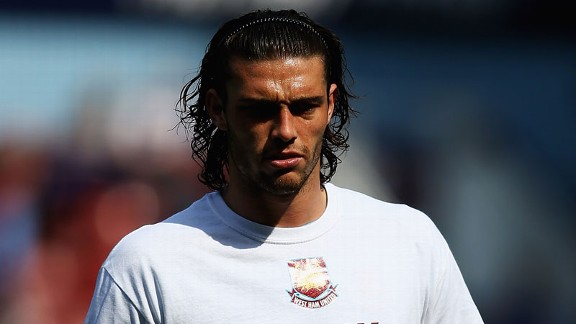 PA PhotosAndy Carroll is set for a new chapter in his career
During Andy Carroll's slow start to life at Anfield, one phrase became a mantra to Kenny Dalglish. "We signed him for five-and-a-half years, not a few weeks," Liverpool's then-caretaker manager would say.

Actually, it transpired that Liverpool signed Carroll for 17 months, the length of his first-team career at Anfield. His debut was delayed by injury, his exit hastened by Dalglish's departure and Brendan Rodgers' appointment.

Then West Ham beckoned, initially on loan and now permanently. Carroll leaves Liverpool amid a blur of unflattering statistics: they made a £20 million loss on their record signing, meaning each of his six league goals cost £3.33 million, even before wages are factored in. The most expensive Englishman ever struck six times in 44 league matches, giving him a worse goals-per-game ratio than David Ngog (nine in 63), Fernando Morientes (eight in 41) and the abject Andriy Voronin (five in 27).

As Carroll scored against blue-chip opposition, opening his Liverpool account with a brace against Manchester City, contributing an FA Cup semi-final winner against Everton and finding the net in the final against Chelsea, the numbers don't tell the whole tale. Yet there was one figure he could not escape: his price tag. He was forever "the £35 million man": when he missed chances, when he was a substitute or substituted, when Liverpool lost to rather cheaper teams.

Some, such as Rodgers' Swansea, were assembled for less than Carroll's cost. Many more were compiled for sums under the £80 million Liverpool committed to Carroll, Charlie Adam, Jordan Henderson and Stewart Downing within the space of a few months. They are bracketed together: indeed, they could have departed together if Rodgers had his way last year.

Hard as it is to imagine the target man spearheading a slick passing team -- and tempting as it is to wonder if the 180-page dossier Rodgers presented owners Fenway Sports Group at his job interview included mention of disposing of their biggest buy straight away -- this was not just a question of style. It was a way of distancing himself from the past.

Once again, Carroll was defined by a fee he did not determine. Some of the blame is apportioned to Dalglish, much to the departed director of football Damien Comolli but, in a week when Mike Ashley's actions seem more bizarre than ever, it is worth remembering that the Newcastle owner capitalised on Liverpool's desperation to strike an extraordinary deal.

The alternative way of thinking was that, in receiving £57 million for Fernando Torres and Ryan Babel and spending roughly the same on Carroll and Luis Suarez, Liverpool had broken even and traded up. Should the Uruguayan leave Anfield for more than £42 million, therefore, the Merseysiders can argue they made a profit on their January 2011 dealings.

Yet the strikers signed on the same day were rarely a genuine partnership: sometimes Carroll was not trusted to start, sometimes they did not jell. The theory of a quick forward feeding off a bigger sidekick was left looking rather old-fashioned: Suarez, often unconventional, does not play as an orthodox second striker -- indeed, there are legitimate questions how he and any other centre-forward can be accommodated -- while Carroll has combined best with his Newcastle and West Ham ally Kevin Nolan, the specialist finisher who masquerades as a midfielder.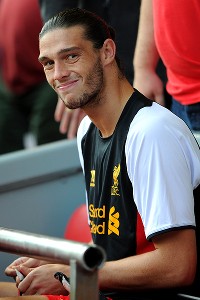 Michael Regan/Getty ImagesAndy Carroll failed to deliver during his brief stint at Liverpool
The savvy Sam Allardyce will build a team around Carroll in a way Dalglish couldn't, and Rodgers wouldn't. He has one of the Premier League's most prolific crossers, in Matt Jarvis, who specialises in frequent, accurate deliveries from the flanks, rather than superfluous attempts at skill. Downing was supposed to be his Anfield counterpart and his failure, in his awful first year on Merseyside, contributed to Carroll's struggles.

Despite that, he did not seek to leave Liverpool. Rather, he reluctantly resigned himself to the reality his Anfield career was over. That Newcastle had forced him to submit a transfer request on January 31, 2011 made him more reluctant to return to his hometown club. Actually, his contribution to United was to fund the purchase of the players who helped them finish fifth in 2012.

Advance a year and the reality is that the two clubs interested in Carroll both represent a step down from Liverpool. Like the reduced price, it is indication his move was a mistake: after only half a season of regular top-flight football, he was not ready to become the Anfield Didier Drogba two-and-a-half years ago. He only terrorised defences occasionally and struggled to fit into a less direct style of play. And so he has swapped one club record for another: the £35 million man is now the £15 million man.

It confers pressure at Upton Park, but not to the wider world. And, while a five-and-a-half year contract has been traded for a six-year deal, this time he has been signed for the full duration.