Brazil's chemistry starting to form, but there are many weaknesses
BRASILIA, Brazil -- Coaches are the same all over the world.

They'll say they don't want their guys too loose, nor do they want them too wound up. Being dominant is nice, but it can foster complacency because you revel in your strengths and are unaware of your weaknesses. Of course, stinking up the joint and squeaking out a win isn't good either. You can lose self-belief and start to second-guess both yourself and -- worst of all, from the coach's perspective -- the guy barking orders at you in training.

Given all that, Luiz Felipe Scolari couldn't have asked for anything more from Brazil's opening 3-0 win over Japan. Three points in the bag and a neat goal difference to boot, the kind that -- heck, you never know -- may come in handy a week from now.

Yet there are plenty of weaknesses.

"We feel we're starting to get closer to where we want to be in terms of how we play," Scolari said after the match. "There are details that need to be fixed, but in general, I think we're on the right path."

Details?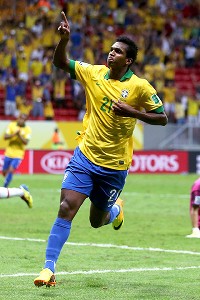 Scott Heavey/Getty ImagesJo capped Brazil's scoring with a stoppage-time goal.
Start with Neymar, the cover boy. The last time as many eyeballs were on him as there will be in this Confederations Cup was in 2011 when Santos took on Barcelona in the Club World Cup final. That day, he looked like a little boy lost, in awe of Pep Guardiola's all-conquering crew. That wasn't the real Neymar and, equally, Japan aren't Pep's Barca. But the ease with which he struck the volley for the opening goal was Neymar personified. It took confidence to attempt and technique to complete. The pass to set up Fred late in the first half was another taster of his talents: subtlety and vision.

Yet if Scolari wants to bring Neymar down to earth, he can do so by showing him visions of the three occasions (3!) in the space of a few minutes when he took on and failed to beat Japan right back Atsuto Uchida. There's a time and a place to attempt such things and, arguably, there was no problem with Neymar's decision-making -- Uchida was there for the taking, and a successful dribble could have led to a shot or assist -- the problem lay in his execution. And that's the kind of thing you can work on.

- Rapid Reaction
- Coelho on Brazil
- Stat analysis
- Video: Neymar lights it up

The whole team seemed to have a collective snooze after the early lead. Three times Japan came knocking, twice with Keisuke Honda (his long-range efforts forced Julio Cesar to make two uncomfortable saves) and once with Shinji Kagawa, who left Luiz Gustavo for dead and scythed his way through the green-and-gold far too easily.

That's the risk with employing two destroyers in front of the back four. The front men sometimes feel so safe they don't track back, particularly out wide. Scolari will want to review those passages of play because Brazil won't always have Saint Thiago Silva, who was his usual magnificent self, to bail them out.

Speaking of central midfield, this is still a work in progress. Every so often, Paulinho feels confident enough to escape his tactical cage and contribute at the other end. He did it against England and repeated the feat against Japan. At club level, he is far more of a two-way player than he is with Brazil, where he seems so intent on following Scolari's diktats that he appears to have the hand brake on.

Given that Luiz Gustavo isn't in the lineup for his offensive contribution -- he's basically a third centre-half -- it has to be up to Paulinho to give Brazil another attacking dimension. Otherwise, each attack becomes too predictable: either a run from the fullbacks or Oscar or Neymar coming deep to collect the ball.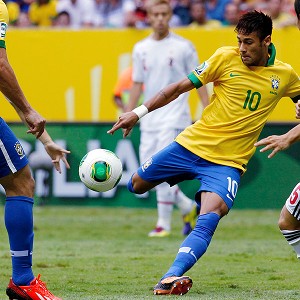 AP Photo/Eugene HoshikoNeymar's goal was a testament to both his confidence and sublime technique.
But you can see the chemistry starting to form. The way Oscar and Neymar exchanged positions, especially down the left, where Marcelo ran rampant (now there's a guy peaking at the right time for the Selecao), worked well. Hulk alternated moments when he combined well with Dani Alves, especially defensively, with others when the two were disjointed. If there's one guy in this front four who should be at risk, it's the Zenit St Petersburg striker. With Oscar and Neymar both gravitating left and Marcelo pushing on to join them, Hulk needs to be present and active on the other flank; otherwise Brazil will be unbalanced. This is especially true if, as happened against Japan, Alves has a relatively quiet game (assist excepted, of course).

"We have replacement parts who have proven effective and helped us when they came off the bench," Scolari said.

It wasn't in reference specifically to Hulk, but given the contributions of Lucas Moura, Hernanes and even Jo, who closed out the scoring, you can see why he feels he has the tools to change it around. Jo is a late-game alternative to Fred should the Fluminense front man start flagging. Both Moura and Hernanes would raise the quality level of this Brazil side should either be used at the expense of Hulk -- the former in a straight swap, the latter perhaps with the team shifting to a 4-3-3.

All told, it's not a bad place to be. Nobody is getting carried away because, frankly, there is no reason to get carried away. (How many of this Brazil XI would get into the Spain XI? Exactly.) But Brazil are rediscovering their strengths. And few men know better than Scolari that it's all about peaking at the right time. Which, if all goes to plan, is in 15 days.

Followed by another just over a year from now.