A game we won't forget in a hurry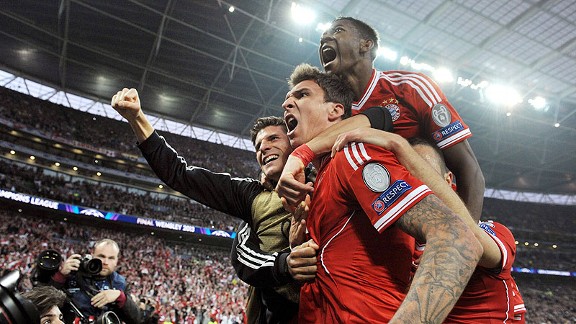 Tim Groothuis/Witters Sport via USA TODAY SportsBayern Munich handled the high expectations by defeating Dortmund 2-1 in a thrilling Champions League final.

How do you sum up a game that had everything? Where most major finals tend to be anodyne, cagey, emotionally fraught affairs, Bayern Munich shrugged off its early nerves to vanquish Borussia Dortmund on Europe's biggest stage.

Having wrested back possession of the Bundesliga title (and its assorted fringe records) from Die Schwarzgelben this season while also gently, bloodlessly nudging BvB out of the DFB-Pokal quarterfinal, the transition was completed in front of a marvelous Wembley crowd thanks to Arjen Robben's late game-winning goal in a 2-1 win.

It was a fittingly wild end to a game that showed no shortage of effort, energy and excitement. No tight, molasses-slow play would be on display as both sets of midfielders scrapped breathlessly for territorial dominance, Mario Mandzukic and Robben forged endless opportunities and all over the field, individual battles raged.

The obvious highlights: Neven Subotic clearing majestically off the line to deny Robben from converting Thomas Mueller's cross in the second half. Roman Weidenfeller and Manuel Neuer's soccer equivalent of basketball's "horse," each goalkeeper trading outrageous, man of the match-worthy saves from a litany of goal-bound shots. Many of Bayern's chances fell to Robben's boots.

Robert Lewandowski's early fizz around goal faded but Marco Reus shone consistently in the spots where everyone had hoped to see Mario Goetze hold court one final time in Dortmund's yellow/black.

The goals: Mandzukic's steady, close-range finish after Robben split the offside trap, rounded Weidenfeller and squared the ball for the angular Croat in front of an empty net. Dante's artless, second yellow-worthy foul on Reus allowed Ilkay Guendogan the chance to batter a penalty past Neuer. Then, with moments remaining, artful Arjen, scything past two flimsy challenges before freezing Weidenfeller and finishing gently.

As one well-trod cliché goes, those who don't learn from the past are doomed to repeat it. And after a string of errors by the much-maligned Robben -- seriously, Twitter became an impromptu Friar's Roast toward the selfish Dutchman -- it was his assist and goal that propelled Bayern manager Jupp Heynckes into what will surely be a satisfactory (and somewhat sanguine, considering his prowess) retirement.

While trying to make sense of the pulsating brilliance put forth in soccer's presumptive "spiritual home" (I know, don't laugh) and in soccer's presumptive showpiece club game, some obvious questions stick out amid the mania:

Is this the end of Borussia Dortmund?
All the summer talk will unfortunately revolve around which of Juergen Klopp's stars might follow Goetze out of Signal Iduna Park to pastures new. It's hyperbolic and careless to imagine the entire band breaking up, though questions will linger as to the likes of Lewandowski, whose wan performance would make for a sad end.

The future's bright for this lot provided Klopp can rally them against Bayern's indisputable financial and talent-laden heft. That said, he almost masterminded victory in the CL final without much fuss, didn't he? Dortmund will rue a string of wasted early chances as the pre-game favorites struggled to settle. The summer will be long and unkind to this lot, no matter what positive spin their spectacled svengali can put upon those runner-up medals.

What can Pep Guardiola do next season?
If the sky's the limit and Bayern's already flying comfortable at cruising altitude, it's going to be fascinating to see how the ex-Barca manager molds this squad and keeps it focused despite watching them hoover up just about every accolade available in 2012-13.

To say that Heynckes has left a tough act to follow is an understatement. We remember how quickly Inter fell apart after Mourinho was replaced by Rafa Benitez at the height of the Nerazzurri's powers; surely Pep won't tinker to such a degree but motivation and focus can be difficult to locate when there's little left to prove.

The ref called a good game! No, seriously!
OK, so Nicola Rizzoli could have been justified in dismissing Lewandowski for a peculiar stomp on the laboring Jerome Boateng, not to mention brandishing a second yellow on Dante for his penalty-worthy knee-to-gut that transformed Reus from marauding winger to crumpled heap.

But by and large, the Italian ref rode the chippy moments and defused the increasing tensions with a mixture of clever officiating and common sense observations that allowed the CL final to be memorable for all the right seasons.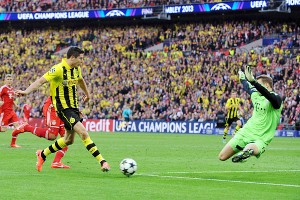 Tim Groothuis/Witters Sport/USA TODAY SportsRobert Lewandowski struggled to assert himself against Bayern.
Dortmund didn't need Goetze after all
Having watched him agree on terms to sign with Bayern during the CL semifinals and then limp out of the Wembley magic in midweek, everyone mused as to how much this would hinder the underdogs. The answer: not very much.

Though it's for the soccer gods to divine just what BvB could have done with his added pace and flair in the attacking third, Reus and Jakub Blaszczykowski did more than enough to relegate their former teammate to a few stray shots of him in the expensive seats.

Yes, Kevin Grosskreutz was a downgrade but he served well as a primarily defensive left-winger, working well to shield Marcel Schmelzer from the frightening one-two punch of Ribery and Philipp Lahm down that flank.

Yes, Lewandowski struggled to assert himself against Dante/Boateng on a consistent basis, but his off-the-ball movement opened room for Guendogan and Co to probe from deeper in midfield.

Thanks to an off-day from Bastian Schweinsteiger, it almost worked, too.

Best Champions League final ever?
No, but close. We're used to seeing drama manifest in different ways on this stage; anxious penalty shoot-outs and teary eyed misses from 12 yards out. Both Borussia Dortmund and Bayern Munich played with optimism and persistence. The world could learn a lot next time the phrase "parking the bus" rears its ugly head.

Man of the Match?
In a game rich with heavy narratives, Robben shrugged off the melancholy and deserves the crown. Weirdly, it fits. ("Hipster" pick: Boateng. Hobbled from first minute to last, he kept it together where many would have cried for mercy.)