Waiting for good news on tension-filled final day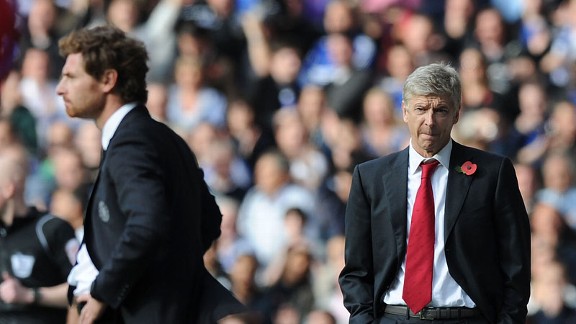 GettyImagesTwo coaches. Two clubs. One Champions League spot.
Andre Villas-Boas says he'll know from the noise of the crowd; Arsene Wenger from the reaction of his staff.

Both managers, however, claim that they'll be completely concentrating on what their own teams are doing rather than listening for the score at the other end of the country. They at least know what they have to do. Arsenal must win at Newcastle to make sure of a Champions League place while Tottenham Hotspur must beat Sunderland to fully exploit any error, with neither side able to let any external information affect them.

It's all, of course, part of the tension-filled tapestry of this final day: the news seeping in from other grounds; the table as it stands; the desperation as the dynamics suddenly change. It can be exhilarating mayhem.

For the rivalry between Arsenal and Spurs, though, it probably means more than most.

This is the third time in seven years that the Champions League chase between the two North-London neighbours has gone right to the wire, making it the most frequent final-day face off since the Premier League began.

Otherwise, Southampton and Coventry City have twice been involved in multi-team relegation scraps while Manchester United and Chelsea have taken the title to the very end on the same number of occasions - in 2008 and 2010.

Given the way those two latter sides appear to have moved onto another level with Manchester City, though, this season's final day further reflects how intensely Arsenal and Spurs are intertwined.

It is especially cruel and testing that two teams with such a bitter existing rivalry are involved because, more than any other pairing in the Premier League, the actions of one club greatly impact the other.

That is naturally going to be the case when you're consistently fighting for something as far-reaching as that final Champions League place, and there was already a glimpse of it two days before the game.

Although Villas-Boas almost always holds his pre-game press conference at lunch-time, he moved Friday's forward to 8.30am, just before the time Wenger's always starts. The reason was obvious and understandable. Neither manager was forced to respond to the comments of the other, which could have potentially only escalated the tension ahead of Sunday.

Instead, during one of the quieter moments in his own press conference, Wenger reflected on how even matches as significant as these can swing on apparently minor incidents. A season's work can be undone with one stroke of misfortune. The Arsenal manager referenced the goalkeeping errors at West Brom which actually allowed his side to seal third place last year.

"You cannot predict what happens before a game but every single detail makes a difference."

Yet, as much as this weekend's respective fixtures in St James' Park and White Hart Lane would seem to be bringing this season to a head, there is an increasing feeling it will only mark another milestone in a much longer race.

The key question, perhaps, is not what happens this Sunday but what happens after it.

Unsurprisingly, both managers were unwilling to be drawn into such discussions.

Wenger insisted he hadn't even considered failure.

"No. You deal with things. Defeats can happen in football but you deal with that after the game. Before the game, you focus on being at your best and giving your best."

Villas-Boas, meanwhile, attempted to minimise the significance of finishing outside the top four.

"In my opinion it doesn't change anything in the way you set up. Making it or not, it shouldn't be too different in what you have to evolve to make you better."

For the folly of that viewpoint, you only have to consider the kind of threads hanging on this weekend. Not only would a top-four position allow Spurs to better keep stars like Gareth Bale, it would provide them with the clout to sign higher-profile players. In other words, they could claim a weightier position as frequent Champions League qualifiers rather than constantly trying to just about pull things together in order to reach the tournament for only the second time.

Then there is Arsenal. While the "spiral of negativity" of the November-to-February period now feels so long ago, the fact that they have admirably recovered from a six-point deficit should not necessarily stave off a broader sense of stagnation.

Even if Sunday ultimately proves successful for them, it will still be no better or worse than so many recent seasons: top-four and early exits from every other competition.

Wenger needs to use the jolt of this season's dramas and anxieties to make some persuasive statements. That is all the more important given that this summer will likely mark the first in some time that Arsenal will see no high-profile player exits, but the first in history that all the rest of the top four change their managers. If Wenger's squad don't capitalise on such uncertainty now, they never will.

Ultimately, then, this weekend will either perpetuate the current status quo or pronounce an intriguing new departure.

For further evidence of that, you only need to see how Champions League qualification directly conditioned this season. It is arguable that the crunch events will not occur this Sunday but already took place between the end of January and start of March.

Back then, as the transfer window drew to a close, Spurs wavered over the signing of Leandro Damiao. For all the talk of Daniel Levy's bargaining abilities, it is entirely likely that the extra money derived from the Champions League would have pushed them towards a purchase. With an extra forward to complement Bale and compensate for the inconsistency of Jermain Defoe and Emmanuel Adebayor, Spurs might well have claimed the extra two points to put them in command this weekend.

A few weeks later, there was Arsenal's very participation in the Champions League. Although the second leg at Bayern Munich actually eliminated them from the competition, virtually everyone at the club cites the 2-0 away win as the moment the season transformed. On the morning after the game, Santi Cazorla and Nacho Monreal met in much happier mood at the training ground and excitedly talked about what the display meant, before both mentioned the potential of the performance in separate interviews.

It's difficult to argue. Since then, Arsenal have won seven and drawn two, going unbeaten for nine games.
Had the league started on 13 March, they would be top by three points. It's an impressive turnaround and Wenger praised that resilience.

"They have shown that mental strength through the difficult periods of the season and I must give my players huge credit because when we were under severe pressure they didn't talk and worked very hard together, in a united way."

It is even more remarkable, though, because this hasn't been the usual story of Tottenham stereotypically caving. Although Villas-Boas' side did suffer successive defeats in March that may well cost them, they admirably kept pace with some superb comebacks - not least at home to Manchester City. Should they beat Sunderland at home on Sunday, they will accumulate 72 points. It would have been enough to secure Champions League football in all of the last four seasons.

It sums up this escalating rivalry that it may be rendered irrelevant by events elsewhere.

Both managers, however, will hope to be the last to know.