"Live" blogging 'Being: Liverpool,' ep. 1
Given how often it happens in other sports, it's surprising that embedding camera crews inside soccer clubs is still a relatively rare thing. Nearly all American sports have danced this sordid two-step in recent years: "Hard Knocks" shows us the manufactured drama of the NFL preseason. Every big boxing match comes with a pre-taped hype machine in which the two fighters reiterate that yes, they're going to beat the other guy in between dramatized sessions at the speed bag.

And yet, soccer has always had a force field around its teams' most inward moments. Whenever the lens has broached upon such hallowed ground, the results have been shuddering and hilarious: to wit, John Sitton's epic and profane halftime rant (Google it) with his Leyton Orient side 3-0 down to Brentford.

This is because what normally links clubs willing to provide such access is a lack of anything to lose. Manchester City's revelatory 1981 doc showed a club "in crisis," while Barcelona's "The Inside Story" chronicled lawyer/politician Joan Laporta's cavalier takeover effort of a club, mired in rising debts, that he soon set on the road to greatness. It can't get much worse, so why not let the cameras in?

Conversely, there's a mystique around great clubs, players and managers that is enhanced by keeping critics and/or observers at arm's length. So, in John Henry's infinite wisdom, comes "Being: Liverpool," a six-part documentary series that will serve the Reds in myriad ways. Namely, an obvious publicity boost and a chance for Henry and FSG to tell their (heavily edited) side of the story.

Let's get to the show.

0:00 -- Straight into the action. We see Brendan Rodgers surrounded by his players before the West Brom game. Cut to a stirring managerial monologue. Values. Personal ethics. Determination. Quick cut to the title sequence; we'll overlook that the Reds lost that game 3-0 to open the season.

0:01 -- Quick recap of the club. History, accomplishments and immense pride. Oh, the trophies they won. And we get a trip to the pub! Lifelong Liverpool fan Clive Owen is introduced as narrator; his solemn, steady speech pattern is a natural fit. The breezy reiteration of the failure, sadness and depression of the second Kenny Dalglish era has me wishing I was at the iconic Storrsdale right now.

0:05 -- Our first glimpse of the LFC brain trust, owner John Henry and chairman Tom Werner. The editing is sharp in order to make clear their reasons for firing Dalglish. Buzz words. A need to move in a different direction. Henry doubles down, noting that King Kenny's departure was planned all along and not, as the pundits opined, because of his dreadful 2011-12 season in charge. Really, John?

In the minutes that follow, as other execs are identified and Rodgers is unveiled, you get to the debatable core of the documentary's reason for being: tele-visual talking points from the Anfield boardroom.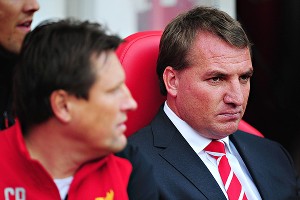 GettyImages / Stu Forster/Getty ImagesBrendan Rodgers has been entertaining enough in "Being: Liverpool" thus far, but when will results on the field match up to the drama being shown on television?


0:11 -- Rodgers' first tour of Melwood Training Ground finds him in reflective mood, meeting everyone from secretaries to physiotherapists to cafeteria cooks. "It doesn't matter if you're a football player or one of the cleaners. It doesn't matter to me. It's about respect," notes the new Liverpool boss. "If we end up in years to come winning the Barclays Premier League, they will have had just as much to do with it as me sat here. They played their part. And that's important."

Now this may well be something he holds as a core value, but it's also the kind of thing you say when you have a documentary film crew shuffling around your office and lowering a boom mike in your face. It sounds like something that a good manager, or one who believes himself to be a good manager, should say and should believe on a daily basis. It is, also, completely sensible and hard to refute. Treat people properly.

0:13 -- Meet Steven Gerrard, husband and father of three, zipping home in his sports car to be the family man. He's also Liverpool's heart and soul, the man often relied upon to drag the Reds above parity with timely, memorable and soul-lifting goals. The one-club man is such a relic these days, but Gerrard has carried the burden of sticking with a club that has hit some heights (but not all) with aplomb. It clearly wears on him these days -- The Gerrard Face, one of wear and forcibly swallowed frustration, should become an Internet meme -- but the documentary paints him in a fuzzy light.

That said, his house looks exactly like Al Pacino's pad in Oliver Stone's "Any Given Sunday." All angular, sterile art and wall decorations in neutral colors, a home filled with cold and quiet.

0:17 -- Lucas Leiva's house, by contrast, is a menagerie. Kids play, WAGs chat and LFC teammates play Monopoly. Luis Suarez paying rent on Park Place! Sebastian Coates not passing go and collecting $200! This is the soft-focus tabloid portion of the show. Soccer players. THEY'RE JUST LIKE US.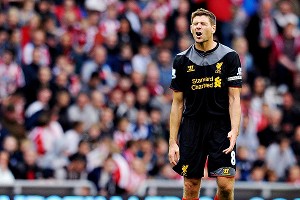 no_source / Andrew Powell/Getty ImagesSteven Gerrard is warmly portrayed in the "Being: Liverpool" premiere, but one wonders if that veneer will crack once recent on-field disappointments make it into subsequent episodes.


So far, I've also determined that "Being: Liverpool" is about sound bites and board games.

0:23 -- "Player plus environment equals the behavior." Pop quiz time: Brendan Rodgers or David Brent?

0:25 -- The first time we actually see soccer balls hoofed around, presumably to remind us that this is about soccer. At least tangentially. Charlie Adam, now with Stoke, rips a practice shot from range. Jamie Carragher's iconic red-faced yell is shown briefly in slow motion. Jon Flanagan is earmarked as a youth player to watch.

As a fan of the club since the early '80s, I'm really hoping that Carragher gets plenty of screen time. Though his days as an integral member of the squad are obviously over, there had better be room for his unvarnished, self-deprecating style in such a slickly produced documentary. After all, he's as much "Liverpool" as Rodgers' Zen coaching jargon or Gerrard's moribund sculpture collection. Yet I fear his quips will be largely left on the cutting room floor.

0:30 -- The most controversial point of Episode 1. Rodgers has a large pop art print of himself on the wall in his house. This has to be explained beyond the simple cutaway shot it receives. Most of us have the odd wedding photo on our walls, family pictures, but oversized, stylized prints? Oh, Brendan.

And we learn that his daughter is dating his assistant manager's son. I fully expect this to be referenced in the tabloids ad nauseam should results at Anfield continue to flounder.

"Being: Liverpool" has morphed into "Being: Brendan Rodgers." We've toured his crib, met his extended family, glimpsed his pool, his large sectional couch, his wine fridge and, of course, THE HORRENDOUS SELF-PORTRAIT ON HIS WALL.

0:37 -- The first mention of the transfer window as "emerging Italian forward" Fabio Borini is introduced at Melwood. He takes his medical. This is the kind of access we'd dreamed of! Seeing young Fabio have blood drawn (he flinches) and answer a series of questions. Blood pressure cuff on. Then, he signs on the dotted line. Voila, a soup-to-nuts look at how transfers work. And not a mention of the Sky Sports ticker or an agent in sight.

Unfortunately, we're also forced to listen to managing director Ian Ayre, a man none too popular among Liverpool fans for his ham-handed conduct over the exile of Andy Carroll and subsequent failed move for Clint Dempsey. Yet whoever is truly to blame for such ineptitude will surely not be exposed in this hour-long promotional TV show.

0:41 -- Lads on tour. Not in the traditional lager and ladies sense, but montages of training exercises, sprints and tactical discussion.

0:48 -- Highlight of the show. Yoga and stretching sessions at the team hotel, but prankster Carragher can't stop himself from laughing and destroying the mood. As the instructor gamely tries to power through her routine, Carra's wobbly yoga poses cause ripples of laughter among the squad. The next move: "cat" position. Someone (presuming Carragher) lets out a quiet "meow." Cue more mood-shattering hilarity.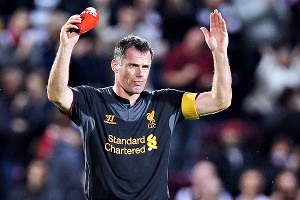 no_source / Ian MacNicol/Getty ImagesJamie Carragher's uncensored style makes him appealing and engaging on camera. Yet his honesty means he'll surely remain on the fringe, much like he is with the current squad.

As a reformed class clown, I cannot appreciate this enough. For all the increasingly weird and new-agey methods creeping into sports medicine, there's still plenty of room for schoolboy humor from guys who would just like to play the games instead of perfecting their downward dog.

0:50 -- Liverpool FC meets the Boston Red Sox as Werner and Henry get their two glistening portfolio franchises in the same building. Rodgers meets Bobby Valentine. Boston OF Cody Ross asks Charlie Adam if he plays cricket; the grumpy, taciturn Scot shoots down the question. (No wonder he was sold.) Dani Pacheco gets a baseball and grins like a little leaguer.

Valentine and Rodgers later exchange jerseys and mug for the cameras. This is "Being: Liverpool." All part of the business.

0:56 -- The first episode ends with Owen's polished overdubs as the squad watches a Red Sox game. We've yet to actually see them play a game, which is probably for the best (I am still trying to forget the Europa League qualifiers versus Hearts). Back to the Storrsdale and more pub poetry before the big musical finale.

So just what does it all mean? As I noted at the top, such documentaries are usually reserved for those teams with nothing to lose. Yet Liverpool, it seems, has everything -- new manager, new-ish owners, a new philosophy and a gap to the best clubs that has never seemed wider -- at stake. As such, "Being: Liverpool" feels most like an exercise in humanization for a club that badly needs the positive PR in the wake of last season's failings and the Suarez-Patrice Evra incident.

Only time will tell if the act of allowing filmmakers to meddle in Rodgers' nascent mojo is sagely or destructive.

And if that analysis isn't forthcoming, just give me hours more footage of Jamie Carragher decimating a Pilates class.