Goal difference top of mind for Manchester United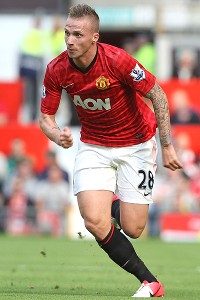 GettyImages / Matthew Peters/Getty ImagesAlexander Buttner impressed on his United debut, scoring a goal. Wonder what Patrice Evra is thinking right now?
Former United right back Gary Neville has told the story that, around the midpoint of every season, Sir Alex Ferguson lectures his players on the importance of goal difference. Keep at it, keep pressing, keep scoring. Up 2-0, go for 3. Up 3-0, go for 4. Ferguson's nightmare, of course, was losing the title to a team that put more balls in the back of the net -- a nightmare that came true last season.

But there's been no waiting until the festive season to make sure SAF's troops are pushing forward, as their 4-0 thumping of Wigan demonstrated. The first half ended in a scoreless draw as Wigan acquitted themselves well while United struggled at times to find their rhythm. But, in the second half, the goals began to flow. And news flash to those who cracked wise that United were the new "one-man team," the Prem's new Arsenal -- RvP didn't score any of them, as he started the match on the bench.

The goal scorers:

51st minute: Paul Scholes. The goal came when Nani, out on the right, shot the ball at Ali Al Habsi. The keeper, ordinarily one of Wigan's most dependable performers, couldn't hold on to the ball and Scholes -- making his 700th United appearance -- was there to slot home for an easy, point-blank finish.

63rd: Javier Hernandez. Chicharito missed a penalty early in the first half, and it was a poor one at that -- although it was justice for Danny Welbeck's blatant dive in the box. In the second half, though, United's new (and impressive) defender Alexander Buttner smashed the ball across the box, and Chicharito poached to poke the ball into the back of the net.

66rd: Buttner. He impressed on his United debut to the point that Patrice Evra must have been experiencing cold sweats. The bell tolls for thee, Paddy? Buttner wasn't tested a whole lot defensively, but, when called on to clear the ball, he did his job well. He also demonstrated that he has speed to spare, using his makeup pace to track down Franco Di Santo in the 30th minute to prevent the Wigan player from getting in a cross. But it's Buttner's goal that will be remembered, charging down the left toward the box -- a sequence in which he stumbled and got back up -- and ultimately getting past four Wigan defenders to the byline. Perhaps Buttner was trying to hit the ball across goal. And maybe Al Habsi should have done better, again. Regardless -- goal.

82: Nick Powell. Good day for United's new blood. Welbeck -- who got an A for effort on the day -- charged upfield but lost the ball to James McCarthy, whose slack pass ended up at the feet of Chicharito. The Little Pea picked out 18-year-old Powell, whose first touch was exquisite, allowing him to get by Gary Caldwell before striking the ball with ferocity to give United their fourth and final goal.

So, as of now, United have a GD of 5, one behind Chelsea and Swansea City and two behind Arsenal. Doesn't matter? Yeah, many thought that this time last season.